Getting Around
At the intersection of two major U.S. highways (I-70 and I-71), Columbus' central location is within a day's drive or one-hour flight from nearly half of the nation's population. 
John Glenn Columbus International Airport is only 10 minutes from downtown Columbus and offers nearly 40 non-stop destinations by all major airlines, including (in order of the most flights) American, Southwest, Delta, United, Air Canada and Frontier and the recently added non-stop Southwest flight to the San Francisco Bay area.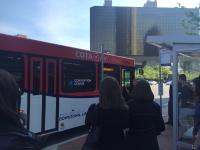 AirConnect, a new circulator route to/from the Columbus International Airport and downtown Columbus, is now available. The cost is $2.75 each way. Stops will be made at the arrival and departure levels every 30 minutes, 7 days a week. In downtown, stops will be made at the Greater Columbus Convention Center and many of the downtown hotels. Tickets can be purchased at a kiosk with credit cards (only) and tickets can be purchased on-board with cash (only). See additional information. 
ASAE attendees may also purchase a special event Transportation Package that includes unlimited access to the city's COTA bus transportation system during your stay, including roundtrip express service from John Glenn International Airport to downtown, the Convention Center and nearby hotels via AirConnect.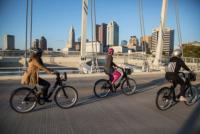 Taxis and Uber drivers are easily accessible and, for those looking to get a little exercise, the CoGo bike share program offers 300 bikes in downtown Columbus with 30 stations, including a station on High Street, right in front of the convention center. The CBUS, a free downtown circulator makes it easy to get around from the Short North Arts District to the Brewery District. 
Although Columbus is a great walkable city, it's also easy to get around. There are lots of great options…

We've told you before about how easy it is to get around Columbus and all of the great transportation…