Many Columbus residents will welcome out-of-town friends and family over the holiday season, and will need a way to show them the best of the city during their stay. Explore light displays at these 11 Holiday Light Shows Illuminating Columbus, take them shopping and follow our guide to local eats near shopping centers, attend an upcoming Holiday Show, Tour and Display, or keep reading for even more ideas for good eats, entertainment and interesting sites to see. These 10 ideas should be sure to please!
Lunch at North Market
The North Market showcases the city's dynamic culinary scene. Take time visiting the stalls – everyone will find something to love, whether it's Nashville-style fried chicken at Hot Chicken Takeover, pretzels from Brezel, dumplings from Momo Ghar or pizza from Sarefino's. Don't leave without a sweet bite from Pistacia Vera, Coco Cat or Jeni's.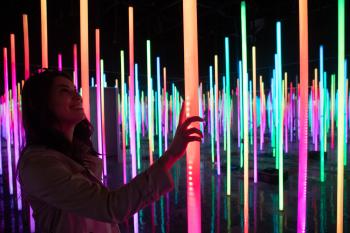 Immerse yourself in Otherworld
The dynamic and colorful Otherworld is part immersive art exhibition, part mysterious playground. The exhibit uses lights, projections, sculptures and more to create a wondrous world featuring the work of more than 40 artists spread over 47 rooms. It's an experience you won't forget!
Ride the CBUS through the Short North Arts District
Park the car, hop on the free COTA circulator bus and spend a day peeking into boutique shops. Sip coffee at One Line Coffee or Mission Coffee, grab lunch or dinner at the many local restaurants. Take a stroll through Goodale Park. Have kids with you? Be sure to visit Big Fun and Rocket Fizz.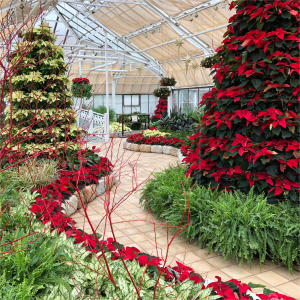 Enjoy plants and sculptures at Franklin Park Conservatory & Botanical Gardens
Even during the colder months, it's always warm and cozy at Franklin Park Conservatory. Take a leisurely stroll through the exhibitions, spot Chihuly glass sculptures nestled amongst the various landscapes, visit the hot glass studio and stop for lunch in the cafe.
Go to brunch
Columbus has no shortage of terrific brunch spots. Dine on everything from pancake balls at Katalina's to farm-to-table creations at The Table, giant Bloody Marys at Standard Hall to pancake flights at Blunch.
Stroll around Easton Town Center
The region's largest outdoor shopping center offers all sorts of fun for everyone. Ride the trolley around to different local and national retailers, marvel at the holiday decorations, have lunch or dinner at the many dining options on site.
Explore Columbus' international eats
The city enjoys a wealth of authentic international flavors – everything from Somali to Salvadoran, Japanese to Indian, Filipino to Ethiopian, Mexican to Nigerian. Need some inspiration? Read about the dynamic global food scene in Columbus.
Book a Columbus Food/Brew/City Adventures tour
Reserve a spot on one of the walking or van tours offered by the local tour companies. Columbus Food Adventures helps you explore the city's multi-faceted dining options. Columbus Brew Adventures introduces you to local breweries, distilleries and beer bars. Columbus City Adventures showcases local history and architecture.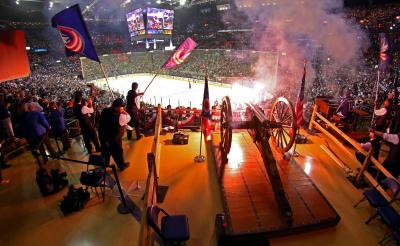 Cheer on the Columbus Blue Jackets
It's hard to beat the fan experience at Nationwide Arena as Columbus' NHL team takes to the ice. Cheer on the Jackets, enjoy local food & beer and listen for the cannon's boom whenever the Jackets score!
Go to the movies at a local theatre
From blockbusters to indie hits, local movie theatres are popular with the holiday crowds. Get tickets to big screen showings at Studio 35, Drexel Theatre, the Gateway Film Center, or the Grandview Theater.