Out of all of the industries drastically impacted by the current pandemic, musicians responded vastly to the shut-in orders with creative vigor from Day 1. Some musicians were already tech-savvy in recording themselves performing. Some have electronics that make live, in-house concerts a possibility. Or they worked with whatever devices were at their utility, knowing that it's the person behind the instrument that makes the performance special. 
Live streams have popped up daily in abundance and without much notice, making it a fun game of virtual concert roulette whenever logging on Facebook or checking Instagram. Locally, Columbus has even begun offering curbside concerts that you could request here and sign up for here via the Greater Columbus Arts Council.
It's no surprise Columbus got creative in a hurry amid the crisis, and with live streams appearing with short notice, here are 10 that you can look forward to over Thursday, April 16 through Wednesday, April 22.
Rambling House (Live Stream) presents: Rebecca McCusker @ Linden Hollow's and Rambling House's Facebook
Just because we can't visit The Rambling House doesn't mean we can't still enjoy some of the deepest folk in the Midwest courtesy of the soda-makers. Ever since the quarantine hit, Rambling House has been providing live-streaming options at least once a week. This particular event features the moving vocals of Linden Hollow's Rebecca McCusker, who will be performing a guitar and a piano set over the course of her hour slot.
You can catch the live stream here at Linden Hollow's Facebook or here at Rambling House's Facebook. Like most of the virtual Rambling House sets, donations will go toward the GoFundMe for the Rambling House staff and Columbus artists.
Time: 8 - 9 p.m. | Date: Thursday, April 16 | Donation: GoFundMe Rambling House Staff / GoFundMe Columbus Artists
Suite Qamil: #NoCovers @ Qamil's Facebook
Wrapping up her three-part quarantine series, Columbus R&B soul singer Qamil will be performing an #UnderCover set. The finale to the trilogy will feature classic R&B and soul jams, already teasing a Mary J. Blige track for the upcoming show. Having already done originals along with a Billie Holiday tribute, this final performance will indeed be well-curated.
You can stream the event at Qamil's Facebook here.
Time: 8 - 9 p.m. | Date: Thursday, April 16 | Donation: Re: Facebook Live chat
Quaran-Tunes LIVE from our House featuring the AW Duo @ AW Duo's Facebook 
Columbus residents are lucky there is so much positive camaraderie around the local music scene—so much that a lot of our most talented musicians can call themselves roommates. Luckily for fans of one of the most cherished acts around town, Amber Knicole and Walter Kolhoff—also known as the AW Duo or more famously known from MojoFlo—have been bringing the funk and soul through our screens for the past few quarantined Fridays.
Every Friday until the quarantine is lifted you can tune into the AW Duo at 8 p.m. to ask questions, suggest songs, and enjoy some special interactions with some of the nicest musicians in Columbus.  
You can reach the AW Duo's Facebook here.
Time: 8 p.m. | Date: Friday, April 17 | Donation: Venmo @Walter-Kolholff / PayPal @AmberKnicole
Ryan Smith Facebook Live Stream @ Ryan Smith's Facebook
Americana singer-songwriter Ryan Smith has implemented a very pleasurable system with his acoustic quarantine offerings. Along with consistency in performance, Smith has also curated a list—that ranges from Death Cab For Cutie to Grateful Dead to The Strokes—of cover song suggestions that people who join in the live stream can request. No matter if you're doing a virtual show or a concert at a venue packed with hundreds or thousands of fans, crowd interaction is one of the most important facets of performance art.   
You can catch Ryan Smith's Friday evening performance at his Facebook here.
Time: 8:30 - 10 p.m. | Date: Friday, April 17 | Donation: Venmo @ryansmithdj / PayPal @ryansmithonline
risik @ Excalibur Fest @ Fortress of Excalibur Discord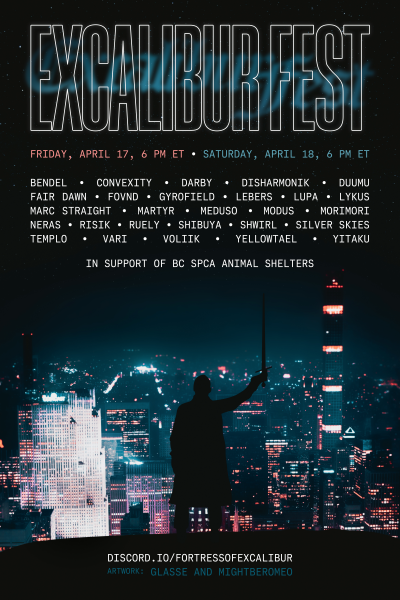 It didn't take long for those in the jam and electronic and dance music community to adapt to virtually satisfying their avidly hungry fanbase. Not only have there been an abundance of 60- to 90-minute live stream performances on sites like Twitch and Discord, but entire blocks of the day have been dedicated to virtual festivals with well-crafted lineups.
One of the Columbus-area musicians who has been busy in both a solo and collaborative capacity, local IDM DJ risik has found many ways so far to reach her audience without live sets. The high-demand DJ will have an audio set streamed on the second day of the virtual fest, Excalibur, this weekend at 7 p.m. Stick around after the set to support more underground DJs.
Donations for the stream will go to the B.C. Society for the Prevention of Cruelty to Animals. 
Time: 7 p.m. | Date: Saturday, April 18 | Donation: B.C. SPCA Animal Shelters website
OSU's AWOW Gig's for Guatemala Live Stream Concert featuring Lisa Gain and Keith Colbert @ Lisa Gain's Facebook 
Local Americana gem Lisa Gain has found a way to be somewhat collaborative with her group, the Rusty Silos, during times of social distancing. Her Saturday live-stream set will be a duo performance featuring her lead guitarist, Keith Colbert. The 45-min performance will help support OSU's Advocate for Women of the World (AWOW). This particular fundraiser will benefit underprivileged women in Guatemala.
You can reach Lisa Gain's Facebook here.
Time: 7 - 7:45 p.m. | Date: Saturday, April 18 | Donation: Venmo @awowfinance
Betty Bangs and Jesse Blankenship at Rambling House @ 
Angela Perley Livestream @ Angela Perley's Facebook and Instagram
To lighten up your Sunday, new-age Americana artists Angela Perley and Chris Connor will be playing guitar and singing tunes early Sunday evening. The chemistry between Columbus musicians has started to shine over the past month, and the two aforementioned artists are prime examples of just that. We've gotten to see how so many pairs of musicians get by with the bare essentials; it's really a testament to the pure talent that's apparently flowing profusely through this city. 
You can access Angela Perley's Facebook here and Instagram here.
Time: 4:30 - 5:30 p.m. | Date: Sunday, April 19 | Donation: PayPal (Friends and Family) angieperley@gmail.com / Venmo @Angela-Perley / SquareUp
Locution Lounge Livestream @ Locution Field Lab's Facebook
There might not be a better way to end a Sunday night than to get deep into a therapeutic zone with the ambient downtempo vibes of Locution Field Lab. Starting a trend of Sunday streams, this DJ's comforting vibes are perfect to close your eyes, zone out, and press reset on the week. Locution Field Lab has been providing just that over this quarantine. If you like to get lost in the likes of Tycho or Boards of Canada, Locution Field Lab will scratch that itch perfectly for you.
You can reach Locution Field Lab's Facebook here.
Time: 8 p.m. | Date: Sunday, April 19 | Donation: Re: Facebook Live Chat
Polarity 4/20 Stream w/ Special Guests @ Polarity Music Network's Twitch
There are not too many reasons to worry about what day of the week it is, so why not forget it's Monday and treat your evening like a weekend night with Polarity Talent Agency's Twitch stream? Bringing multiple "Stay Home" sessions promoting Columbus DJs, Polarity's special broadcast on Monday will feature the likes of locals RaveHeart, Suburban Poor, S.MOSS and Austin The Sage. The latter of the four DJs will be debuting tracks off of his new EP. 
You can stream the event on Polarity Music Network's Twitch page. Set times are available on the Facebook event page.
Time: 7 p.m. - 2 a.m. | Date: Monday, April 20 | Donation: Re: Twitch chat
Secret Studio Drum Recording Workshop @ Square Site
Columbus musicians haven't just been able to entertain us by giving us live-streamed performances. They've also gotten creative with how they can share their musical talents online. For example, some local artists have started offering online lessons at a cost. This is especially important for students who were just starting out because that creative fire needs to continue to be kindled during early artistic development. 
Hosted by Secret Studio—which opened in the Franklinton Arts District in February—the $35 lesson will aid in not being able to see a teacher in person. Owner Keith Hanlon, who has 20 years of music-industry experience, will be providing tips and tricks on recording drums. His lessons include hands-on mic techniques and the best ways to mix your drum tracks.
Lessons can be purchased here.
Time: 6 - 10 p.m. | Date: Wednesday, April 22 | Class Price: $35