Every season calls for sweet treats and chocolates, whether you're giving a gift or indulging your sweet tooth. These 11 companies keep Columbus supplied with decadent chocolates all year round!
1. Pure Imagination Chocolatier
After starting off in the North Market years ago, Pure Imagination moved to their own storefront on Grandview Avenue. Their displays of picture-perfect chocolate creations will spark your imagination.
2. Le Chocoholique
This Short North shop showcases the most colorful confections. They're known for gorgeous little truffles filled with fruits, nuts, caramels, and even spirits.
3. Anthony Thomas Candy Company
Anthony Thomas makes many different types of candies, but they're most famous for their trays of buckeyes. If you want to see how the candies are made, you can take tours of their factory!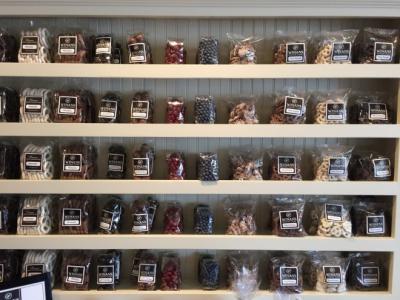 4. Winans Chocolates + Coffee
While you're relaxing with a latte or hot chocolate at Winans' German Village shop, you can stock up on all sorts of chocolates, from pretzels to buckeyes to chocolate-covered espresso beans.
5. MMELO Boutique Confections
The new MMELO shop features homemade chocolate bars, chocolate tea cakes, brittles and toffees, and of course, marshmallows!
6. Ohiyo Chocolate
Ohiyo Chocolate may not have a storefront, but their bean-to-bar chocolates are worth seeking out. Owner Mike Condo crafts bars using dark chocolates from Vietnam, Bolivia, and Tanzania. He even whips up white chocolate bars with sour cream.
7. Chocolate Cafe
This Grandview cafe serves sandwiches, soups, and salads, but they're known for decadent desserts like chocolate fondues, loaded s'mores, sundaes, and menu of specialty hot chocolates, mochas, and chai teas.
8. Madame Delluc
Having recently opened in Upper Arlington, Madame Delluc is an acclaimed Belgian chocolatier featuring a stunning variety of chocolates.
9. Eagle Family Candy Company
A true hidden gem if there ever was one, the tiny Eagle Family Candy Co. store in Clintonville/Beechwold is a charming little find. From their shop they hand craft chocolates, butter creams, dipped marshmallows, and much more.
10. Krema Nut Company
While Krema is known for their nuts and nut butters, they also feature a big menu of chocolate-covered nuts, cookies, and other delights.
11. Schmidt's Fudge Haus
If you visit Schmidt's Fudge Haus in German Village, you can watch them hand-make the fudge on the giant marble slab. Pick up a pound or two of their fudge to go, and don't forget their cordials, chocolate-dipped pretzels, or peanut butter cups, too.