Named one of the most gay-friendly cities in the U.S., Columbus' Pride festival and march is one of the biggest in the Midwest, but we're lucky to have tons of local Pride celebrations and events each year, too. Read on for just a few of the fun, community-wide ways you can celebrate Pride in Columbus this June, and let us know if there are others to add by emailing us. Read Local Neighborhood Pride Celebrations below, or click here to jump down and read about other Pride events in the community. 
Local Neighborhood Pride Celebrations
Saturday, June 4
10:00 a.m. - 7:00 p.m.
Join Delaware Ohio Pride Organization for the Delaware Pride Festival of 2022. This family-friendly event will have food trucks, games, activities, live entertainment, and more. 
Sunday, June 5
Upper Arlington Pride
1:00 - 5:00 p.m.
UA Pride is an alcohol-free event for young children and teens, families, and community members. This year's event will include art, entertainment, children's activities, drag performances, resource tables, and public speakers and performances. The event and all activities outside of the food vendors are offered at no cost to ensure accessibility regardless of socioeconomic status.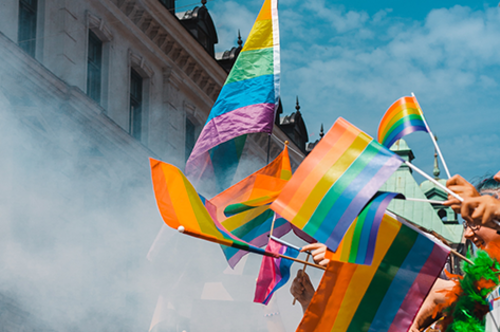 Pride flags wave throughout the City of Columbus year-round, but especially during Pride month!
Friday, June 10
Begins at 5:00 p.m.
Enjoy Franklinton's second Pride celebration with performances, gallery shows and more throughout the Franklinton Arts District. From Land-Grant Brewing to the Roy G. Biv gallery, there's something for everyone to enjoy. 
Saturday, June 11
9:00 a.m.
In conjunction with the Westerville Farmers Market, bring your kids for Pride story time, participate in community art, enjoy performances from our Westerville HS theater students, and watch a special showcase of local drag queens and kings. You'll also find information booths from other community organizations.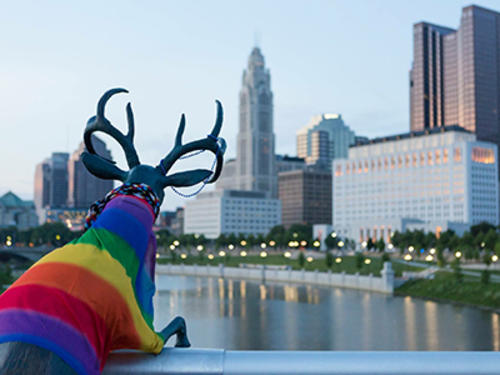 Even the deer that watch over the Scioto River get in on the Pride celebrations.
Noon
Enjoy the second annual Hilliard Pride Festival! Come and celebrate with music and more at this family-friendly event with the Hilliard LGBTQ community and allies.
4:00 – 9:00 p.m.
Head over for this family-friendly gathering to support LGBTQ+ kids and residents.
Sunday, June 12
8:30 p.m.
Celebrate with a brief Pride program, followed by the annual Pride Walk across the Dublin Link bridge.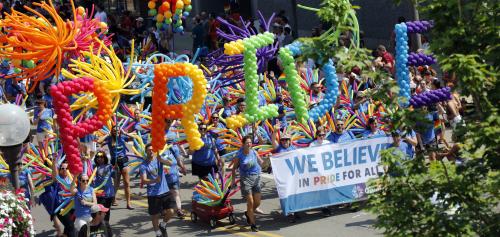 Stonewall Columbus Pride March
Saturday, June 17
Stonewall Columbus Pride Community Festival & Resource Fair
Friday, June 17
4:00 – 10:00 p.m.
One of the country's largest Pride celebrations takes place right here in Columbus. Head to Goodale Park in advance of the main Pride march on June 18 to start your celebrating early! With all the community resources, vendors, performances and more, time will fly by. 
Saturday, June 18
Stonewall Columbus  Pride March
10:30 a.m.
Goodale Park
Find all the details on the march at the link above. Don't miss the 41st year of Columbus Pride!
Saturday, June 25
4:00 – 8:00 p.m.
The Reynoldsburg Pride Celebration is a community celebration to empower and bring awareness to the intersectional lives of the LGBTQ+ community.
Other Community Pride Events to Check Out
Friday, June 10
5:00 – 11:30 p.m.
Join Virginia West and Anisa Love as they host District West Pride Fest! This outdoor, 2-day drag festival takes place right at District West. Grab your tickets now.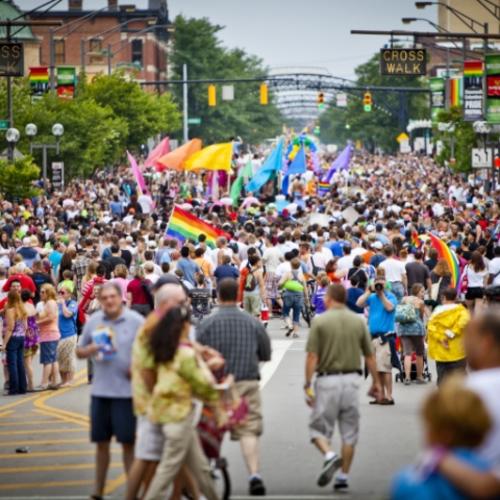 Stonewall Columbus Pride March
Gravity Presents: Pride Pong Tournament
Friday, June 10
6:00 – 9:00 p.m.
With 20 percent of alcohol sales headed straight to the Franklinton Equality Fund, what better way is there to spend an evening? Drag queen Alice D'monroe will be emceeing the tournament. Sign up today!
Chillicothe's First-Ever Drag Brunch
Sunday, June 12
Shows at 11:00 a.m. and 1:30 p.m.
Shows will take place at Fifty West Brewing Company, with the brunch menu available for purchase. Grab tickets at the link above. 
Saturday, June 18
7:00 p.m. – 2:30 a.m.
Hosted by Ohio's legendary Virginia West and iconic designer Andrew Christian, this event features over 30 entertainers, from local favorites to RuPaul's Drag Race queens, and the headlining performance by Queen of the Universe, Grag Queen. Get tickets ASAP.
Post-Pride Parade Party at Budd Dairy Food Hall
Saturday, June 18
Starts at 2:00 p.m.
From pop-up vendors (starts at 2:00 p.m.) and rooftop music (starts at 4 p.m.) to specialty cocktails and chef partner features, head to Budd Dairy post-Pride with your crew. 
Make Love, Not War Pride Fest at High Bank Distillery
Sunday, June 26
7:00 - 10:00 p.m.
Enjoy specialty cocktails (proceeds benefit Kaleidoscope Youth Center), a D.J., a food truck and local vendors, a raffle (also benefiting Kaleidoscope Youth Center) and more. +21 years of age event.