Everyone loves a great meal when they're celebrating, right? Whatever the occasion for festivities – birthdays, anniversaries, new jobs, growing families, re-connecting with friends – try one of these five Columbus restaurants to splurge on your celebrations!
Situated at the base of the Miranova building, M at Miranova enjoys attractive views of the Columbus city skyline and the Scioto Mile riverfront. The restaurant features contemporary cuisine with both American and Pacific Rim influences. Treat yourself to ahi tuna, veal mignon, and NY strip. And any visit must include cocktails; M at Miranova is often rated as one of the city's best cocktail bars.
For your next celebration, make a reservation for The Refectory. Chef Richard Blondin and his team create elegant French dishes featuring a variety of meats. Start with the hearty venison or escargot terrines, then move on to slow braised rabbit and sous vide Texas antelope. Time your visit with a night of live music; The Refectory features everything from jazz to chamber music to opera.
Celebrating over 20 years of welcoming guests, Barcelona continues to impress with their wine list, Spanish-influenced menu, and spacious patio. Begin with a plate of cured meats and cheeses, order a round of dishes from their tapas menu, and don't pass up one of their signature paellas. They're all best enjoyed with a glass of wine or a cocktail.
The iconic Top Steakhouse lets you step back in time a few decades. Enjoy the Mad Men-esque vibe while you sip cocktails and feast on perfectly prepared New York strip, filet mignon, rack of lamb, lobster tail, or jumbo crab legs. Have fun by dressing to the nines for your visit!
G. Michael's Bistro & Bar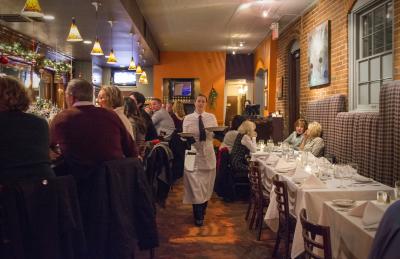 Chef David Tetzloff treats his guests to hearty low country dishes made with local ingredients, like sausage gumbo or shrimp and grits, all in the cozy, brick-lined comfort of his German Village bistro. Order a glass of wine or a cocktail to pair with entrees like butter poached lobster tail, fried chicken, meatloaf, and sautéed rainbow trout.
What's your go-to spot for celebrating special occasions?