Wherever you stay near downtown, you're only a short walk or ride from a vibrant neighborhood to explore. The proximity of these places makes getting up and wandering a perfectly good option for seeing the city, but if you want a little more information or want to work toward a goal, we've got a bunch of ideas for you!
Walking Tours The Columbus Landmarks Foundation offers weekly, 90-minute guided CityWalks, which depart from the intersection of Broad and High streets Saturdays at 10 a.m. through October 31. These tours include stories about famous and everyday Columbusites of the past, architectural gems and ways Columbus has overcome natural disasters. Aside from the weekly downtown tour, the foundation also offers guided tours of German Village, Rush Creek Village and other noteworthy areas in the city.
Additionally, Columbus Public Health put together a series of self-guided Art Walks exploring arts in the city. The German Village Society has a self-guided walking tour demonstrating the unique architectural and cultural amenities of this historic neighborhood.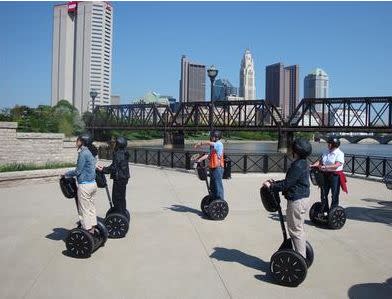 Rolling Tours Segaway Tours of Columbus offers daily two-hour guided segway tours of downtown, the Arena District and the Short North. This allows you to cover more ground in a short span of time, and your guide will be very informative about what makes these neighborhoods special. The Columbus chapter of the American Institute of Architects offers Design Rolls, a series of architectural bike tours, a few times a year. Check this link for info as it becomes available. You can also borrow a CoGo bike for a daily rate of $6 to explore the city. This is best if you're planning to make a lot of stops (you should, there's a lot to do!) because the bikes are intended to be used in 30-minute increments. With a daily pass, you can use any bike for up to 30 minutes at a time, all day long.
Trails The Short North Arts District recently launched their Arts Passport program, which rewards you with a free movie ticket for visiting 10 of the neighborhood's 17 art galleries! Galleries range from the three-story Pizzuti Collection, which houses modern masterpieces, to traditional gallery spaces like the neighborhood anchor Brandt-Roberts.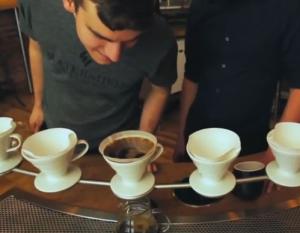 Additionally, coffee and beer lovers have reason to celebrate - The Columbus Coffee Experience and Columbus Ale Trail are self-guided trail programs that reward you when you visit four coffee shops or breweries! All eight participating coffee shops are within 1.5 miles of the Greater Columbus Convention Center, and seven of the 25 local breweries on the Ale Trail are within a few blocks of a free CBUS stop. When you get four coffee stamps, make your way to a downtown Experience Columbus Visitor Center for a free t-shirt. You get a free pint glass with four Ale Trail stamps!
Food Tours What better way to experience a neighborhood than to eat your way through it? Columbus Food Adventures and Columbus Brew Adventures offer a huge range of tours that bring you to some of the city's most exciting neighborhoods and give you a taste of the best food and drink to be found. You also get a unique chance to meet the chefs, brewers and personalities behind these flavors. They offer tours of the Short North, Grandview and German Village, among many others.