Spring and summer are perfect opportunities to explore the parks around Columbus. Before you hit up the playgrounds, paths, and fountains of Columbus parks, stop by one of these nearby eateries for coffee, pastries, sandwiches or more.
Flowers & Bread + Whetstone Park
Start your morning with a cappuccino and scones or citrus focaccia, or make a lunch of soup and sandwiches at Flowers & Bread, then head across the street to Whetstone Park. Explore the park of roses, fish in the pond, or fly a kite in the open fields. (Then pick up some bread at the cafe on the way home!)
Tommy's Diner + Scioto Mile/West Bank Park
Fuel up with a hearty omelet or a giant gyro at one of Columbus' signature diners, located in Franklinton, then trek over to the West Bank Park and the Scioto Mile. Stroll the riverfront, play in the Bicentennial Park fountains, and enjoy some of the best views of the city.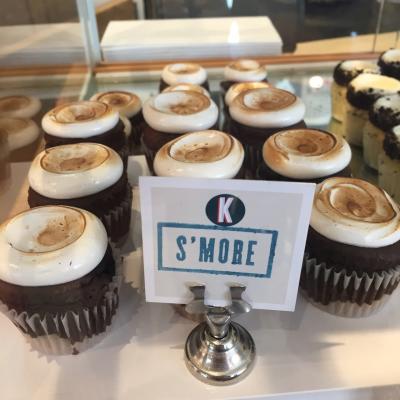 Kittie's Cakes + Schiller Park
Coffee and pastries are the name of the game at Kittie's! Enjoy a beautiful cappuccino to go with cupcakes, cookies, cinnamon rolls, and scones. Pack your snacks and stroll Schiller Park. Visit the ducks at the pond, enjoy the flowers and find the umbrella girl fountain.
Baba's + Glen Echo Ravine
Baba's is named for an eastern European grandmother, and they serve hearty comfort food to keep up with tradition. Stop in for Thunderkiss Coffee and scratch-made sandwiches, soups, and pastries. Then stroll north to the Glen Echo Ravine. You'll forget you're in the middle of the city!
Koko Tea Salon & Bakery + Topiary Park
Koko Tea Salon serves elegant but casual teas and coffees to go with cupcakes, cookies, and macarons. Following your tea time, visit the iconic Topiary Park to see Georges Seurat's "A Sunday Afternoon on the Isle of La Grande Jatte" rendered in the landscape.
Tasi Cafe + Goodale Park
Tasi is a little hidden gem in Short North, a quiet enclave for coffee, croissants, sandwiches, and delightful breakfasts. After a meal at the cafe, you can stroll the arts district (and maybe stop for coffee at One Line or Mission) and go to Goodale Park, where you can talk a long walk and see the fountains.