8 Columbus Juice Bars to Get your Fix
February 3, 2016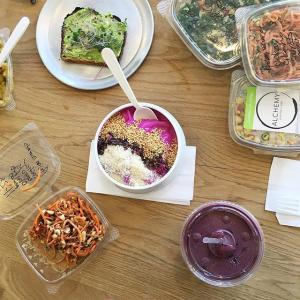 This post is written by Nick Dekker, blogger at Breakfast with Nick and author of a book all about breakfast in Columbus. You can follow him on Twitter @BreakfastwNick.
Get juicing at a few of these suggested stops.
Alchemy Juice Bar + Cafe on Parsons Avenue features house-made juices on tap and in the bottle. They range from green and sweet to coffee and chocolate flavors, and have a full menu of healthy bowls and sandwiches, too.
Native Cold Pressed in Short North serves fresh bottled juices in simple flavors (just apple, just orange) to more complex combinations based on greens to apples to beets and more. You can even order pre-packaged juices cleanses to help jumpstart your body.
PurePressed Juicery downtown offers juices focused on different ingredients, like the Green Simplicity with apples and kale, to the Drop-A-Beet with beets and carrots. They serve sweet versions like cold brewed coffee and vanilla almond as well.
Zest Juice Co. has a range of fun juices with catchy names, like the Sweet Potato Cider, the Lush (pear, apple, cucumber, lemon), and the Habanero Heat. They've started strong in Grandview and Dublin, with spots in Short North and New Albany coming soon.
Bubbles Tea & Juice Company has three locations – one in North Market, and kiosks at Easton and Polaris Fashion Place – where they serve fresh-squeezed juices that you can customize for on-the-go sipping. Choose your ingredients, then they'll squeeze the juice, cap it, and stick a straw in it, so you're good to go.
Samba Fresh presses juices with ingredients from Ohio farms with hydraulic presses, which extract more juice than you're able to at home. The bottled juices help you with any need, like recovering from a big workout or detoxing or just getting healthy. They've got two spots: one in Upper Arlington and one in New Albany.
Organic GreenFix works out of their Clintonville retail location, but they delivering juices and smoothies all around the city, and their tent makes appearances at farmers markets in Worthington, Granville, New Albany, and North Market. They offer classes on the benefits and best practices of juice cleanses.
Berry Blendz in the Gateway University District offers Ohio State students the chance to stay healthy with straightforward juice mixes like wheatgrass, carrot-orange, or the Veggie Energizer with carrots, celery, cucumber, and beets.
Comments