This post is written by Jenny Rogers. You can follow Jenny on Twitter and Instagram @heyjennyrogers.
It happens year after year: Promises of 75-percent-off discounts, giveaways and "This day only!" marketing lure us out of our Thanksgiving slumbers and into chain stores that will, of course, continue to offer sales all season long. If you love the thrill of the game, this post isn't for you.
For those who enjoy a more leisurely—and local—approach to shopping, here's a roundup of our favorite style spots. Use this as a guide to your Black Friday shopping to get in the spirit without feeling the stress.
For the host with the most: Cosecha
Artisanal baking mixes, gorgeous table runners, whimsical ornaments, super-chic serving utensils … if you can dream it up, Cosecha (probably) has it. The cute entertaining boutique, which recently moved from its location on First to the heart of Grandview Avenue, is a must-stop for anyone hitting the party circuit this season. You really can't go wrong here, whether you're spending $10 or $100.
For an investment piece: THREAD
Also on Grandview Avenue (and in Dublin, too!), Thread is Columbus' own version of Saks Fifth Avenue. That's to say, it's posh in the best kind of way, with labels like Rag & Bone, Figue, Ashley Pittman and even a line of chinos by Eric Clapton. (Yes, that Clapton.) Stop in for a classic, wear-over-and-over coat, a great pair of denim or a winter-worthy hat. It's not the most budget-friendly spot on the list, but that's kind of the point.
For little treasures: Store 5a
The Diamond Cellar opened its vintage and recycled luxury shop in the Short North this summer. With pre-owned Rolex, Scott Kay, Chanel, Celine, Louis Vuitton and more, Store 5a is a must-visit for anyone considering a jewelry purchase (or engagement) this season. Talk about a Merry Christmas!
For the foodies: The North Market
You'll probably need a lunch break anyway, so find your way to the North Market for a bite and some Bon Apetit-style shopping. Find gear at North Market Cookware and The Source by Wasserstrom and stop by North Market Spices and CaJohn's Flavor & Fire for friends who really like to get down in the kitchen.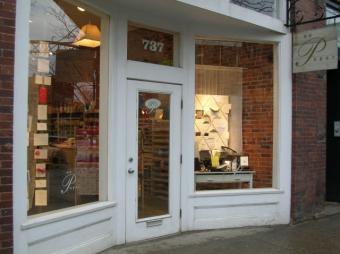 For your to-do list: On Paper
At On Paper in the Short North, you'll find party invitations, holiday cards, thank-you stationary, wrapping paper, beautiful journals and ink pens galore—in short, all you'll need to stylishly follow through with the niceties of the season.
For the guy(s) in your life: Cliff Original
The consensus is in: Beards are officially a thing. But even if your fella doesn't have much mane to maintain, it's important to use the right products. Cliff Original has quickly become the modern Columbus man's go-to for grooming products, from beard oil to hair wax, and you can find the goods at local Whole Foods locations, Flat Foot Vintage in Italian Village and Celebrate Local at Easton.
For someone who's just too cool: The Wexner Center for the Arts
The Wex is awesome for too many reasons to list here, but it's the store I love most. Museum shops are often hidden gems, but enough can't be said about the Wexner Center Store's collection of art books, music, quirky clothing, toys and, now, locally made jewelry. Give yourself an hour—you'll be lost in the stacks in no time.
For your best friend: The Smithery
Jewelry doesn't have to be a big-ticket item. At The Smithery in Grandview, artists Jen Townsend and Anne Holman sell their own contemporary pieces as well as goodies created by artists across the globe, in prices ranging from $20 to $1,000.
For your own holiday-party look: Ladybird
Want to turn heads this season? (Yes, that's a rhetorical question.) Stop into Ladybird in the Short North for the cocktail dress—or jumpsuit—of your dreams. Owner Allison Jayjack's made a name for herself (and her boutique) by rocking Seventies-inspired, "where did she get that" looks, and this boutique's a must-shop if you're hoping to compete with the city's It Girls.