Over the past few decades, Columbus has been a beacon for new immigrants, and that means wonderful things for diners. The city is home to many pockets of excellent global restaurants, representing every corner of the world. Some neighborhoods have higher concentrations of certain populations, and because of that the surrounding neighborhoods are rich with restaurants, cafes, bakeries, and food trucks. One such area, along the northeast corridor of Route 161 or East Dublin-Granville Road, offers several cuisines that deserve exploration. Get to know the city's rich character and expand your own personal culinary horizons by visiting these restaurants.
Udipi Cafe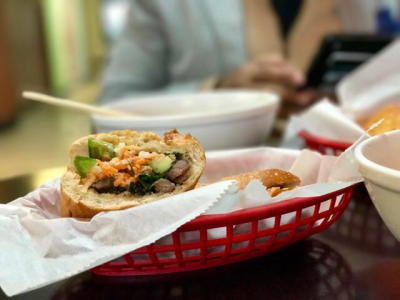 Udipi Cafe features southern Indian dishes with an emphasis on vegetarian and vegan dining. They're known for their lunch buffet, which allows you to sample their full menu. Be sure to order some dosas and batura bread, and dip your way through their sauces, from the cilantro and tamarind, to the coconut chutney.
Jeddo Kabab
Jeddo Kabab offers the finest in Persian dining. They specialize in kebabs: skewers of grilled meat like fish, shrimp, lamb, beef and chicken, served over colorful platters of rice.
Hoyo's Kitchen
Get a taste of Somalia in a warm and welcoming atmosphere at Hoyo's Kitchen. You'll feel like a member of the family as you feast on everything from sambusas (filled with potatoes and peas) to marinated chicken suqaar to tender bebere-spiced goat.
Panaderia Guadalupana
This Mexican bakery will let you indulge in fresh-baked sweet and savory treats, from cookies and cakes to flan and tres leches. Specialties include lightly sweet conchas, dense cinnamon rolls and savory rolls filled with meats and vegetables. Just grab the tongs and load up your tray with goods!
Intercontinental Restaurant
This eatery promotes the cuisine of West Africa, emphasizing the flavors of Nigeria. Their hearty meals focus on dishes like fried plantains with tomato stew, fried rice cooked with vegetables and shrimp, fufu (steamed dumplings made with yam), or zesty black-eyed peas in tomato sauce.
Taco Nazo
Amongst the first of the city's popular taco trucks, Taco Nazo features many of the classics of Mexican street food. Look for the bright yellow truck in the parking lot on the north side of 161, just west of Cleveland Avenue. Choose from a variety of succulent meats – pollo, chorizo, asada, carnitas, barbacoa – and fill tacos, burritos, quesadillas, gorditas with them.
Salam Market & Bakery
Salam is a halal bakery and market offering both grocery items and prepared meals. The open kitchen lets you watch them pull fresh pita bread from the ovens, and their meat pies are legendary. They're baked fresh every day, and they sell out quickly, so go early!
Mi Li Cafe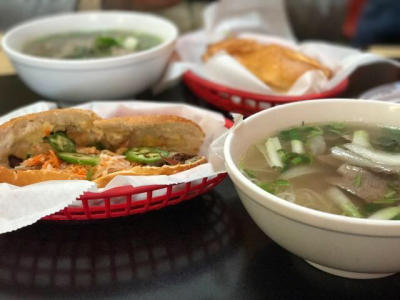 The quiet and cozy Mi Li Cafe is usually rated amongst the city's best Vietnamese dining. Start with crispy spring rolls or grilled pork rolls, then sip on bowls of steamy pho. The absolute must-have is their banh mi sandwich, layering crisp vegetables and pork on a baguette.
For a guided and delicious tour of this diverse corridor of restaurants, Columbus Food Adventures offer its Alt Eats Tour, every Friday starting at 6 p.m.