What does a taste of home mean to you? Do you think of your favorite dishes growing up? The smell of the kitchen as family members lovingly cooked a meal together? The décor in your dining room?
Regardless of your background, Ambrose & Eve will feel like a bit of home to you. Located on South High Street on the border of German Village and the Brewery District, Ambrose & Eve is the creation of two celebrated Columbus chefs, Matt Heaggans and Catie Randazzo.
Heaggans and Randazzo are not new faces to the Columbus dining scene. Heaggans was the owner of the Swoop! food truck, operated the Bebe at the Hey Hey pop-up and served as head chef at The Rossi. Randazzo created the popular Challah food truck, which served Jewish deli-style meals around the city. The duo took their collective experience cooking in Columbus and beyond, and collaborated on Ambrose & Eve, which is named after Randazzo's grandparents.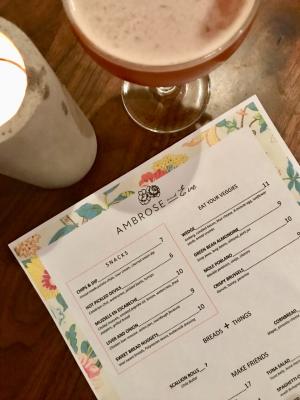 The sense of home, of the family meal, infuses the restaurant. "Family dinner every night and everyone, everyone, is invited," their website says. It helps that the restaurant is located in a renovated house, so the entire dining room and bar feels like a snapshot of home: floral print wallpaper, exposed brick, family photos on the wall, an old fireplace in the front room. Around the holidays, a ceramic Christmas tree sits on the bar – the type of illuminated tree that many peoples' grandmothers owned (including this writer's!).
Of course, the food mirrors that sense of home! Imagine your favorite meals as kid, but handled with care by two accomplished chefs. That's what you'll find on the restaurant's rotating menu; offerings like Ants on a Log, but re-imagined as braised celery with burrata, olives, nigella seeds and truffle butter. Or chicken and dumplings, but as an herbed ricotta gnocchi with roasted chicken in a vegetable ragout. The list goes on: Brussels sprouts, cornbread, fried bologna sandwiches, eggplant parmesan, fried chicken, meatloaf....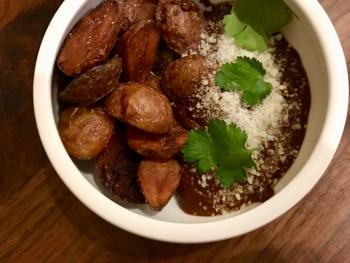 As if dinner wasn't enough, you can visit Ambrose & Eve for brunch almost every day of the week, and comfort yourself with glazed cinnamon buns, breakfast sandwiches on English muffins, custardy cinnamon brioche French toast, tuna melts, fried chicken sandwiches or even simple slices of cinnamon toast.
Since opening November 2018, Heaggans' and Randazzo's work hasn't gone unnoticed. Columbus Monthly named Ambrose & Eve one of the best new restaurants of 2018, and more recently New York Times' travel writer Sebastian Modak called out the restaurant (alongside Service Bar) as the best food he encountered in the city. Modak cited the work of these young chefs as one of many reasons to visit Columbus.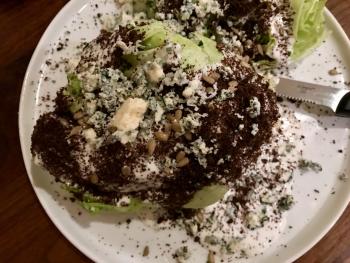 Ambrose & Eve isn't the only project Heaggans and Randazzo have been crafting! You should also seek out their burger shop, Preston's: A Burger Joint. Preston's operates as a food truck and two pop-ups inside Woodland's Tavern and Woodland's Backyard, and offers the same warming and welcoming cuisine: delicious smashburgers, salt and vinegar fries, coney dogs, fried chicken sandwiches, wings and more.
Ambrose & Eve
716 S. High St. Columbus, OH 43206
(614) 725-2080