At 223 square miles, Columbus has hundreds of neighborhoods—depending on your definition of the term. According to the Kirwan Institute's map of Columbus neighborhoods, the city is home to 145 distinct communities. The city is also home to a large LGBT population, ranking 15th in a 2015 study of the 50 largest U.S. metropolitan areas. Due in part to a rich history of activism that was first publicly displayed in a 1973 march at the statehouse, Columbus has long-enjoyed a reputation for LGBT-friendly attitudes.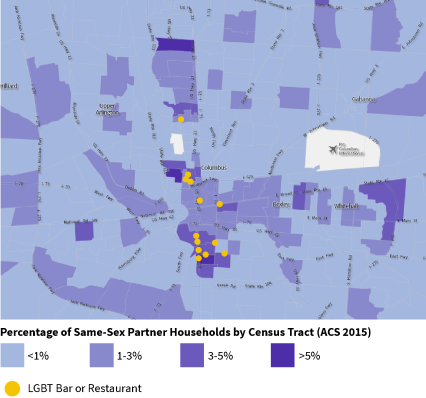 As a large city with a significant LGBT population, where do many in the LGBT community choose to live? The U.S. Census only collects data on partnered couples, not LGBT singles, so our answer is limited. Still, knowing the location of gay and lesbian households in Columbus can give us a sense of where our "gayborhoods" are.
First let's briefly cover why a gayborhood would exist in the first place. Throughout the 20th century, LGBT people, and gay men in particular, created spaces where they could build solidarity, protect one another, and find liberation from a society that did not accept them. Due to social ostracism, many LGBT people used these enclaves to replace communities from which they had been rejected. These neighborhoods necessitated the development of complex social networks and institutions, including gay bars, community centers, bookstores, meeting places, and health clinics. Essentially, LGBT people didn't feel comfortable in their old homes, so they made new homes together.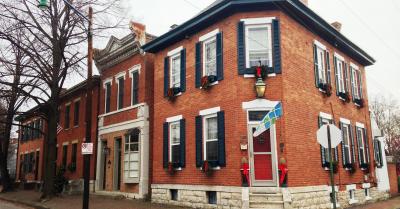 Luckily, many Columbus areas were ripe for the investment of LGBT people. When people talk about "gay neighborhoods," the typical examples are German Village, Short North, Old Town East and Clintonville. One of the most intriguing narratives of gay neighborhoods is the contribution the LGBT community made to revitalizing urban neighborhoods. In 2014, the German Village Society offered a "Gay Pioneers Tour," a fantastic foray into the uniquely queer history of the village. One prominent example of gays in public life is the story of partners Fred and Howard, who were at the forefront of the German Village success story, dedicating themselves to fostering a sense of community and working behind the scenes to lift the neighborhood at City Hall. Today, German Village ranks highly for partnered gay couples in Columbus, though Merion Village to the south beats out German Village proper. The South High Street corridor is home to four LGBT establishments, some of which offer a glimpse into the dive-bar scenes of previous decades. For a true throwback, head to Tremont Lounge—supposedly the city's oldest gay bar—where a diverse clientele gathers for cheap drinks and fun shows.
For a modern and trendy picture of LGBT life in Columbus, head up to the Short North. As a business district and a collection of residential neighborhoods, the Short North is the city's most active spot for gay nightlife. Home to Union Cafe, Axis Nightclub, and Level Dining Lounge, this short strip of North High Street is a gay mecca. The neighborhoods on either side of the strip—Victorian Village and Italian Village—sport many pride flags flying from historic porches. Take a walk down jagged Price Avenue or the linear Mt. Pleasant Avenue to get a sense of what living in the neighborhood would be like. It's no wonder so many LGBT people have chosen to live there, considering the proximity to such an active gay scene.
Seeking someplace more subdued? Live the suburban dream and head up to Clintonville—or, more specifically, Beechwold. Developed on land that was formerly the summer home of the Jeffery Family (i.e. Jeffery Place, Jeffery Mansion, Jeffery Mining Manucaturing Co.), Beechwold offers a variety of housing stock. From the unique architecture and leafy tree canopy of the historic district on the west side of High Street to the cute Cape-Cod cottages on the east side, the neighborhood allows for diversity of many types. When in Beechwold, don't miss Mozart's Piano Cafe, a local fixture that offers delectable European pastries, full entrees, and live piano music to boot.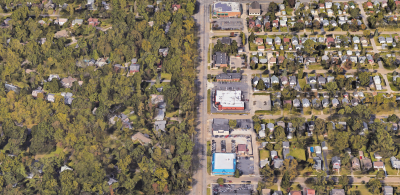 Wherever you choose to go for a gay old time, you'll experience a unique slice of LGBT culture in Columbus. For more on gay culture and activities in Columbus, visit our LGBT Travel page.
*Special thanks to Bryan Cole, graduate student in social work at OSU, for research assistance in this post.