Although the beverages may be for the adults, the experience of going to a brewery can appeal to the whole family. Breweries, after all, are meant to be gathering spaces for friends and loved ones and many Columbus breweries are kid friendly.
Some helpful tips parents:
Visit during appropriate hours: some breweries may be 21+ after certain times, or the brewery/taproom may get too busy or crowded for the kiddos
Look for breweries with enough space for everyone to comfortably gather
Know your kiddos and their limits!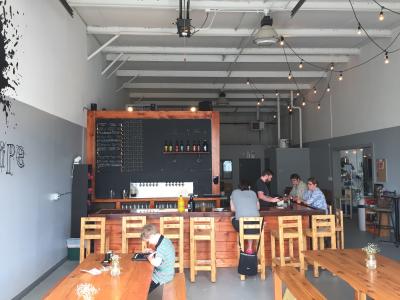 Sideswipe's small taproom features an L-shape bar and a handful of community tables. There's a dartboard in the back and a shelf of board games.
Smokehouse was established over two decades ago as a spot for homemade barbecue and English style brews. The full service restaurant offers pints of Scottish ales, IPAs, and stouts to go with smoked wings and racks of ribs. There's a kids menu, and kids eat free Tuesday evenings!
Hoof Hearted Brewpub & Kitchen
Although the irreverent branding and beer names might give some parents pause, there's plenty for the kiddos at Hoof Hearted. The menu features shareable items like poutine, wings, and fried alligator bites. There's orange soda on tap, colorful cartoon illustrations on the walls, and what kid isn't going to enjoy saying, "Hoof Hearted" three times fast?
Platform's downtown taproom is bright and open, with the brewery on one end and rows of tables lining the space. Garage doors open onto a small patio, there's a pinball machine in one corner, sodas on tap, and a rotating selection of food pop-ups keep everyone fed.
The gang's all here! Barley's has welcomed families for years, with pub classics like burgers, nachos, fish and chips, and sandwiches. Adult can sip pilsners, IPAs, and wheat beers. The kid's menu covers favorites like grilled cheese, pasta, and cheeseburgers.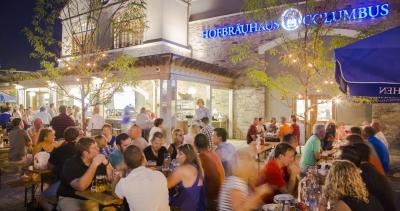 Hofbrauhaus
It's like a family trip to Munich! The Hofbrauhaus features a big beer hall with rows of community tables. Adults can enjoy liters of house-made lagers, while the family shares plates like giant pretzels, sauerkraut balls, and nachos. Adults can order wiener schnitzel and bratwurst, while the kid menu features schnitzel, burgers, and pizza. The second Tuesday of every month is Family Night, with live entertainment, face painting, balloon animals – and kids eat free!
Grandview's Knotty Pine is a cozy neighborhood pub serving wings, pizzas, burgers, sandwiches – paired with house brews. There's a solid kid's menu, and their weekend brunch can be a family affair, too!
During the right hours, most breweries are very accommodating to kiddos, when patio space is wide open or during special events. And lucky kids might spot some wildlife, like Hops, the house cat at Zaftig Brewing, or Assistant Manager Old Horatio, the resident feline at Seventh Son Brewing.