It's not quite time for patio brunch yet, but it's always time for brunch. From old-school diners to limited seasonal menu restaurants, Columbus offers a range of top-notch brunches for visitors and residents alike. Let's take a look at a few of the cities best options in four categories.
The Diner Scene
Jack & Benny's — 2563 N High St, Columbus, OH 43202
This diner is truly a Columbus institution. Established in the 1950s at their original downtown location, Jack & Benny's draws a full house each weekend and maintains a sizable wait time for seating, so arrive early! It's low-key but high-quality. Featuring two dining area, one with bar service, the corner building allows ample natural light to help you wake up in the morning. To fill you up, order the famous "Gutbuster", a dish sure to leave you sleepy. To calm the palette, order the fresh-squeezed orange juice, and watch your oranges get squeezed by the juicer in the corner! Savor the flavor—fresh squeezed OJ is hard to come by at diners and is one of the reasons Jack & Benny's stands out from the pack.
DK Diner — 1715 W 3rd Ave, Columbus, OH 43212
Hidden in a residential part of Grandview Heights, DK Diner is a donut-shop and a diner. While the food is great, the donuts are truly in the spotlight here. As with any fabulous brunch location, it fills up quickly--and parking is limited. Try hopping on COTA or calling a Lyft rather than traveling so conventionally! From a basic egg sandwich to the "DK All the Way", this spot checks all the boxes for a solid diner brunch.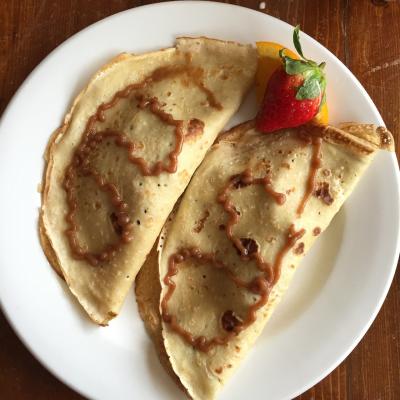 German Village Coffee Shop — 193 Thurman Ave, Columbus, OH 43206
If "hole-in-the-wall" didn't sound so derogatory, maybe I'd call the German Village Coffee Shop a hole-in-the-wall. This diner, opened in 1981, offers a glimpse of the neighborhood before places like Pistacia Vera and The Sycamore added more culinary options.
North Side Neighborhood Spots
Wildflower Cafe — 3420 Indianola Avenue, Columbus, OH 43214
Most of Clintonville's dining lines the High Street corridor, but not this gem. The Wildflower Cafe is a neighborhood restaurant with a city-wide appeal because of its sophisticated menu and down-to-earth attitude. Billed as "homestyle dishes with an updated flair," Wildflower offers options like Challah French Toast or California Eggs Benedict. Consider taking a homemade dessert home for an afternoon delight!
Ethyl & Tank — 19 E 13th Ave, Columbus, OH 43201
Some people over 25 might be a bit hesitant to head the campus area, but this is an attraction that brings people to a part of Columbus that is home to tens of thousands of college students. "Ethyl," as the locals call it, offers a southwestern-style menu and is part of the restaurant group that created successes like The Crest and Alchemy. For weekend brunch, they offer a Bloody Mary Bar for your inner bartender. On your way out, stop in at The Little Donut Shop at 1716 N. High St. for an eccentric little donut, like Dirty Worm or Maple Bacon.
Specialty & Seasonal
Skillet — 410 E Whittier St, Columbus, OH 43206
This is the place that makes you say "I want to go there." Skillet offers a unique, chef-driven seasonal menu that rewards early birds. Arrive too late, and you'll miss out on some of the limited ingredients that make this such a special spot. The menu is described as "ingredient-driven with complex flavors," and they will run out of select items when they're busy. Because of its cozy size, Skillet does not recommend parties over four people. My personal recommendation is the sweet Cheese Blintzes, griddled crepes filled with ricotta, tart cherries, and unique blend of spices.
The Market Italian Village — 1022 Summit Street, Columbus, OH 43201
This former corner-store represents a big change in the neighborhood! The Italian Village Market opened in 2014, replacing the Saveway Mart carry-out. Now residents can grab a third wave espresso drink, fresh daily pastries, produce, and many other specialty items like truffle oil and local honey. In addition, the market offers gourmet meals featuring unique, seasonal ingredients and charcuterie cut in-house. And to entice parents of children under 12 to visit on the weekend, the Market offers free meals for kids!
Buffet
Bleu & Fig — 4622 N High St, Columbus, OH 43214
Everybody loves to be part of a secret! Bleu & Fig is a catering company that offers occasional secret Sunday brunches for those in the know. Focusing on modern American comfort food, guests will be treated to first-rate cuisine and top-notch presentation, as the forte of Bleu & Fig is exquisite events. In addition to impeccable quality and taste, the attention to detail that goes into each dish is very apparent. Find them on Facebook and connect directly in order to get a seat at the next pop-up Sunday brunch buffet!
Matt the Miller's Tavern — 1400 Grandview Avenue, Columbus, Ohio 43212
Matt the Miller's is like an upscale pub and is also one of the only Sunday brunch buffets around. The menu features traditional breakfast favorites, made to order omelets, Belgian waffles, assorted flatbreads, gourmet salads, fresh fruit, and a new kids buffet for those 10 and younger. There's also a coffee and Ultimate Bloody Mary bar! The Grandview Avenue location means you can comfortably stroll around the area to start digesting!
Try out a few of these before the weather breaks and save a few for the warmer Sunday mornings of spring. A patio brunch is one of those mornings to be savored. Pair your brunch with a visit to one of Columbus' fantastic third wave coffee shops or a stop at an independent bookstore, like the Book Loft or Acorn Books. Whether you're searching for a retro classic or a delicately prepared seasonal dish, Columbus offers a breadth of brunch options for residents and visitors alike.