Trying to catch a deal on drinks and appetizers at a Short North Arts District restaurant? Happy hours are your best bet during the week, and there are over 30 to choose from! For a glorious yet brief early evening period, food and drink specials abound along N. High Street. And while you might not count yourself lucky to have access to such fantastic prices during what seems like a ubiquitous practice, some Americans don't have access to these hours of happiness. In Massachusetts, North Carolina, Utah, Rhode Island, Vermont, Oklahoma, and Alaska, happy hours are flat-out illegal or tightly regulated. Chicago just regained happy hour status in 2015, after the Illinois legislature overturned a 25-year ban. So when this article spurs you to enjoy a reduced-price cocktail after work, be sure to drink with gratitude.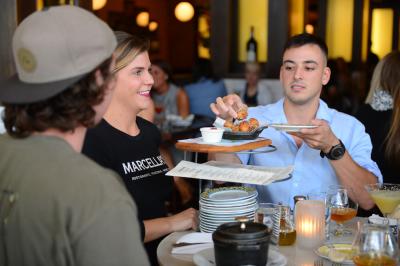 Two of the most classic happy hours are Marcella's and Martini. Marcella's was crowned the city's Best Happy Hour for 2016 by Columbus Alive back in March, and for good reason. They offer half price select food and drink in the bar area, a sweet deal at one of Cameron Mitchell's best restaurants. Just a few blocks south, Martini offers their namesake drink for only $5, in addition to half-price handcrafted-cocktails and select appetizers. Though these are undoubtedly stalwarts of Short North happy hours, let's take a look for some more options. It's time for an update to 2015's recommendations.
At Philco Bar + Diner, you'll find a more low-key atmosphere with the style of an inviting and comfortable classic American diner featuring an updated menu. Named after the Philip's Coney Island restaurant that occupied the same space previously, Philco sports a sizable bar, a couple of more intimate high-top tables, and two oversized booths. For happy hour, local drafts are half price. Not that you needed another incentive to sample local beer, but this deal will make you more likely to support one of Columbus' great breweries, from Land Grant and Seventh Son. Pair your local brew with a simple but scrumptious menu offering, like the balsamic-glazed brussels sprout salad with caramelized pecans, or the unique take on mom's meatloaf: bacon-wrapped sweet chili meatloaf, featuring sides of tempura green beans and whipped potatoes.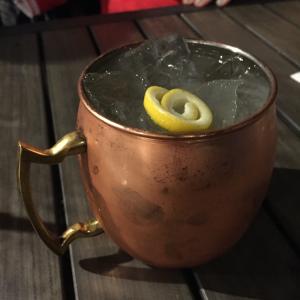 If the sophisticated comfort food of Philco sounds too heavy for your taste, try a scaled back establishment that focuses on libations. For a true high-end bar experience without the fuss of extensive cuisine, head to the distinct Denmark on High. Light on fare and heavy on spirits, the European-style establishment offers a solid opportunity to drink like a patrician on a plebeian budget. From 4 p.m. to 6:30 p.m. on weekdays, you can try the $10 Manhattan for just $6, or the even more dazzling mezcal-based Calabaza—a $12 drink—for $8. And if these options aren't appealing enough, remember that Denmark takes cocktails seriously. All of their bartending staff offer extensive drink menus online that customers can view with the onthebar smartphone app. Be a spectator, grab a window seat, and sip your Sloe Gin Fizz as others stroll on the sidewalk down below.
Your Itinerary for an Affordable Weeknight Out
One of the best things about happy hours in the Short North is the linear layout of the neighborhood. Maybe you start south, grabbing a draft beer for $2 off at Bareburger starting at 3 p.m. Then take advantage of Marcella's half price (select) food at the bar until 6 p.m. Cap it off with a stop at Bodega, featuring dozens of beers, for happy hour until 8 p.m. Timed right, a bar-hopping evening in the neighborhood can be much more affordable on a Friday than a Saturday. Even better, you can walk the entire strip—or hop on the free CBUS circulator!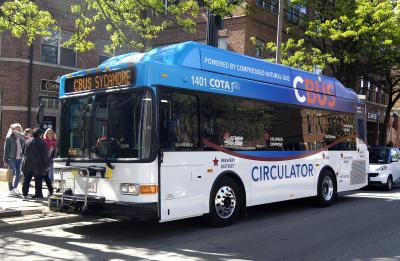 Slightly up the road from Bodega, Barrel on High is no longer purely the whiskey bar you might have thought. For their deal, called "the Happiest of Hours," Barrel offers a house wine for $4 per glass, and an above-par bar burger and fries for just $6 on Fridays. Not many establishments can claim to offer nearly 150 types of whiskey, bourbon, and scotch to the happy hour drinker.
Enjoy Responsibly

Wherever you choose to indulge with friends or co-workers after a long day at the office, remember to take advantage of the Short North's transportation amenities. Walking is always attractive—free and healthy—as are COTA and livery services like Uber and Lyft. More info if available at getaroundcbus.com.
More Resources

Use the Short North Arts District website for a nearly complete listing of happy hour deals in the area. However, new bars and restaurants open rather frequently and maintaining a constant listing of all offering is daunting.
Happy Hour Finder is a website and smartphone app to locate happy hours near you: thehappyhourfinder.com
Here's a listing of city-wide happy hours, not just Short North, provided by ColumbusSnob.com