This post is written by Nick Dekker, blogger at Breakfast with Nick and author of a book all about breakfast in Columbus. You can follow him on Twitter @BreakfastwNick.
Columbus is a premiere breakfasting city. In general, we're an excellent food city, as anyone who has visited our restaurants, markets, coffee shops, breweries, food trucks, wineries, or festivals can tell you.
Columbus is an active city – we've been named the most intelligent, a great place to make your mark and a fantastic place to live and work. We get all that done by starting early, and that means seeking out great breakfasts.
I'm Nick of Breakfast With Nick, blogger and tour guide. It's become my mission – and what a tasty mission it is – to show people how Columbus does the morning meal. Our breakfast scene is worthy of exploration by residents and visitors alike. You name it, we do it well:
Classic old diners? We've got a dozen. Brunch spots with patios? Find a seat. Corner cafes with eclectic menus? Take your pick. Coffee shops with award-winning roasts? Get in line. Donut shops new and old? Grab a dozen. Ethic restaurants showcasing global breakfasts? Start exploring.
People always ask what's my favorite, and I can never narrow it down. My favorites rotate constantly because there are just too many notable breakfasts in Columbus.

For a good starting point, head to Katalina's in Harrison West. The cafe has picked up national attention for its menu of Latin-infused goodies, like pancake balls with Nutella, sweet and spicy bacon, Cuban sandwiches, and huevos rancheros.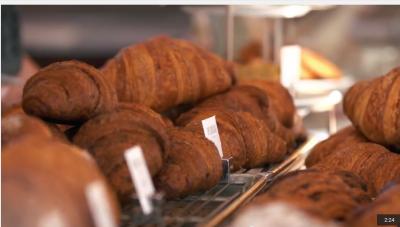 Pistacia Vera serves a simple but beautiful daily brunch in German Village. You can't go wrong with any of their pastries, although their croissants are especially good when served with their house-made preserves. They also plate up stunning breakfasts like their croque monsieur and their quiche. I'm partial to the mushroom quiche.
These are good starting points for ongoing exploration of Columbus' breakfast scene. Next up, try a Cuban breakfast at Starliner Diner, breakfast sandwiches on brioche at Cravings Carryout Cafe, or eggs benedict at Wolf's Ridge Brewing.