The already-active brewing scene in Columbus grew considerably this year with the opening of BrewDog's new production facility and taproom in Canal Winchester. The Ellon, Scotland-based brewery has experienced tremendous growth around the world since they were founded in 2007, and when they were looking to expand operations into the U.S., they made central Ohio their home.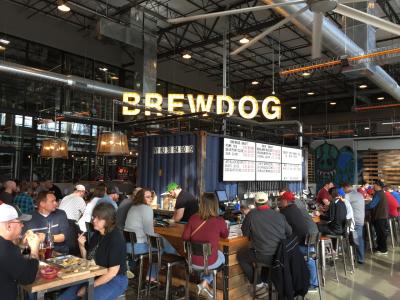 The Canal Winchester facility serves as their production brewery (to the tune of 100,000 square feet), offices, distribution center, taproom, and gift shop. Owners James Watt and Martin Dickie chose central Ohio because of its proximity to a majority of the U.S. population, giving them easy access for shipping their brews all over the country.
From downtown Columbus, the brewery is a 20-minute drive down Route 33 in Canal Winchester. It's hard to miss the massive concrete wall with the colorful mural and the phrase "Brewery & Taproom" painted on the side.
When you walk through the doors, you'll find the gift shop with BrewDog swag and waiting area (where eventually you can fill growlers and pick up six-packs). DogTap Columbus, the restaurant and bar, features a selection of BrewDog beers and Ohio guest taps. Favorite BrewDog brews include their signature Punk IPA, the citrusy Elvis Juice IPA, and Cocoa Psycho imperial stout. The restaurant menu includes pub favorites like pizzas, burgers, tacos, and wings.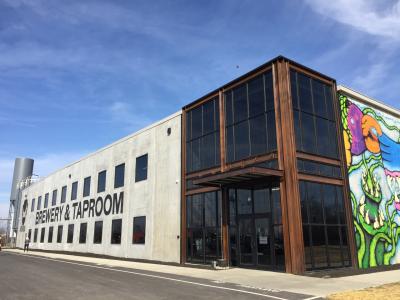 BrewDog is looking to create a full customer experience at their brewery. You can play shuffleboard, pinball, and arcade games. The taproom features a large patio with firepits and bike paths that connect to the public paths around the region.
And more is yet to come! BrewDog announced the opening of a taproom at 463 W. Town Street in Franklinton (and hinted at a second taproom in Columbus). And they've announced a beer-centric hotel called the Doghouse, complete with Punk IPA continually on tap, curated beer cabinets, and views of their second brewing facility focused on sour beers.