We love our ice cream in Columbus, from traditional chocolate soft serve to creative cones topped with local ingredients. We'll line up for it all year round, but if you're looking for a cold treat this summer, try these signature bites of Columbus ice creams!
Jeni's Salty Caramel
Any fan of Jeni's knows you can't order just one scoop at a time (hint: get a trio!), especially with favorite seasonal flavors rotating throughout the year. But Jeni's signature ice cream won Columbus' heart by mixing sweet and salty flavors with their Salty Caramel, featuring house-made caramel.
Johnson's Real Ice Cream Buckeye Fever
Johnson's opened in 1950 in Bexley, and is now run by the fourth generation of the family. They make a huge selection of ice creams, from cherry amaretto to cookies and cream. Their Buckeye Fever celebrates our hometown football team with the perfect mix of peanut butter and chocolate.
Graeter's Black Raspberry Chip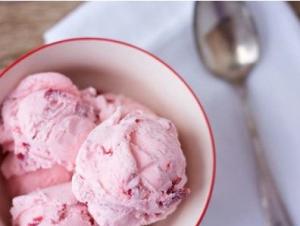 Graeter's signature flavor mixes smooth and sweet raspberry ice cream with big chunks of chocolate. Pro-tip: visit the Bethel Road location to take a tour of the factory!
Belle's Bread Matcha Soft Serve
Belle's is a Japanese bakery with a European twist, serving beautiful cakes, breads, and sandwiches. They're also known for their matcha soft serve, a tasty and smooth ice cream made with green tea.
Diamonds Ice Cream Sweet Corn Paleta
Diamonds serves all sorts of ice creams and sorbets, but you should head first to their cooler of paletas, which are Mexican treats similar to popsicles. They're made with different ingredients, from sweet confections to slices of fruit and more. The sweet corn paleta is like eating a sweet and buttery corn on the cob.
Whit's Frozen Custard Vanilla Custard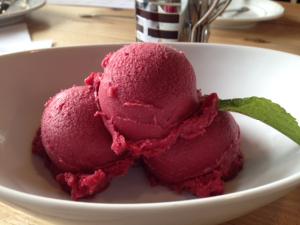 Whit's started in nearby Granville, but they've added locations all around Columbus. Their vanilla custard is wonderfully creamy, terrific all on its own or topped with crushed candy, fruit, or nuts!
Coppa Gelato Cookies and Milk
Gelato is different than ice cream, we know. But one taste of Coppa Gelato in Westerville and you'll include them in every list of summer treats. Choose from their fruit sorbettos to seasonal flavors, but start with their rich and creamy Cookies and Milk.
Knight's Ice Cream Chocolate Marshmallow
Like Johnson's, Knight's is a heritage brand that's been around for decades. They craft dozens of flavors to scoop into cones and dishes, and their chocolate marshmallow is a sure-fire winner!
Cookie Dough Creamery Cake Batter
Cookie Dough mixes up a variety of soft serve ice creams, from classic flavors to seasonal creations. Their cake batter is a buttery treat, and it's best topped with their house-made cookie dough, made with a safe-to-eat but still very tasty recipe.
What's your favorite Columbus ice cream?