For a while, my wife and I had one kid. Now suddenly, we find ourselves with three (new twins). Time is precious, but when we have some to spare, it's a wonderful experience to for one of us get out of the house with just my older daughter. That kind of distraction-free quality time makes us all really happy. Whether you have one kid, a whole bunch or just borrow someone else's for an afternoon, here are a few of my favorite parent-kid dates in and around Columbus. 
Outdoor Exploring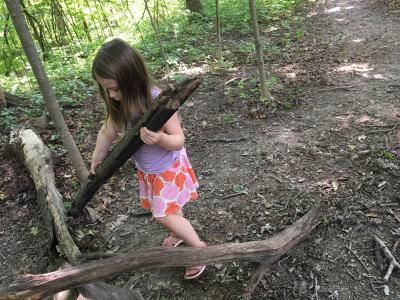 There are so many great parks in Columbus, and the scenery at each is so different. It's fun to pick a new park to explore and get out of our daily routine. Blendon Woods Metropark is a favorite because it has a 10-acre natural play area, where kids are encouraged to build forts out of fallen limbs, stack rocks, leap across streams and search for wildflowers. Other favorites include Battelle Darby Creek and its bison and impressive nature center, and Slate Run and its historical farm. 
Books and Cafes
We're lucky to live close to German Village, so walks through the neighborhood are common. But for a special treat, we'll make a stop at the Book Loft, a 32-room independent book store that you could spend a whole day inside. The ground-floor has a huge kids book section that's full of classics, new series, activity books and tons of puzzles. A little farther north on 3rd Street is Pistacia Vera, our favorite spot to grab a pastry and drink. I like the americano and a rye croissant. She loves to try new things every time. 
Ballet Matinee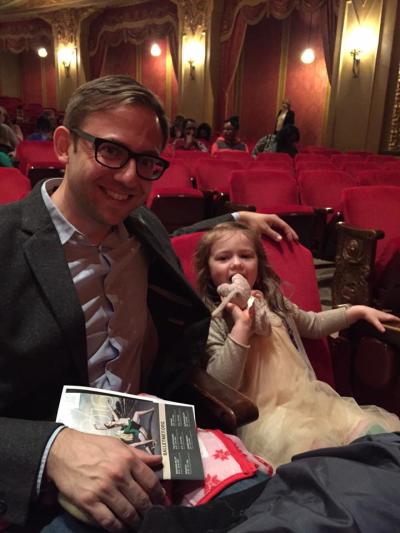 To say my daughter is very interested in ballet is an understatement. She might be four, but she knows her plies from her jetes. BalletMet's Nutcracker is a favorite holiday tradition, and we try to make it to at least one other performance every season. The 2 p.m. Sunday matinee shows are perfect, because I don't have to worry about keeping her up too late, and she has plenty of energy to enjoy the show. On Sundays, the Columbus Museum of Art has free admission, and an hour in the Wonder Room, where kids can play in a giant tree house and work on their own artistic creations, is always well spent. 
The Long Walk
This is one we do with all five of us. The walk along the Scioto Trail from the Grange Insurance Audubon Center through downtown's Scioto Mile makes you feel like you're way out in nature, but you're never far from a great skyline view. A quick lunch at Milestone 229 always satisfies, and if we're feeling up to the challenge, we can keep going on the trail past North Bank and Confluence parks, cross the Scioto into Franklinton and skirt along the Scioto Peninsula past COSI before heading home for a walk of around five miles (we bring the stroller.) It's fun to see the river changing through the seasons and to see different birds and other wildlife. 
The CBUS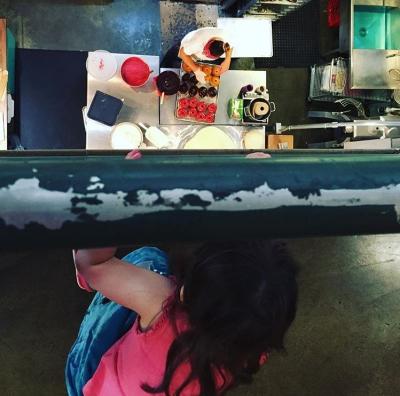 My daughter loves riding the free CBUS downtown circulator - so much, that when she got to pick what she wanted to do for her birthday, it was at the top of her list. We'll hop on at Sycamore and Front in the Brewery District and ride up to the Short North Arts District. A stop a Cub Shrub is a must - it's a kids boutique full of excellent toys and clothes with the nicest staff you could imagine. I love to stop at The Pearl, where the happy hour (weekdays 4-6 p.m.) is 1/2 off drinks, sandwiches and bar snacks. The kids menu is a hidden gem - seriously delicious dishes at $6 each. The booths are roomy and comfortable. If we go earlier in the day, a stop a the North Market during farmers market season or for a pink donut from Destination Donuts is always a fun treat.