This post is written by Nick Dekker, blogger at Breakfast with Nick and author of a book all about breakfast in Columbus. You can follow him on Twitter @BreakfastwNick.
Whenever you're planning an outing to one of the city's landmarks, it's great to make a full day of the experience. Here are some spots to remind you it's not just about the destination, it's the journey!
COSI
If you're planning a day a COSI to take in the exhibits, see a movie on the IMAX screen, or visit the newly reopened planetarium, there are plenty of dining spots nearby.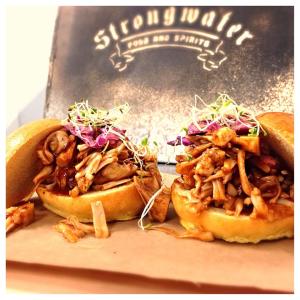 In Franklinton you have the classic Tommy's Diner or you can snag coney dogs at Phillip's Original Coney Island– both great for the whole family. For a look at a building with some history, find a seat at Strongwater Food & Spirits.
Across the river downtown, you might catch lunch at Milestone 229 before or after playing in the Bicentennial Park fountains. (Pssst… they've got a great kid's menu!) Or ride the carousel at the Columbus Commons, then grab some tacos from Tortilla's kiosk and ice cream from the Jeni's Ice Creams stand. 
Check out our Franklinton dining guide for more suggestions!
Columbus Zoo & Aquarium / Zoombezi Bay
You'll need more than a day to explore the entire Columbus Zoo & Aquarium, so you'd better fuel up first!
On the road to the Zoo you'll find an eclectic range of eateries. Grab some Chinese at Sunflower (with authentic dim sum on weekends!), Greek fare at Anna's Greek Cuisine, or flavorful tacos at Haas Tacos, all in the same strip.
Down the road you can try Sweet Clove Sunshine Cafe, a concept store (the only one of its kind) from Honey-Baked Ham. They feature giant slices of French toast, eggs benedict made with their ham, and tall sandwiches and burgers. Close by you can get coffee and sweet pastry from the cozy Tuula's European Cafe.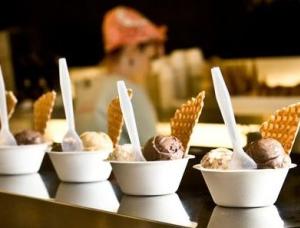 Just west of the Zoo across the Scioto River is the local diner Hellas Carryout. This long-time favorite boasts a huge list of omelets and gyros.
A short drive east in downtown Powell are lots of options, too. Revamped southern fare from Kraft House No. 5, pasta and sandwiches from Local Roots, easy-to-love tacos from Mojo Tago, and of course, more Jeni's Ice Creams.
The Wexner Center for the Arts
The Wexner Center for the Arts is a complete stop in and of itself. You can spend hours exploring the world-class visual art exhibitions, seeing visiting theater companies, catching live music, or watching experimental film. When you need a break, head downstairs to Heirloom Cafe. The cafe features local and seasonal ingredients – including some grown by the chefs in their nearby urban farm – to create a menu with breakfast burritos, stir fries, sandwiches, and salads, all just as beautiful as the artwork featured in the building.