Traveling is more fun when everyone in the family can come along, especially the four-legged members, and Columbus welcomes humans and their pooches with open paws. Columbus is home to many pet-friendly parks, shops, and events. However, it may not be possible for your furry friend to join you for every activity. Don't worry, Fido doesn't have to stay at home! Columbus has a variety of options from professional pet sitting to doggie day care services that allow you to have a night out on the town while your dog has fun, and is safely cared for.
To show you some of the pet caring services Columbus has to offer my pup, Mr. Bojangles, and I compiled a list of some of our favorites. Note: Each company listed below has their own requirements in terms of application, interview, and orientation to their services. Check out their websites for additional information. Be sure to do your research and plan ahead for the best experience for you and your pupper.
Pet Sitting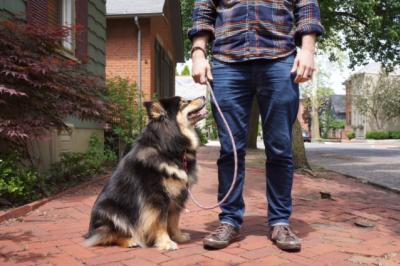 Since many hotel policies do not allow pets to be left unattended, pet sitting services are a great option for folks needing someone to look after their furry companion. Le Pooch Columbus, Top Tier Pet Care, and WOOF! Downtown Pet Care caters to the downtown Columbus area and surrounding Central Ohio neighborhoods. A pet sitter will come to your house or hotel to look after, walk, feed and play with your four-legged family member.
To meet your needs, these companies' offer a variety of pet caring services and provide your pup with one-on-one attention while you're away, including drop-in visits and dog walking. Text and picture updates will give you peace of mind that you pooch is well taken care of.
Pet Sitters International lists important questions to ask a prospective pet sitter.
Doggie Day Care
Doggie day care is a great pet caring choice for some dogs. It increases exercise and socialization, relieves boredom, and decreases destructive behaviors that may occur if your pup is left alone.
Out of towners are welcome at Camp Bow Wow Grandview Heights.  Your four-legged family member will play all day while being supervised by trained staff members, and Camp Bow Wow's live web cams make it fun and easy to watch your pup romp around. The newly-opened and conveniently-located Wonder Dog Society has a large play space and lots of toys for your pup to run off all of their energy.
If you plan on spending more time in Columbus, these options accommodate guests who require services for more than a few weeks at a time. Your pup can play with their best furry friends at Tail Wags Playground day camp. Tail Wags Playground is Columbus' first indoor dog park and lounge. In addition to day camp, pet-parents can play with their dogs while enjoying cup of coffee with and hanging out with the locals.
Some other options for doggie day care services include The City Dog, Puptown Lounge, and Doggie Daycare Center.
Pet MD suggests you ask these important questions to ask a prospective doggie day care facility.
Dog Caring Service Directories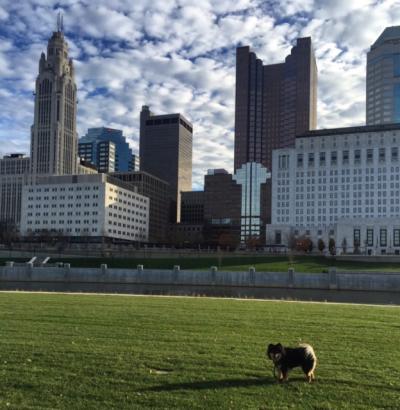 For a comprehensive list of dog caring professionals in Columbus explore these websites Rover, Pet Sitters International, and Angie's List.
Whether you are in Columbus for a weekend getaway or a three-month stay, there are many dog caring options for your four-legged traveler. It's best to interview as many as possible, keep in mind the health, wellbeing, and safety of your pup, and select the best fit.