After 35+ years in operation, Columbus' annual Pride Festival is now one of the best and biggest LGBTQ events in the country, bringing together a crowd of over 700,000 to celebrate love, diversity and equality. The weekend's festivities take place on the downtown riverfront, June 14-15, and include a massive parade through downtown, three stages of live music and drag performances, food and drink and over 180 vendors. The parade's Grand Marshall will be Columbus' most beloved drag queen, Nina West, who you may recognize as fan favorite and Miss Congeniality from season 11 of RuPaul's Drag Race.
If you'll be in Columbus for Pride, here is a snapshot of all the parties, after parties and events going on in the city you're sure to not want to miss.
What better way to give back than to get some cool Columbus Pride swag while doing so. Here is a list of local Columbus companies that have created Columbus Pride t-shirts and merchandise (including beer cans!) and will donate a portion of the proceeds to a local LGBTQ charity.
*Do you know other local businesses selling merchandise that benefit an LGBTQ foundation? Let us know and we can add it to the list!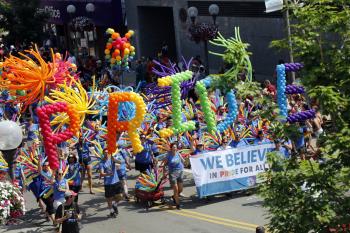 Make sure to stop by the Experience Columbus tent on the Rich Street bridge. We'll be selling Columbus rainbow t-shirts and tanks, doing on-the-spot giveaways and will have a photobooth with the Columbus skyline as your backdrop. Plan ahead and request our LGBTQ guide be sent to you or view it online here. You can find a full list of events and things to see, do and eat in the city at outincbus.com. And make sure to tag your experiences in the city with #outincbus.