You have to take the good with the bad in situations like the one we find ourselves in now. Luckily for the creative forces working in Columbus, local musicians from every end of the spectrum have been coming up with ways to raise funds while also brightening the days of Ohioans quarantined to their homes. Whether it be through a live streaming couch concert or releasing new music daily thanks to the amount of time we've been given, there have been a lot of locals making the best out of a difficult situation. 
Below you can four ways with multiple ideas of how you can still support local musicians and help keep their careers afloat during these times of uncertainty.
Watch and Donate to Live Streams: Monday, March 23 - Sunday, March 29
Musicians adapted very quickly as live music venues were shut down in Columbus. Live streaming has brought joy and comfort to local fans and musicians across the world during these times that we've been quarantined inside. Below you can check out a handful of Columbus musicians who are not letting the current situation keep them from expressing giving the gift of live music to others. Please be sure to donate anything you can to the musicians and venue workers during these times and check the Facebook event pages for information on streaming mediums.
Straw & The Scarecrow Rambling House CouchTour
Jeff Straw (The Devil Doves, Sussman Can't Sleep) and Paige Vandiver (Linden Hollow, The Salty Caramels) will be continuing Rambling House's quick response to the cancellation of live music with their almost daily CouchTour series, performing as Straw & The Scarecrow. You can buy a $5 ticket through Eventbrite and donate tips through Venmo @Paige-Vandiver or PayPal. Make sure to donate to Rambling House employees through GoFundMe.
Time: 8 p.m. - 9 p.m. | Date: Monday, March 23 | Stream Cost: $5
The Tony Hagood Trio featuring Laura Camara Live Stream
Streaming from the Snowden Gray Mansion, the Tony Hagood Trio is one of the other local acts not letting live jazz come to a halt. One of the most celebrated and veteran jazz ensembles around Columbus, the Tony Hagood Trio will feature guest vocalist Laura Camara to provide some top-tier arrangements from the likes of Ella Fitzgerald and Sarah Vaughn. Make sure to tune in for this multi-camera stream on Facebook Live, YouTube, Livestream and more. There will be a virtual tip jar to donate to the band through Venmo, Google Pay, Cash App and more for those that enjoy the stream and are able to tip.
Time: 7:30 p.m. - 8:30 p.m. | Date: Tuesday, March 24 | Stream Cost: Donation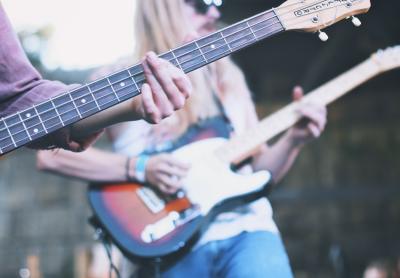 Brother Hill Rambling House CouchTour
Live from the cabin in which Brother Hill is currently quarantining, the Rambling House regular will be bringing the world a special live stream on Tuesday. The neo-folk artist will be putting on a virtual performance in which you can donate to the musician's cause via Venmo @brettafhill or at PayPal and to the Rambling House Virtual Tour fund at GoFundMe to help support the out-of-work bartenders, promoters and soda crafters. You can show further support for Brother Hill by purchasing their music via their Bandcamp page.
Time: 9 p.m. - 10 p.m. | Date: Tuesday, March 24 | Stream Cost: Donation
Lily in the Weeds Rambling House CouchTour
Lily in the Weeds will be bringing live entertainment from their living room space in New Orleans for a live stream that will cost $5 on Eventbrite to watch via their Facebook page. The psychedelic blues group may not be stationed in Columbus as of right now, but their enthusiasm for helping out the local community in these dire times still burns bright. Lily in the Weeds members Mike Furman and Alex Burnsides will be bringing stripped-down versions of Lily tracks along with some covers mixed in. You can donate directly to Lily in the Weeds' cause via Venmo @Alex-Burnsides and support the good folks at Rambling House through their GoFundMe.
Time: 9 p.m. - 10 p.m. | Date: Thursday, March 26 | Stream Cost: $5
Scott Gorsuch Freaky Live Stream Good Time
Eccentric rock outfit Scott Gorsuch may not be having his vinyl release party at Dick's Den this upcoming week. He will, however, still be bringing a live stream with his band from Secret Studios this upcoming Friday. The celebration of the release of his new album, Park Boulevard Park, will also be streamed on his Facebook page with a virtual tip jar that will go toward the staff at Dick's Den.
Time: 6 p.m. - 7 p.m. | Date: Friday, March 27 | Stream Cost: Donation
Dave Buker and the Historians Rambling House CouchTour
Dave Buker and wife and bandmate Leanna will be providing an intimate set from a tiny room in their house as part of Rambling House's consistent Virtual Tour. The live stream will be presented via the Rambling House Facebook page and the Dave Buker & the Historians Facebook page. Dave and Leanna are using the live stream to encourage people to donate to the Columbus Artists Relief Fund and to the displaced workers of Rambling House via GoFundMe. Dave Buker's electro-pop is akin to comfort soup for the soul during these times of the unknown, so plug into this one and buy some merch from the band's website if you're looking to support musicians on the front line of this battle from home.
Time: 8 p.m. - 9 p.m. | Date: Friday, March 27 | Stream Cost: Donation
Van Dale's Stay at Home and Chill Tour
For the past two Saturdays, Van Dale has been bringing fans lo-fi sets of their previous doom metal work through Facebook and Instagram live streaming. Van Dale will be giving fans one more shot of catching this couch tour this upcoming Saturday after two successful live streams.
Time: 9 p.m. | Date: Saturday, March 28 | Stream Cost: Donation
Columbus Goes Live: The Cyber Festival
People have been getting very creative very quickly over the past week. It was only a matter of time before Columbus would host its first virtual festival, especially with the unfortunately predictive news that has most of our favorite festivals already calling it quits in 2020. Some of the most popular bands in Columbus are sharing this billing, a few of them being The Cordial Sins, Souther, mungbean, Faye, Fables, Tourist Trap and Mystic Mamba. The event will be broadcasted on Instagram @littleflea.614. There will also be comedy performers and podcasting mixed in with the musical acts.
Time: 11 a.m. - 9:30 p.m. | Date: Sunday, March 29 | Stream Cost: Donation
— 
An artist you look forward to hearing every Sunday at Rumba Cafe, Jared Mahone, with the help of his band, will still be bringing his infectious voice to Columbus music fans. Natalie's—another venue that has been on top of the live streaming game—will be playing host to Mahone and company in the coming weeks. The live stream will take place on his website.
Time: 8 p.m. - 9 p.m. | Date: Friday, April 3 | Stream Cost: $1-25
Weird Music Live Streams
Weird Music has also been on top of the live streaming game ever since Woodlands Tavern's annual St. Fatty's Daze got downgraded. They brought in Dopapod to their Weird Music studios for one of the initial quarantine live streams, and have brought area favorites BareFuzz and Tropidelic already to their studios in the past week. Stay glued to their Facebook page to learn about more upcoming live streams featuring Columbus and popular acts in the jam scene and beyond.
Time: Various | Date: Various | Stream Cost: Donation
— 
Purchase and Stream Music
With a lot of time being spent at home, throw on some headphones for at least three hours a day for a daily escape during these times of quarantining to boost your mental health. Make sure that 60 of those minutes are dedicated to purchasing music from and boosting streaming numbers of local artists. Below are a handful of examples of songs, EPs, LPs and compilation mixtapes you can stream and purchase to help get you through the upcoming weeks.
Mossburg's breakthrough song, "Whiskey and Wine", introduced a new sound to his avid fanbase, and shed a light into his evolution as an artist. The hard work and risks didn't go unnoticed. Early in 2015, the song broke into the Top 10 on coveted iTunes Singer/Songwriter category. Now he's squaring his sights on introducing his soulful voice, gutsy lyrics and melodic tones into a new direction. 
sad song a day by Various Artists
Multiple local singer-songwriter-musicians have heard the call of creativity in times when we're holed indoors. Released via a collective Bandcamp page, five volumes have already been released as of Sunday evening. The songs by various local musicians are typically written and recorded in one day, making them a raw collection of journal entries in a way that will also serve as a documentation of what's going through the heads of some of our most creative citizens. Make sure to purchase the music to show your support to local musicians by donating to individual tracks on Bandcamp. Right now you can purchase Vols. 1, 2, 3, 4, and 5.
COVAID-614 by Various Artists
Local indie-rock outfit Teratogen has compiled a mixtape of rare and unheard material from some of the most cherished acts from the Columbus area. The compilation has been dubbed COVAID-614 and can be purchased on Bandcamp for $10. Acts on the compilation include Damn the Witch Siren, Mery Steel, Sussman Can't Sleep and many more. The $10 will go toward crowdfunding resources to help out the now unemployed venue staff.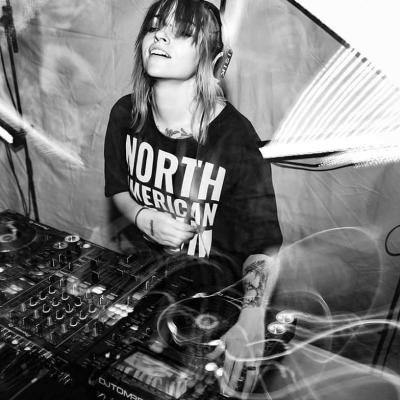 risik's airplane mode Playlist by Various Artists
Available on Spotify and SoundCloud, local DJ risik has been curating and listening to suggestions from other artists in the electronic and dance music scene songs that have helped them deal with anxiety. What better time than now to release a mix of songs that have been known to help individual musicians cope with times of intense stress? Music is one of the best escapes from a reality that can at times be too harsh. Get lost in risik's latest edition of airplane mode if you need an ethereal escape from inescapable news.
The Signal Glittering Inside The Storm by Dug & Happy Tooth
An album made for times like these, the hip-hop band Dug & Happy Tooth recently held a live album release party for people to stream within the comfort of their homes due to a concert cancellation. The LP is proving to be a testament to how music can be there for us in times of dire need. Towing more on the emotional end of the spectrum, if the project reaches you in a special way, make sure to support the March 14 release by buying the digital album for $8 on Bandcamp. You can also buy a CD for $8 or a thematic t-shirt for $20 to support the group during a time when they should've been celebrating the release of this project live with their family of fans.
Courage by First Responder
Even though their recent release show got canceled due to the closing of venues, First Responder still thought it was best for the group to release their project to people who could use it during these times of isolation. The "soft yet urgent" lyrical indie-rock music from Courage, which can be purchased from Bandcamp, also comes with options to buy a cassette or CD for $5 or a t-shirt for $10 to support the band during a period when live shows are canceled indefinitely. The above two albums are proof of how music can heal during times of great hurt.
"When?" by Paisha
Something that will always fill you with hope is the singing and songwriting of Columbus gem Paisha. Her latest release, which is available on Spotify or Apple Music, does just that. On top of releasing an inspiring track on the last day of 2019, Paisha started a live streaming series on her Instagram @iampaisha—rightfully named Paisha's Place—that kicked off Sunday evening with a showcase of local rapper-singer Sarob. Stay tuned for additional live streaming events from Paisha's Place on her Facebook page. You can donate to support these live streams and her music via CashApp @$Paisha and PayPal and ApplePay at PaishaD@gmail.com.
Compell / Industrialized by Locution
One of the surging scenes that have been incredibly fun to watch from a distance in the realm of live music in Columbus has been the electronic and dance music scene. There is a bubble just waiting to burst with a long list of musicians who have been grinding hard to put Columbus on the map. One of those DJs has been Locution, someone who draws from the calming depths of Tycho to the progressive house of Amelie Lens. You can stream Locution's two-track EP on SoundCloud. The two tracks are good reminders of being able to lose yourself in the music and trying to be in the moment.
In Flight: Live, Vol. 1 by Conscious Pilot
One of the most sought-after acts in the Columbus jam scene, Conscious Pilot has been busy during the quarantine bringing live sessions via their Facebook page. You can donate to help the band during this tough financial time through Venmo @ricardo-feria-arias and Cash App @$rixguitar. If you happen to miss their frequent Facebook Live sessions, you can get a good taste of how proficient the band is in a live setting by checking out their latest release on Spotify. The first of a compilation of live, atmospheric recordings, In Flight: Live, Vol. 1 showcases how well Conscious Pilot grooves together as a group and how far they can go with your support during this time of no live music revenue.
Support the future Lisa Gain & the Rusty Silos project
Before the shut-in, Lisa Gain was working diligently on the finishing touches of her upcoming album. With all of that put on a hold for now, the best way to support Lisa and her band the Rusty Silos is by purchasing their previously released work. You can purchase Lisa's solo and collaborative work here and her work with the Rusty Silos here. Her soothing Americana, full of heartful anecdotes, is the music that's needed right now to bring calmness and balance in our lives during times that make us realize we're only guaranteed today.
— 
Donate to GoFundMe Fundraisers and Relief Funds
One of the quickest responses to the closing of live music were the multiple outlets of GoFundMe fundraisers that people could donate to in order to keep artists and those who make the local music scene a possibility afloat. Below are a few of them that have sprouted up over the past week that can help make a big difference to keep the Columbus music scene alive during this turbulent time.
Lisa Cave has been a huge part of the Columbus music industry for over 25 years. She was also one of the first people to spring into action to set up a place where artists could sign up for aid during this time of not being able to earn money through gigs. Now over the halfway mark of their goal of $10,000, make sure to go to the GoFundMe page if you are a musician struggling during this time to make ends meet to sign up for potential aid. If you have the funds, make sure to help Columbus musicians meet the rest of their goal.
Greater Columbus Arts Council COVID-19 Relief
On March 19, the Greater Columbus Arts Council announced that it would be setting up COVID-19 relief grants for artists who are in the direst need of assistance right now. Artists living in Franklin County who are recouping a financial loss due to canceled events, including performances, paid speaking engagements, readings, exhibitions and festival/fairs or in need of offsetting loss of income for teaching artists who are not able to teach during this time due to canceled lessons/classes and school closures have the chance to apply for up to $1,000 of assistance. Applications for the relief grants have been extended until April 20 at 5 p.m. Individual artists can apply for relief here.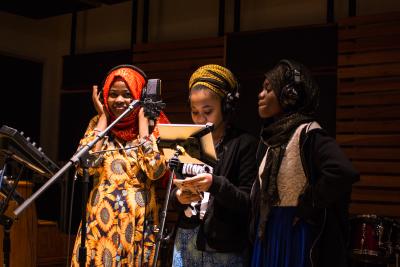 We Amplify Voices (WAV) Distance Learning
WAV has been one of the brightest spots of the Columbus music community in 2020. Starting the last week of March, WAV will be accepting student enrollment in their new distance learning program, Amplified Inside, which will be facilitated through video conferencing during this time of no contact. Amplified Inside are one-hour sessions available for one week, or two, with registration costs offered on a sliding scale. Students enrolled in the one-week session will contribute lyrics to an original song, written collaboratively with a musician and 4-5 other students in central Ohio. Those signing up for the two-week course will get to concept and plan a music video to go with their song. They are asking for a suggested donation of $250 for one week and $500 for two. Find out more about WAV's mission by reading a Q&A with Director of Development Travis Hoewischer and be sure to check out WAV's website for future updates on how they're helping out with virtual classes during the COVID-19 crisis.
To see all the good that What? Productions has done for the Columbus music scene over the past two years go away because of COVID-19 would be one of the worst blows to the local music scene. If you have the money to spare, make sure you donate to a company that has prided itself on not charging its artists to display their work during their events and have given one of the strongest voices to the electronic and dance music community.
Even with musicians out of work, the people who help give them a space to play live music are hurting just as bad as our independent musicians. Ace of Cups is one of the most cherished live music venues in the Old North, and without the bar and live music business, they are just like any service industry worker across the globe being affected right now. 100% of the funds from the GoFundMe will go to Ace of Cup workers.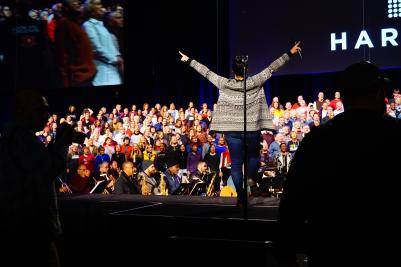 Provide Help in Many Ways with the Harmony Project
The Harmony Project has set up a page on their website with many ways in which Columbus residents can help the community, ranging from places to donate blood at to keeping free programs for the youth like TRANSIT ARTS to continue to push their positive messages out into the world. On top of places where healthy people can lend a volunteering hand, there are also many places throughout the county that could use help and support in keeping their supply chain stocked with essential goods.
— 
Buy Merchandise
Some musicians may not have ideal live streaming scenarios, causing others to get creative with their ways of supporting their careers. Below you can find a few options of merchandise in which you can still show love for the local artists you cherish without having an opportunity to see them perform. These purchases will help so that they'll be able to get back on stage once this all blows over.
One of the most distinct merchandisers in the Columbus area, local singer-songwriter Ruvane is currently offering some very tempting deals on his coin guitar picks. Up until March 27, Ruvane will be offering 25% off any coin guitar pick (up to two picks) with the code Spring2020. From that date on, Ruvane will also be offering a free random pick whenever you purchase a pick over $50 with the code Spring2020bonus. The picks, which give a clean, clear and articulate sound are all handmade by Ruvane in Columbus and are suitable for all stringed instruments. To purchase, contact Ruvane at shop@coinguitarpicks.com, call (415) GUITAR-8, or follow on social media @coinguitarpicks.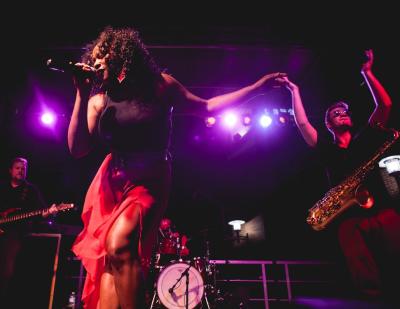 MojoFlo's Patreon
A group that has become almost synonymous with the local music scene, MojoFlo has a Patreon page where you can donate to access special rewards. These prizes will include merchandise, first looks and listens of music videos and songs, and exclusive opportunities to meet with the band. You can also donate to MojoFlo's PayPal at Mojoflomusic@gmail.com to help fund the live streams that will be going on at lead singer Amber Knicole's Facebook page and the Facebook page for Knicole's and MojoFlo horns specialist Walter Kolhoff's side project the AW Duo.
Joey Aich's Merch Store and New Single
Columbus-by-Cleveland rapper Joey Aich will have his online store stocked up during a time with no live shows. With headbands and multiple long and short sleeve options, there's a lot you could do to represent Joey. His latest single, "Rossi on the Deck," is available on Spotify as of Monday. The track from his upcoming album features Taryn Gabrielle Antrobus and is yet another example of Joey's intuitive and inventive storytelling techniques. Make sure to stream the song to show virtual support and stay tuned for additional live stream announcements on his Facebook page.
Although some items have already sold out, local indie-folk favorites Saintseneca still have a lot to offer from their merch store. After putting on a dazzling performance at Otherworld, Columbus residents need to do anything they can to help keep one of the most intriguing emerging talents to come out of this city in some time. Make sure you check out their merch website for some clothes and physical CDs that coincide with their mission in terms of soothing the soul and providing light during these dark times.