The next time you fly into Columbus, you've got a new option for getting downtown: the brand new AirConnect, which connects John Glenn Columbus International Airport with downtown Columbus. The fare is $2.75 each way, a significant savings over a typical taxi or Uber fare, and tickets may be purchased on the bus (with exact change) or with credit cards at a kiosk at the baggage claim level at the airport. Tickets may also be purchased at the Experience Columbus Visitor Centers at the Greater Columbus Convention Center and in the Arena District as well as COTA's Ticket Vending Machines Downtown Columbus at COTA Pass Sales (33 N. High St.), North Terminal (33 W. Spring St.), John Glenn International Airport (Arrivals/Passenger Pick-up Level.) You can also pay cash on the bus.
Service runs every 30 minutes, 6 a.m.-9 p.m. seven days a week.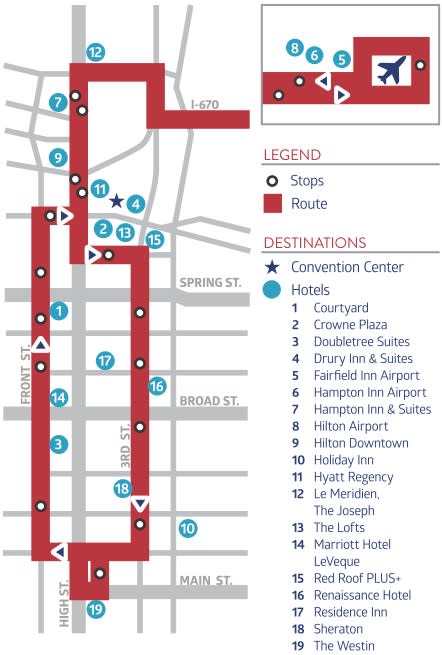 Once you board at the airport, AirConnect takes you along the 10-minute drive to downtown Columbus, and drops you near any of the following hotels and destinations: Greater Columbus Convention Center,Hampton Inn & Suites, Hilton Columbus Downtown,Crowne Plaza, The Lofts, Drury Inn & Suites,Red Roof Plus+, Renaissance Hotel, Residence Inn, Sheraton Columbus Hotel at Capitol Square, Holiday Inn Capitol Square, DoubleTree Suites and Courtyard Downtown. 
To return to the airport, find a nearby stop, pay your $2.75 fare, and ride back to the Departures level.