This post is written by Nick Dekker, blogger at Breakfast with Nick and author of a book all about breakfast in Columbus. You can follow him on Twitter @BreakfastwNick.
Just because the sun has set doesn't mean your day exploring Columbus has to end! As the day winds down, the city still offers more to see, eat, and drink. We've got a few ideas of spots to grab a drink (and maybe some dessert!).
Mouton curates a fine collection of vintage cocktails to pair with wines, craft beers, cheese plates, and cured meats. The cozy but modern Short North haunt has proven popular with cocktail fans and newcomers alike.
Denmark on High offers a similar experience across the street from the Greater Columbus Convention Center. Guests can sample classic and modern cocktails – even in a cocktail flight. The drinks pair nicely with their bourbon balls or brie & jam desserts.
M at Miranova has made a name for itself serving masterfully made drinks using house-made infusions, syrups, and bitters. Try house specialties like the barrel aged Manhattan, a mezcal sour, or the Spanish gin & tonic. They're a sure-fire hit when paired with desserts like the coffee & donuts, the root beer float, or the French Quarter made with bourbon, brown sugar, coffee, absinthe whipped cream, and warm cookies.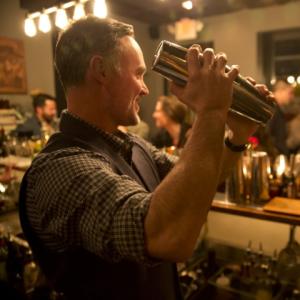 Prohibition Gastro Lounge in Powell serves a list of house signatures and true-to-form classic cocktails. The classics are all dated by the year of their invention, giving you a little history lesson with your drinks. Whatever you choose to drink, enjoy it alongside desserts like cheesecake and tarts.
Although Barrel on High has a large drink list, whiskey is the main feature. Their extensive whiskey list means you've got a lot of exploring to do. You can sample away with a whiskey flight, or put the spirits to work in one of their signature cocktails.
Mozart's Cafe is maybe known best for its afternoon tea or its Austrian-themed dinners, but their list of wines, mead, and beer make it a cozy spot for after-dinner drinks, too. You'll be especially tempted by their cases of beautiful European desserts.
These are a few starting points for drinks and dessert. What are some of your favorites?