An earlier sunset during this season just means more time to enjoy the bright and colorful lights around the city! Celebrate the holidays by visiting these festivals, events, and illuminated displays in Columbus.
1. Ohio Chinese Lantern Festival
The Ohio Chinese Lantern Festival fills the State Fairgrounds with nearly 40 Chinese lanterns designed by a variety of artists. Stroll through the Natural Resources Park to see brightly lit dragons, tigers, flowers, windmills, and more. Marvel at their size and the mix of colors, and stick around for the performances throughout the evening.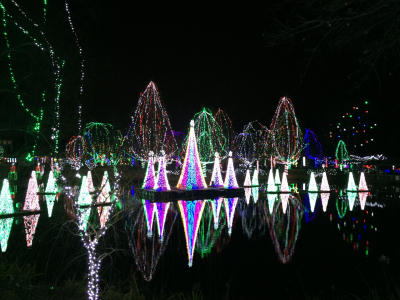 2. Wildlights at the Columbus Zoo
Every year Wildlights transforms the Columbus Zoo & Aquarium into a stunning array of colors, as millions of lights are strung throughout the premises. Visit your favorite animals, enjoy a cup of hot cocoa, and catch the regular musical light shows around the pond.
3. Merry & Bright at Franklin Park Conservatory
The Conservatory and Botanical Gardens are illuminated with lights and seasonal plants like poinsettias both inside and out. See the 15-foot poinsettia tree and the model garden railway, and catch the beautiful tree constructed from 700 glass ornaments made in the Conservatory's Hot Shop. Play with the interactive light displays in the Cardinal Health Gallery, too!
4. Columbus Commons Holiday Lights
In the evenings the Columbus Commons is lit with more than 300,000 lights!
5. Grand Illumination at The Scioto Mile
Columbus' riverfront comes to life with over 200,000 lights illuminating the Scioto Mile. Take in the colorful projections on the Bicentennial Park fountains and enjoy the beautiful city skyline.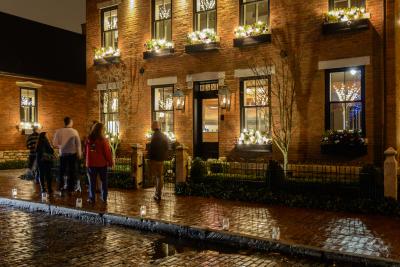 6. Village Lights at German Village
Enjoy the neighborly warmth of German Village during the annual Village Lights. Follow the rows and rows of luminaries lining the neighborhood and go shopping, enjoy local snacks and drinks, listen to the Christmas carolers, and catch horse-and-carriage rides through the brick streets.