With the first night of Hanukkah falling on Sunday, November 28, now's the time to gear up for the upcoming Jewish holiday that lasts for eight nights.
We've rounded up some great gift ideas from the Columbus Gift Guide (see below), but on top of the gifts—whether moderate or extravagant—there's a rich history and lots of traditions that go along with it.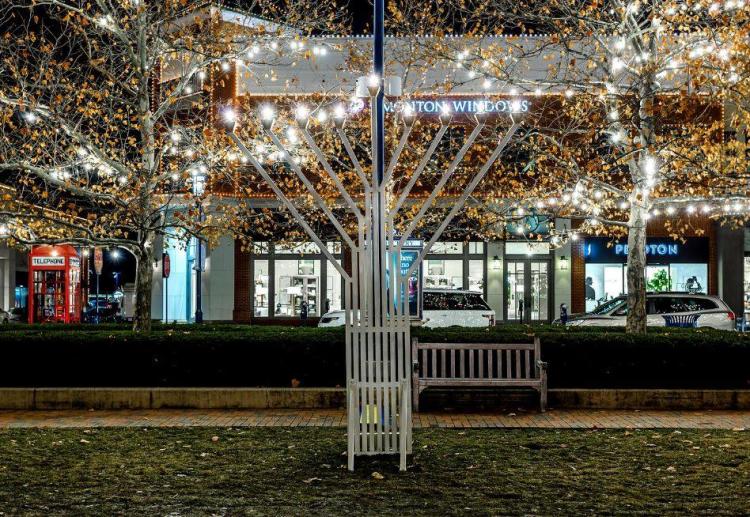 Pictured: The Menorah at
Easton Town Center
, part of the shopping district's elaborate holiday lights display.   
What is the origin?
Hanukkah commemorates the Maccabean Revolt against the Syrian-Greek army. According to biblical text, a priest named Mattathias and his sons started the revolt by refusing to worship the Greek gods. Hanukkah celebrates Judah Maccabee's (Mattathias's son) victory over the Seleucids. Judah dedicated the Temple to the Hebrew God, but only had a single vial of oil to keep the commemorative Menorah lit for one night. However, the Menorah miraculously stayed lit for eight nights.
What does it stand for?
Hanukkah means "dedication," celebrating the miracle of light that occurred for those eight nights.
How is it celebrated?
Hanukkah begins on the 25th day of Kislev (the ninth month of the Hebrew calendar), which typically falls in late November to mid-December. For eight nights, candles are lit in a menorah (a candelabrum holding nine candles—one for each night plus a "servant" candle called the shamash). On each successive night, another candle is added and lit. During the lighting, people recite blessings, prayers, and songs.
Other traditions?
A game of dreidel (a spinning top inscribed with Hebrew letters) is another way to celebrate the holiday. Lots of cooking of traditional Hanukkah dishes like potato latkes, challah, beef brisket, Sufganiyot (a donut filled with strawberry jelly), and more also occurs. Finally, gift-giving each night is a common tradition.
What gifts should I give?
Good news! We have lots of local options in our 2021 Columbus Gift Guide for your Hanukkah-celebrating friends and family. Here are some ideas…
A lyrical picture book debut frompresidential inaugural poet Amanda Gorman and illustrator Loren Long.
Shop Now
A beautifully built toy with easy assembly featuring lots of fun firehouse stuff for little kiddos.
Shop Now
Give the Adventurer a blast from the past with cool vintage toys from Big Fun Columbus.
Shop Now
Encourage creative and imaginative role play with this baking set from a local legend, Cub Shrub.
Shop Now
Gift the magic of custom fragrance or even set a date for you and your Enthusiast friend.
Shop Now
A cozy must-have! This throw blanket from Happy Go Lucky is bold and beautiful—just the thing for an on-trend friend.
Shop Now
Get ready to hear, "oh, you shouldn't have!" over and over. This scarf is the absolute softest and coziest (so you know they're actually really glad you did).
Shop Now
Let's face it: plants make people happy. Give this Star a reason to smile with a new plant friend.
Shop Now
Shop the rest of the Columbus Gift Guide here and share your memories with us using #HolidaysInCbus.