The Memorial Tournament presented by Nationwide tees off at Dublin's Muirfield Village Golf Club on May 29, and as always, there are lots of new ways to enjoy the atmosphere. Practice rounds are May 29-31, and the tournament runs from June 1-4. While you're out watching the world's best golfers, check out these areas for some unique experiences on the course:
THE PATIO AT PATRON VILLAGE
The Patio at Patron Village is an area open to all Tournament patrons located between the Memorial's 10th fairway and 14th green. The Patio is an ideal spot to hang out, and it includes outdoor games like corn hole, darts and a custom golf experience called the "Bunker Challenge." Take a picture with your friends at the selfie wall, check out the car you've always wanted at the Germain Lexus Car Display and choose from food and beverage options, including Beers of the Memorial from MillerCoors, wine, and the Patrón House featuring custom cocktails.
THE HILL ON NO. 12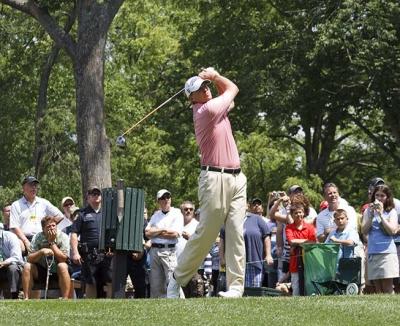 Looking to lounge and have a great view of one of the best par-3 holes in golf? The Hill on No. 12 will be your destination, located on the Memorial Tournament's signature 12th hole with brilliant views of competition at one of the most picturesque spots at world-renowned Muirfield Village Golf Club. Relax in Adirondack chairs and don't worry about missing a minute of the action, or even leaving your seat, thanks to the available chair-side wait service.
THE 19TH HOLE
For those who are looking for the perfect place to stop after Tournament play, The 19th Hole at the Memorial Tournament is a new venue open to the public, Wednesday, May 31 through Saturday June 3 from 4 p.m. to 8 p.m. Tournament passes are not required and there's no cover charge. The 19th Hole is located near the Memorial's Sixth Tee entrance/exit off State Route 745/Dublin Road. This is a sports bar environment complete with a beer and wine patio, food trucks and live music.
Nightly Music Starts at 4:30 p.m.
Wednesday, May 31  - JT Hillier
Thursday, June 1 - Shucking Bubba Acoustic
Friday, June 2 - SWAGG
Saturday, June 3 - Chris Logsdon
CHAMPIONSHIP PAVILION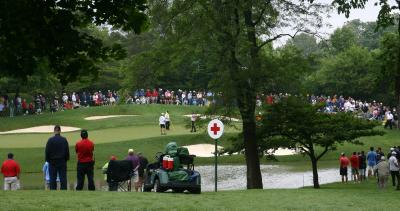 Take advantage of the shade in this covered, open-air venue. Grab your Tournament merchandise in the Pro Shop, or continue to watch the action on TVs in this family-friendly spot with plenty of seating. Food and full-beverage service are available in this fan-favorite location across from the Tournament's main entrance.
Tournament tickets can be ordered here.