The holiday season is officially here! For many of us, the holidays mean more than just wonderful food, spending time with family, and shopping – it means TRAVEL. And if you are like me, it also means making plans for the whole family—including our pets. Here are my best tips for keeping everyone safe and happy on your journey:
Plan ahead to take pets along:
Check to make sure your pet is welcome at your destination.  Be certain your hotel knows you will be traveling with a pet.  Just because a hotel advertises that they are "pet friendly" doesn't mean that pets are allowed in all rooms or areas.  Pet accommodations often fill before others, so reserve your room early.
Schedule a visit with your veterinarian:  Make sure vaccinations are up-to-date and that you have copies of vaccine records.  If you are crossing state lines or traveling by air, you may need a health certificate, dated within 10 days of travel.
Do your homework.  Research options for emergency veterinary care and lost pet resources at your destination.  Program the contact information into your phone so you're ready if something goes wrong.
If you like it than you should have put a collar on it: animals may panic in new or unfamiliar places, causing them to bolt through an open door.  Make sure your pet is wearing a collar and current id tags with your phone number in case you get separated. A microchip is permanent identification for your pet in the event a collar or tags are lost.  Make sure your microchip is registered with your current contact information in advance of your trip.
Snap a pic.  Carry current photos of your pet with you on your phone that show identifying markings that will help others recognize your pet if you are separated. (Yes, your cat's Instagram account could be life-saving!)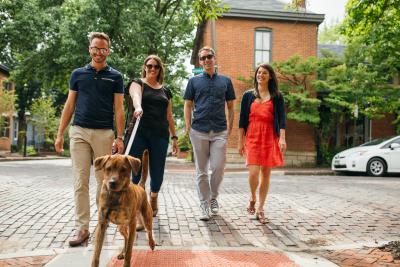 When it's time to hit the road:
Plan ahead for meal stops: Most food establishments do not allow for animals inside. Thanks to mobile apps and smart phones, you can order a restaurant meal to be ready to go when you arrive. 
Whatever the weather, don't leave your pet unattended in a vehicle. Ever. At any time.
Stay hydrated: pets can get dehydrated easily in cars, so make sure you pack pet-friendly bowls and plenty of water for the trip.
Is everyone coming to your place?  If you are hosting family and friends, these tips are for you!
Establish house rules up-front with not only your guests, but your own family.  If everyone gives the dog "just one" treat or table scrap, your pet could end up getting really sick.  Ask your guests not to leave food, glasses and/or plates where your pets can reach them.
Give 'em a break:  Make sure your pet has the ability to retreat from the crowds, especially if there are new people or pets in their space.  Allowing for distance and quiet will reduce everyone's stress levels. A quiet, out of the way place where they can eat and nap will make a world of difference. 
Make sure your houseguests are comfortable with your pets before leaving them alone together.  If your pets consider the guestroom to be their exclusive domain, you may want to start making the room "off limits" for a few days in anticipation of your visitors' arrival.
If your guests have pet allergies—skip the vacuum or vacuum a day or two before the visit.  Vacuums stir up allergens into the air, making it harder for those who suffer from allergies to breathe.  Instead, use a latex glove (or any other medical exam-type glove) on fabric or upholstery to remove pet hair.  It works wonders!  Check here for more information on dog-friendly Columbus.