After doing a victory lap (or two) in college, going to house parties becomes a mundane and arduous task. They may be a cheap alternative to throwing out the money you should be saving for loans at a campus bar, but they can also be socially destimulating. Most of all, these gatherings often lack any sense of community with the takeaways ranging from too many shots of Fireball to too many hours spent looking at Natty Light wallpaper.
Personally, I realized the second time around the track that I wasn't going to increase my social circle by sniffing out the nearest house for some discounted or free Bud Light. I started testing out local bars in the Short North and Franklinton, cold-calling barflies in search of a new best friend or soulmate. After getting into this routine, "house party" became a term that slipped out of my conscience vocabulary for what I thought would be forever.
That all changed when I was invited to a Lampshade Media event the past month hosted by local comedy entrepreneur Mel Millimen, who runs the aforementioned media company. Getting his start in the local scene through working with now-defunct Columbus music podcast In The Record Store, Millimen saw a gap in exposure of a different artistic expression.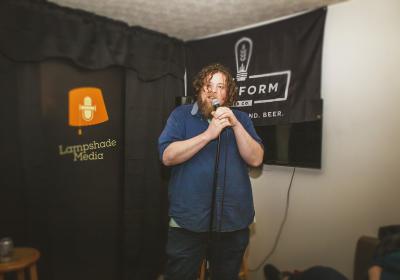 "When I was covering the Columbus music scene I began noticing that there are several podcasts that are doing a pretty good job of promoting that scene, while there didn't seem to be as many doing the same for the comedy scene," Millimen said. "Around the same time, I began to be made aware of the surprising amount of talent in the comedy scene. I knew of a few comedians, but I had no idea of how many amazing stand-ups were regularly performing in the city." 
Lampshade Media gets its namesake from the common writer's trope of "lampshading." The technique is used in storytelling to blatantly call out a plothole while telling a story to an audience. It's the comedic equivalent of a stand-up poking fun at themselves during a set. It also helps that as soon as you walk into Millimen's home—the venue for Lampshade Media Presents: LIVE! events—there are a few lighting fixtures topped with lampshades resting in the corners of his living room.
For the most part, the living room remains intact, giving Lampshade events a pleasantly welcoming feel. There are two couches for guests willing to pay a VIP price to be right in front of the microphone stand. To the left of the house entrance are 20 or so Pizza Hut chairs portioned out into two rows to fill out the rest of Lampshade's at-capacity shows.
"The intimacy of a house show is a really great experience itself, but another advantage of having the show in a space so intimate is that we are able to record high-quality content for the podcast because it's a listening room," Millimen said.
The live recorded podcast is just one of the distinct aspects that Millimen is bringing to the local comedy scene. He also produces off-shoot podcasts with a star-studded cast of guest comedians, which is recorded in his basement studio and can be found on most streaming services.
The party doesn't end in Millimen's living room. When you make your way through his house into the kitchen on most nights, you'll stumble upon food catered by Paddy Wagon and a variety of beer provided by Cleveland-based Platform Brewing. All of this is included with your ticket purchase, whether you choose the VIP or old Pizza Hut chairs option.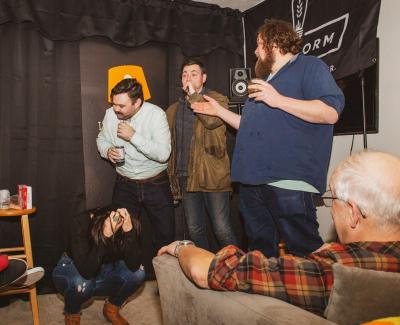 For the specific show I attended at the end of February, comedians Johnny Collins, Pat Deering, and Brooke Cartus performed to a packed room full of bountiful laughter, playful audience interaction (a man resembling Wilford Brimley who had a VIP view took the brunt of the jokes like a champ throughout the night), and a hilarious fan-favorite Q&A session to cap off the night. Prizes for the most clever and responsive questions were provided by The Garden, another local sponsor that has helped separate Lampshade from other local comedy showcases.
"Lampshade is a world apart," Deering said. "Mel invests so much time and thought into those shows and ups the production value to rival most bar shows in town."
"(Millimen) is really upping the game for comics who are more than hobbyists, but not quite over the cusp of being professionals. He's offering them real exposure, sponsorship contacts, very competitive pay and brand new audiences. He's a huge asset to the scene."
On top of hosting three comedians per each LIVE! event, Millimen also brings in a local musician to play emcee for the night. The crossover with the local music and comedy segments seemed like a no-brainer to Millimen. Even though the two take on different levels of artistic craft and live performance, the creativity flowing through the scenes is the main factor of what brings local comedians and musicians together. 
The differences between the two were discussed on a recent Lampshade podcast, where Millimen chatted with local comedian Becky Brown about some of the differences that keep local artists from dabbling in both. Millimen mentioned how gems of the Columbus music community—Tony Casa of Zoo Trippin' and Matt Monta of Matt Monta & the Haymakers—gave stand-up comedy a go before focusing their full attention on music. The two soon found out that they'd much rather vibe on stage with others than stand behind the mic alone, while Brown liked the complete control that came with being a stand-up comic opposed to the basement band she dabbled with.
"It's my opinion that there are a large number of people regularly attending local music shows that don't realize they could also be seeing local stand up comedy, and vice versa," Millimen said. " I always love the opportunity to crossover audiences, and its such a fun party that the musicians are always happy to come and take part in what is really a nonmusical event."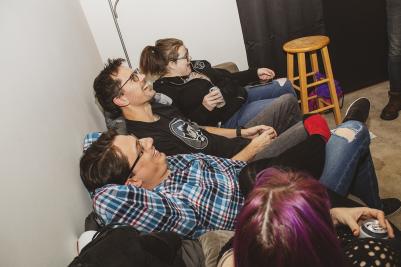 For the upcoming Lampshade Media Presents: LIVE! event, Columbus singer-songwriter and humorist gem Lindsay Jordan will be providing hosting duties for the Friday, March 27 show. In-demand comedians Nick Glaser, Molly Martinez, and Jason Banks will be joining Jordan on the bill, making this upcoming Lampshade production a can't-miss of local showcases.
"The art scene and community (in Columbus) is truly wonderful. Everyone is very supportive of each other's chosen mediums," Jordan said. "Since I've been here I've seen the music scene prop up the comedy scene, the comedy scene prop up the poetry scene (and so forth)."
Glaser is equally as excited to get behind the mic for his first-ever Lampshade appearance. Citing the fact that a small room creates a tight-knit atmosphere that makes it almost impossible to not have a personal experience with a performance artist, he's most looking forward to cutting loose and being able to focus on being in the moment.
"There are lots of venues that can sell comedy and beer to people, but very few who show the level of interest and camaraderie that (Millimen) does to the people he works with," Glaser said. "He might tell you that he's no comedian, and it's true that he doesn't often get on a mic, but he's making his voice heard by amplifying the people around him."
The party doesn't even stop after the comedians are done saving some of their best material for the Q&A, something that also shows off their abilities to ad-lib and be funny off-the-cuff. Millimen is building up a family-like community of like-minded individuals who are looking to let loose, enjoy the comedic side of life and build lasting relationships. The celebration of comedy continues far past the last joke, and that's a testament to what Millimen has been able to create in such a short period of time.
Something that speaks volumes about what the local comedy entrepreneur is doing are the familiar faces that Millimen sees show after show. It means he's doing something right, and even if Lampshade Media Presents: LIVE! never grows out of his home, he'll always be filling his house one Friday a month to give people that escape from the real world that they're searching for after a week that may have them down in the dumps.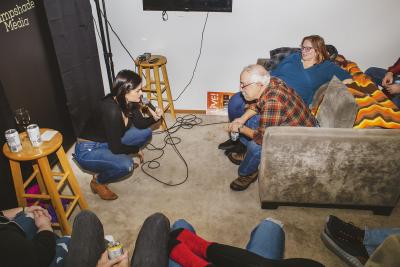 "I'm really trying to create a community for fans of comedy to enjoy the incredible stand up right here in their city," Millimen said. "There is a great tradition of collaboration and creativity in this city and some people simply don't know what they are missing out on.  
I personally feel that I want to create a community everywhere I go. We all need each other and life is a lot more fun together."
Leaving Millimen's house on that February night, I couldn't stop thinking about how I was laughing non-stop the whole entire time. I also couldn't stop thinking about the hearty laugh that Millimen bursts out into from time to time. It didn't look like one person had a bad experience, and that's not an easy thing to accomplish in the local arts scene. He fills his living room with generosity and enthusiasm, two things that humans are constantly seeking out.
Even though VIP seats are already sold out for Lampshade's upcoming show, don't hesitate on buying a Pizza Hut chair for just $20. Remember, food and drink come included with the ticket price. Tickets to the event on March 27 can be bought on the Facebook event page located here.
— 
Other people who have made Lampshade Media a possibility include logo creator Donnie Mossman, photographers Catherine Lindsay, Tiffany Detzel, and Rick Carr, videographer Jeff Meyers of the local band Good Reverend, promotional poster creator Griffin Browning, podcast voiceover Ryan Branch, local comedian and social media content creator Sam Welch, and co-producer Tyson Shipman.
Also, make sure to keep up on the Lampshade Media Facebook and Instagram pages for additional shows and content and stay tuned for the Cbus Comedy Festival, which takes place May 28-31.
Photos all by Catherine Lindsay Photography (top to bottom): Guests in Pizza Hut chairs, Lampshade Media manager Mel Millimen, From left to right, Brooke Cartus, Pat Deering, Johnny Collins, and Mel Millimen, Guests on VIP couch, comedian Brooke Cartus.