Our recurring series, Live to Explore Cbus, features Columbus' thriving neighborhoods through the eyes of people who live, work and play in the area. Discover personal stories, favorite locales and best-kept secrets about the neighborhoods that make our city so special from the people who experience them every day!
This week we're highlighting Clintonville, a neighborhood located north of the University District and Downtown and south of Worthington. Its location means that Clintonville's neighborhood-focused community has businesses and love for everyone - from longtime residents and families to 20- and 30-somethings and recent graduates. From the lovely, well-known Columbus Park of Roses to the wealth of local businesses in the area, Clintonville is a charming area with something for everyone.
Found just off High Street, Lineage Brewing is a locally founded, owned, and operated brewery. Read on for insight on Lineage's history, motives, and goals as a fantastic addition to the roster of locally owned and operated businesses in Clintonville!
Pictured: Mike Byrne (co-owner) and Byrne kids (L) and Lineage Brewing (R)
How did Lineage Brewing get started, and what made you choose Clintonville as its location?
Like so many great discoveries, Lineage Brewing was started in garages. Set up in Clintonville neighborhood homes, homebrew was crafted in "Frankensteined" brewing systems and hops were grown up backyard trellises. "The hobby quickly became an obsession," said Jess Byrne, co-owner. Mike, Carey and Jessica began entering numerous homebrew competitions and won several medals in the process.
"We wanted to work, play, and invest into the community we live in and love. We felt that keeping our business in our community was the best way to give back and support our neighbors. We wanted to support the other local businesses that make Clintonville what it is."
What's your tie to Clintonville and to Columbus?
"We [Mike and Jess Byrne] met Carey Hall and Jess Page through the local homebrew club Scioto Olentangy Darby Zymurgists (SODZ) before going into business together," Jess said. "Carey and Jessica are both lifelong Columbus residents with local family roots in Clintonville, ties that go all the way back to the 1860s. Mike and I are also longtime residents and have lived in Clintonville for over 16 years."
Now a co-owner, manager, and brew master at Lineage Brewing, Mike was an award-winning home brewer for five years before going on to spend three years as a pro-brewer at Buckeye Lake Brewery. He has also been a regular Beer Judge Certification Program (BJCP) judge for regional competitions in the past. Mike's experience as an art teacher lends to his creative and educational approach to craft beer; he has attended classes through the Brewing Science Institute and truly believes that education is a lifelong endeavor. Now, Mike is pleased to say that he's produced over 150 different styles at Lineage Brewing.
As for Jess? "I have my MS in Marketing and Communications from Franklin University and a brewing business certification from the Siebel Institute," she said. "I manage business operations and marketing for the brewery."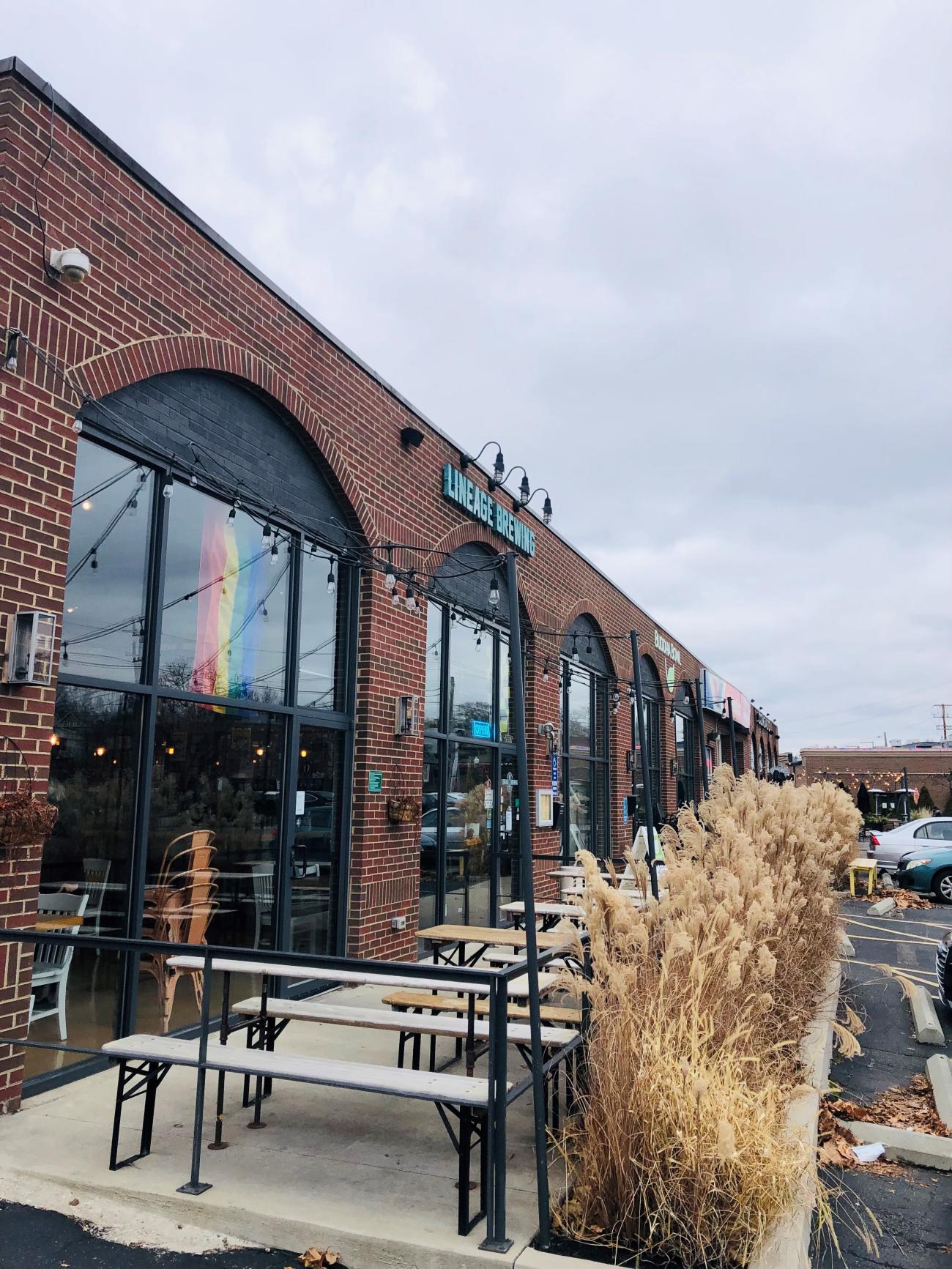 Pictured: Lineage Brewing's location on a row of other restaurants and shops in Clintonville
Can you tell us about Lineage Brewing's presence in Clintonville and how you've worked to make yourselves part of the community? 
"Lineage opened in 2015. We have been active since our start in local organizations like Experience Clintonville and the Chamber of Commerce, as well as in collaborative events with other local businesses, such as Clintonville Quest and CrestFest," Jess said. "We consistently partner with the CRC for their charity events, like their Third Thursdays, Oktoberfest, and St. Patrick's Day events."
What's special to you about both living and working in Clintonville? 
"Community. We feel so lucky to be a part of a strong community, and we have wonderful neighbors that look out for each other. We are overwhelmed with joy when we see our children playing and growing up with the other kids on our block."
What does a perfect day in Clintonville look like to you? 
"We'll take a walk through Whetstone Park and the Park of Roses with our two kids, and stop by a playground and the library all in one trip! We also like to hit up Pattycake Bakery (a vegan, mostly organic bakery) for a delectable sweet treat and Wild Cat for some quirky gifts," said Jess. "Then, we might take an afternoon drive in our 1964 VW Beetle, waving to the other VWs that we pass around the neighborhood."
Pictured: Pattycake Bakery treats (L) and the Columbus Park of Roses (R)
When you think of Clintonville, what comes to mind? 
"Caring people who are always willing to help each other. A supportive small business community."
Tell us local secrets or hidden gems that residents and visitors alike should know about in Clintonville.  
"Serene walks through the ravines, Glen Echo and Overbrook are some of our favorite things to do," advised Jess. "And the bike trail (check out the Olentangy Trail or Clintonville's Neighborhood Greenways) will take you anywhere you want to go around the city."
Experience Columbus' ideas and recommendations for must-see stops in Clintonville
Tigertree 
Whether you're looking for quirky cards, personal growth books and card sets, or a fun and unique item for a friend, Tigertree has the perfect thing. Stop by or peruse their options online.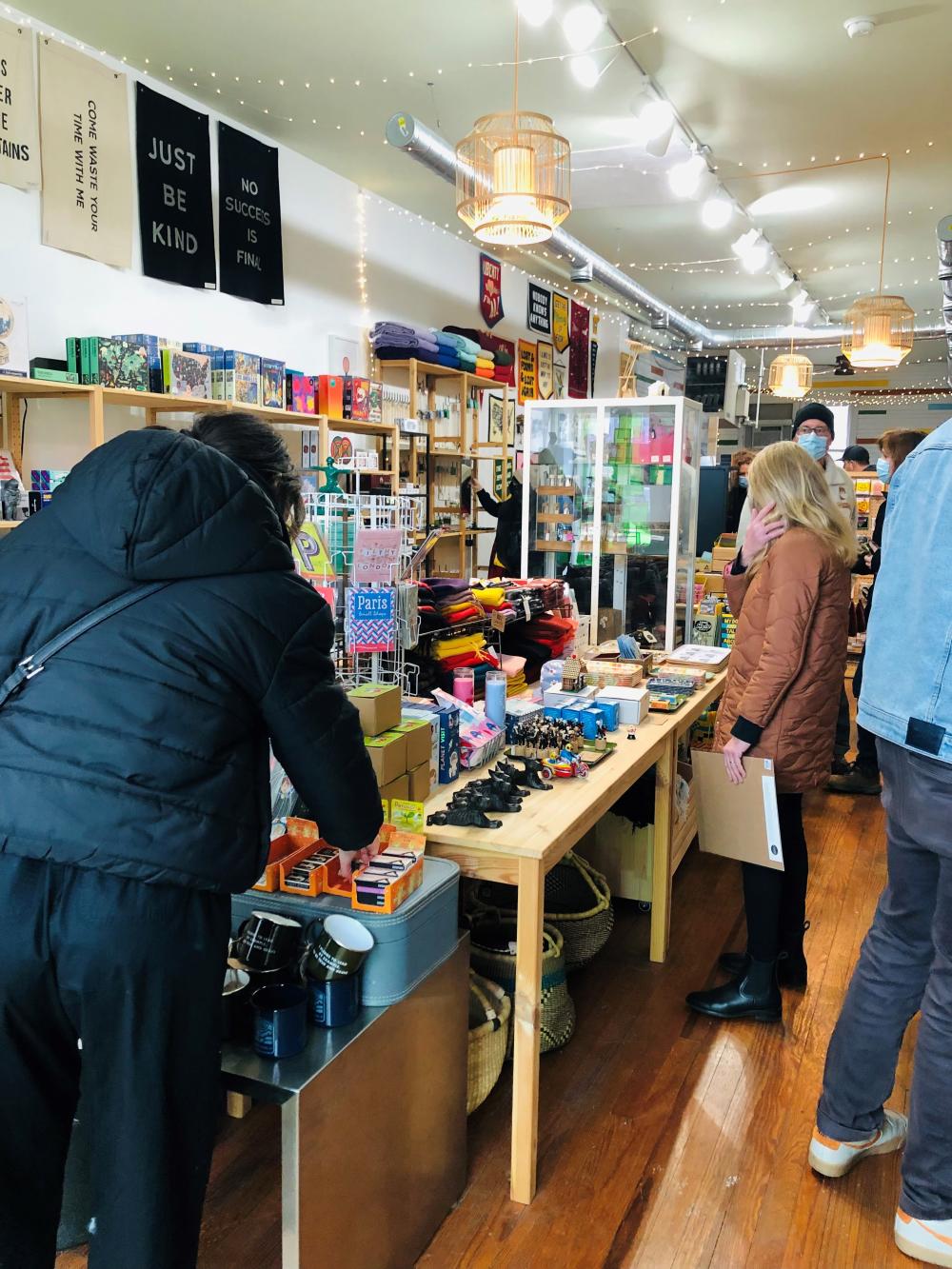 The Little Cafe with Lots of Local GoodnessTM is housed in what was once a 100-year-old gas station. It's now a popular and well-lauded stop for breakfast, brunch, and sandwiches - and their famous Pancake BallsTM. Order online or stop in to see it for yourself.
Food for Good Thought
Order some delicious bakery items from this gluten-free bakery with a cause! The bakery was founded by Dr. Todd, a parent of non-verbal child, in order to create employment opportunities for those with autism; individuals with autism work in the bakery every day and can also receive job coaching if they decide to seek further employment out in the community. Check out the menu and order online here. 
Mozart's Cafe
Whether you're already a fan of European desserts or you're just looking for something new, Mozart's has something for you. With a beautiful outdoor patio for use in warm months and delightful food and treats to enjoy year-round, this unique stop is definitely worth your time and tastebuds. Order online here or stop by.