If the words "handmade" and "wool" have you envisioning scratchy, ill-fitting sweaters, think again. Celeste Malvar-Stewart's designs are expectation-defying, curve-hugging, sleek and altogether sexy affairs that don't just look good (although they certainly do that), but feel good, too, thanks to their construction from materials like soft, luxurious alpaca fleece,  and delicate silk.
Malvar-Stewart grew up in San Francisco and holds a bachelor of applied arts degree and a master's in textiles. She moved to Columbus from New York City in 2012—husband and pug at her side—opening her shop, Hangar 391, in 2014.
"I looked at my move here as a new adventure of discoveries and exploration, and the city has not disappointed. Rather, it has been a wonderful playground of new resources, fun collaborations, and amazing local support that has allowed my work to gain recognition globally," Malvar-Stewart says.
Hangar 391 is operated out of a cozy, two-level German Village atelier; there Malvar-Stewart spends her days creating design showstoppers out of materials more typically associated a crunchy, "granola" lifestyle than with high fashion. Her natural-fiber clothing is hand-dyed using materials such as flowers, grasses, roots and seeds; their color is permanently set using bits of salvaged iron.
Malvar-Stewart also working to salvage that wardrobe workhorse, denim, by shredding worn-out jeans down to fiber, spinning it on a drop spindle and then weaving it to create new fabric, or using denim fibers to embroider or felt on a base fabric.
And that's not all.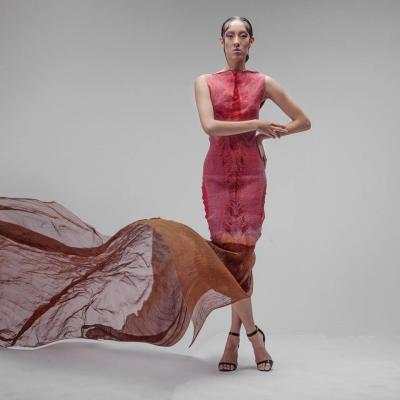 Taking a page from the farm-to-table movement, which reframed the way we think about meals and the food chain, Malvar-Stewart takes pains to acknowledge the animals whose wool contributes to her designs: a dress is not made simply of alpaca fleece, or fleece from a specific heritage breed, it is often  made with fleece from just one specific animal per piece—and Malvar-Stewart can tell you that animal's name. (For instance, Gandalf, a Lincoln Longwool sheep with snowy white fleece, is a favorite of hers
"I share key working relationships with Ohio farms such as Prairie Fields Farm and Chaotic Farm, which I rely on for most of my natural fibers, as well larger businesses and institutions based in central Ohio," says Malvar Stewart. Such organizations include The Aveda Institute Columbus (she's collaborated with them since 2015 on projects such as Earth Jam, their annual fundraiser), Glass Axis (which helped her create delicate, chain mail-style necklaces from glass), the Fashion Meets Music Festival (where her haute couture designs have graced the runway), men's footwear company Magnanni Inc., and, most recently, Nationwide Children's Hospital.
In addition to creating special occasion wear, plus hosting workshops and special events for creatively inclined adults and children, Malvar-Stewart is also working on a line of sustainable textiles for home, office and public spaces.
More from Malvar-Stewart on her creative process—and what it's like to work in Columbus—below:
What are the benefits of being a working designer in central Ohio?
A great benefit for me is the affordability of workspace. I enjoy the luxury of having a small building to myself as my studio as well as where I hold workshops and give presentations. Another benefit for me in particular is the proximity to many fiber farms. By having resources nearby, I'm able to creatively experiment while maintaining a smaller carbon footprint. And lastly, but in no way least, is the amazing support from local companies, organizations and institutions whose mission is to promote local work.
When a customer comes in, what is the process like for you to create a garment for them? What kinds of occasions are they wearing your designs for?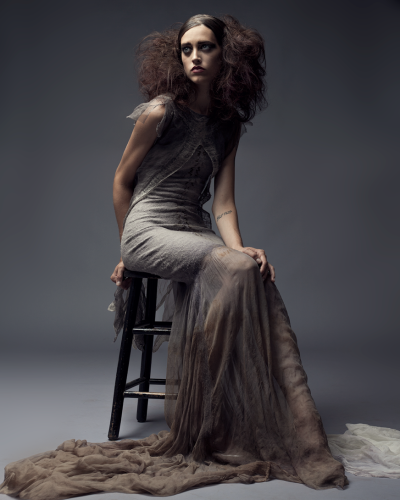 The processes I use differ from customer to customer. Usually, the first step in creating a custom piece is working with them in choosing a particular design. They tend to choose from one of my existing designs, and I change aspects of it according to their unique personalities and preferences. I then take many of their measurements and begin the process of sketching various aspects and versions of the design, choosing materials and dyestuff that would work best. 
If the piece is created from woven material, I then make a toile (preliminary garment) which is made from drafting a flat pattern or draping, and I fit it on the customer; if it's a felted piece, I go on to create a resist pattern onto which I would hand-felt the materials. I usually have three fittings before the piece is finalized. My custom pieces are worn at weddings, galas, and other special events. But one can also wear a piece to a cocktail party or a nice dinner.
What makes Columbus a supportive place to be a creative person owning a small business?
Columbus has an unique culture of truly supporting local artists and businesses. One of the characteristics that I believe sustains this culture is the way people here share information. It's been the first city where I've experienced people of all levels of expertise being open to meet and discuss ideas with other artists and creatives. I believe that this openness promotes a strong creative community that translates into supporting small local businesses.