If you're looking for a cozy haven of creativity, you'll find just what you're looking for at Igloo Letterpress, a letterpress and bookbinding company tucked into a former hardware store building in Old Worthington.
Igloo, so named for its origins in chilly Minnesota, where owner Allison Chapman first started the business in 1996, has grown by leaps and bounds since Chapman relocated to Columbus eight years ago, most recently moving in 2015 to a 4,000-square-foot space in a former hardware store on North High Street.
The larger space provides room for the hulking old-fashioned machines that give Igloo its name (including printing presses Chapman inherited from her grandfather), dedicated areas for workshops in letterpress basics (using antique wood and lead type); work space for a design team that uses the best of digital and analog techniques to make custom stationery, wedding invitations, business cards and other print materials, and a thoughtfully curated gift shop featuring handmade goods created in central Ohio and beyond.
Igloo's studio director, Beth Dekker (wife of writer Nicholas Dekker), shares more below.
Some of it is in the name, of course, but describe what goes on at Igloo Letterpress?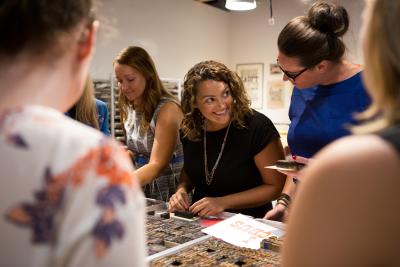 We are a letterpress print studio and a bookbinding studio, so we print items that people bring us the files for, or the ideas for, and we also come up with our own ideas and designs. We also do a lot of bookbinding for individuals and companies in Columbus and all over the country, and then we also have our own designed books, journals, that sort of thing. You can come in and take classes in everything from letterpressing to journal-making to calligraphy; we have some leatherworking classes, too. At this point, we have eight letterpresses ranging in age from 1890s to the 1940s, and we use all of them for different projects.
We offer private classes or private parties for four to 60 people and you can bring in a group of friends, family, coworkers, whatever you like. This week we had a group come in and do a baby shower. All 15 of the ladies that came in printed thank-you notes, each of their own design, and then they gave half of their notes to the mother-to-be so that she had a variety of hand-printed letterpress thank-you notes, and the participants got to take some home, too.
We asked Miriam Chon, who is a fantastic artist and crafter, to partner with us on Swoonful Gifts at Igloo Letterpress. Now we have over 80 vendors in our retail store, as well as our full card, gift and book lines that we also wholesale all over the country.
How important is it to be in Worthington? What's the value of being part of a major metro area like Columbus?
Allison lives two blocks from downtown old Worthington and she loves being the printer in the neighborhood. She loves people coming in, seeing them every weekend for the farmer's market. we always have a drop-in project every week, and so we love seeing the kids and getting to know them through that. We also love working with the schools, working with the libraries for the reading program; it's just a really important small-town feeling that we love.
But being attached to Columbus and being able to have the larger companies and the really vibrant design and art scene has allowed us to actually stay in business. They have given us some interesting, exciting large projects that keep us going so that we can provide, on a smaller level, the more intimate experiences of the classes and of the drop-in projects that we get to offer to our community.
There's the saying 'print is dead,' but it seems very much alive at Igloo. Are there misconceptions about modern letterpress?
A lot of people don't know we have designers on staff, and that we are happy to design something for them, whether it be a business card, a wedding invitation, a brochure, a postcard, whatever they'd like. They can also send us computer files and we can print from those files. While we do have a wide collection of lead type and wood type that we use in our classes, we also use photopolymer plates, which are plastic plates created from computer files, so when someone comes to us and says, "I want my wedding invitations printed, what fonts do you have?" we say, "Any font in the world, because as long as you can see it on your computer we can make a plate from it,"—so there's no real limit to the design.