It was a 2012 televised encounter with Tori Spelling (yes, she of "Beverly Hills 90210" fame) that ultimately helped Esther Myong Hall kickstart the creation of her colorful store tucked in a small strip mall in Grandview.
Back then, Spelling was host of TLC's "Craft Wars"; Hall was a contestant who hoped to use her winnings as seed money to start her dream yarn store.
Although Hall didn't win—she came in second on the competition show—she kept her goal in sight. That vision was realized in 2014 when she opened Yarn It & Haberdashery.
Inside the shop is a riot of texture and color, with skeins of yarn piled ceiling-high and in every shade in the spectrum. A seating area up front provides space for crafters to create, trouble-shoot and commune with others.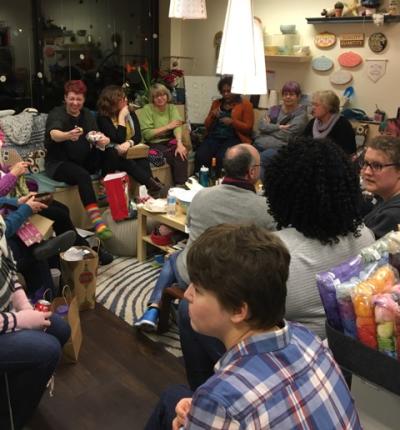 Hall says she's been making things as long as she can remember, since her mother taught her how to knit, crochet and hand-sew while whiling away the time at her dad's office at a junkyard on the South Side. Hall went on to earn a Bachelor of Fine Arts with a focus on fashion knitwear at the School of the Art Institute of Chicago, and now, at her store, offers instruction in knitting, crochet, dyeing and drop-spindle spinning, among other fiber crafts.
Below, Hall chats about Yarn It and how her fine arts education helps crafters
What prompted you to open Yarn It & Haberdashery? How long in the making was the shop?
I'd been playing with the idea of opening some sort of craft-/art-related shop for awhile, but it wasn't until I was forced to talk about it on TLC's "Craft Wars" with Tori Spelling that I really put it down on paper and started to think seriously about it. So that was maybe 5-6 years ago.
Why did you choose Grandview for your store location?
There used to be this great yarn store on Fifth Avenue called Wolfe Fiber Arts. It  had the same kind of customers that I was looking to cater to and build up: people who appreciated a little more of the finer things and knew what quality over quantity meant. (After Wolfe Fiber Arts closed) I knew there was a hole, and I wanted to fill that. Being in Grandview, the shop is pretty central and easy to get to. The location also makes it easy for people who work Downtown to make a quick pop over on their way home from work or a destination for out-of-town people to add one more thing to their trip to Columbus.
How does your background in fine arts play into your work at Yarn It?
I feel that because of my background in fine arts I can give customers a new and unique experience with a yarn store, because we aren't just trying to sell you yarn to make a profit. We are looking at the colors, textures and what patterns they have in mind to make the most beautiful decisions. My manager Amy Lubberly-Yeager also has a fine arts background, and we are constantly putting together different color combinations to get people to think outside of the box.
What is the most unusual item that people can find in your store? What are the most popular items for sale?
The most unusual item is a darning egg. It is a weird kind of old world thing that not a lot of people remember what they are for, and you also don't find them in stores typically. It's used to put behind holes in sweaters or socks so you have a solid base to mend without poking yourself or grabbing the back of the fabric.
Our top yarn brands are Frabjous Fibers, Wonderland Yarns, Anzula Luxury Fibers, Malabrigo and Ewe Ewe.
Can people can drop into Yarn It & Haberdashery to work on crafts, or to get problem-solving assistance?
Absolutely!  Part of having my store is that I wanted to make an open and welcoming atmosphere for people of all levels. Whenever we are open, you can come in and sit on our benches by the window and just knit/crochet/spin—whatever is your poison. People frequently pick up some coffee or tea at Luck Bros. and stop in to hang out and  knit with us. We have a regular group of retirees that comes in on Mondays and Thursdays;. Sunday has been a great day for the younger, under-40 crowd to come in and hang out.