MojoFlo has become synonymous with the local music scene over the many years they've been lighting up dancefloors around town. From Ace of Cups to the big screens at Gateway Film Center, the neo-funk outfit has toured around Columbus and has been known for putting off positive energy and vibes at their concerts, getting even the stiffest fan to loosen up into a Soul Train line.
However you want to describe it, simply put, MojoFlo has always been about making their experience fun. Their optimism is unrivaled, as they've been a refreshing force of hopefulness around town for some time now. With enough experience and talent at their disposal, MojoFlo is gearing up to shower Columbus with something new to look forward to. The gang is taking us back to the disco era with funk so robust that it'll blow your socks off.
The upbeat, groovy timbre of drummer Nathan Parker and percussionist Eric Paton and blissful, triumphant tones of keyboardist Aaron White are the first two overjoyous elements you'll hear on "Perpetual Conduit of Positivity," MojoFlo's positively-charged first single from their upcoming full-length album. What It Is, the title of the group's debut LP, is set for a release later this summer. Although MojoFlo's music can be enjoyed inside and outside, standing up and literally upside down, being able to jam out to a fresh set of songs on Columbus lawns in June, July and August sounds pretty ideal right now in the midst of this strange winter.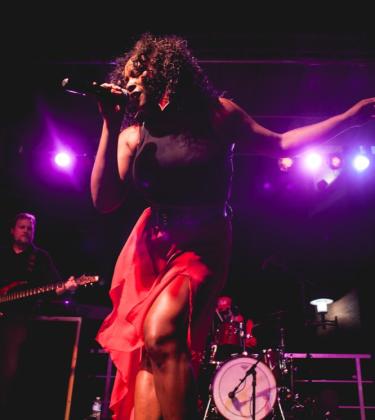 Once the horns kick in, you'll start to feel like you're at a celebration of Prince or dancing next to Chaka Khan. MojoFlo is known to bring the funk, jazz and soul, and they just so happen to bring it all at the same time on "P.C.P." Stunning vocalist Amber Knicole's soaring voice builds up to a climatic and celebratory, "we'll be all right," halfway through the six-minute-plus track. Saxophonist Walter Kolhoff's rich and full tones that help build up this section are also an essential part to the new single. With about two minutes remaining on "P.C.P.", the song breaks off into a jam-adjacent section that will have you longing for a 10-minute live version of this album teaser. It even breaks down into a very psychedelic outro that will have you itching for more on the upcoming LP. 
MojoFlo is delivering—as they promised—a message of love, acceptance, encouragement and resilience, themes that are consistent throughout their catalog. According to the band, each word in the song title carries a special meaning. Perpetual: constant, unending and eternal. Conduit: a vessel or channel. And Positivity: love, joy and light. Knicole, Kolhoff and guitarist/vocalist George Barrie are constantly heightening the group's positive output, and "P.C.P." is no exception.
In promotion with the release of the new single, MojoFlo will be playing a stretch of three shows from Columbus on down over the final week of January. The group will be kicking things off at The Union in Athens, Ohio on Friday, Jan. 24. They'll then be trekking back up to Columbus to play a show at the Summit Music Hall the very next day with another beloved local band Zoo Trippin'. The group will take a short breather and then slingshot down to Louisville the following weekend to play a show at Zanzabar on Saturday, Feb. 1. 
Make sure to catch MojoFlo at one of the above-mentioned shows to get more of an idea of what direction one of the most experienced crews in town is heading in with their first album. Also, make sure to listen to "P.C.P." when it gets released on all streaming platforms this upcoming Friday.
Song credits: Amber Knicole - Lead Vocals, George Barrie - Guitar and Vocals, Walter Kolhoff - Saxophone, Nathan Parker - Drums, Willie Barthel - Bass, Eric Paton - Percussion, Aaron White - Keyboard/Organ, Lisa Bella Donna - Synths. Recorded and mixed with Joe Viers at Sonic Lounge Studios in Grove City, Ohio. Mastered by Rodney Mills.