Cheers, Columbus!
Columbus' craft beer scene continues its boom, and we need another week to celebrate it! The second annual Columbus Craft Beer Week runs May 13-21, 2016. The week includes a tremendous variety of events sure to please craft beer lovers, from special beer tappings, to meet-the-brewers sessions, to beer pairing dinners.
Here are a few highlights, just to give you a taste:
Tapping a special firkin of dry-hopped Scottish Ale at Smokehouse Brewing
Barrel-aged bash at Zauber Brewing
Hoof Hearted hog roast hoedown at The Daily Growler
Beer and bacon brunch with Platform Beer Co. and 1803 Bacon
Family-friendly brewery tours at Four String Brewing
Bike the Breweries with North High Brewing
The official kick-off party is Friday, May 13 at the Grandview Yard Giant Eagle Market District. More events are being scheduled all the time, so visit the event calendar for a full listing.
The week culminates in Six One Pour, a mini festival at Huntington Park that features more than 50 breweries, live music, and food from Chipotle. During the event you can sample the special collaboration brew, a saison brewed by 16 area breweries at North High Brewing.
Columbus Craft Beer Week also features the launch of the 2016 Columbus Ale Trail. The official release party is Friday, May 13 at Wolf's Ridge Brewing.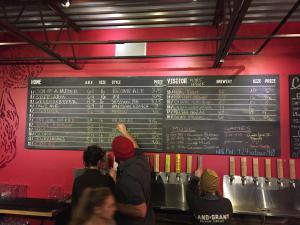 To participate in the Ale Trail, simply stop by any participating brewery to pick up your new passport, then get exploring! Twenty-six breweries around Central Ohio are featured this year. Visit each one and get your book stamped. Collect four stamps and you can earn a souvenir pint glass at one of the Experience Columbus visitors centers. Get them all stamped and you'll earn a custom illustrated deck of playing cards at The Ohio Taproom in Grandview.