The Columbus Distillery Trail is a free, digital trail that sends you exploring the city's seven craft distilleries. We're helping you get to know each stop a little better. Meet Ty Phillips-Bond, beverage director at Watershed Kitchen & Bar!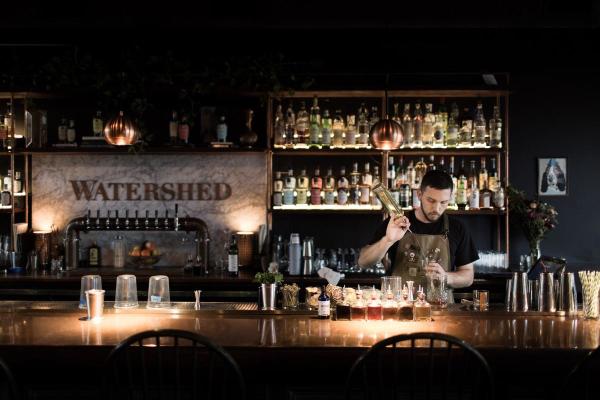 The bar area at Watershed Kitchen and Bar
So what's your role at Watershed?
I'm the beverage director. I ended up here because of David Yee, the previous beverage director. We knew each through the industry; I worked at Antiques on High and Seventh Son for four years. Through those places, I knew him in passing. A friend who worked here said we have a position open. It was the next step to grow in cocktailing for me, coming from those places that are a little more beer-focused.
What I do here: prep, organizing prep, a lot of prep work goes into the cocktail program. Without that work upfront, we wouldn't be able to execute it. I bartend a lot, oversee inventory, and do boring stuff like that. The most exciting part of this job, and why I took it, is to build out the new cocktail menu. This will be my first cocktail menu of this caliber. I was given full freedom to create the flavors, the concepts, and the names. The stories behind the names are pretty elaborate.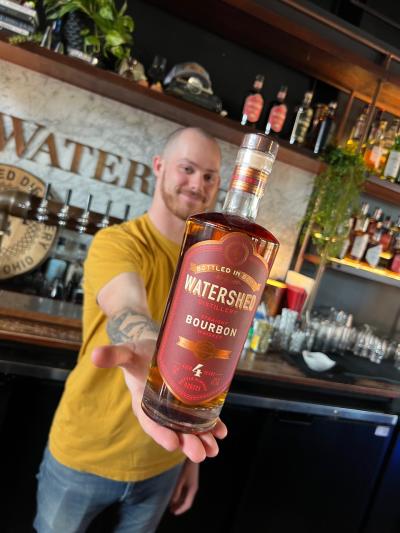 Watershed Kitchen and Bar's Beverage Director, Ty Phillips-Bond
How do you describe Watershed to newcomers?
It has really great vibes, that's the first thing I think of. The lighting is great, the bar is beautiful. Being attached to the distillery is cool. It's definitely a hidden gem.
The way I like to describe the restaurant is – it's an enigma. There's elevated, chef-driven food but it's still casual. Anybody can feel comfortable here and try something they've never tried before off the food and cocktail menu.
I think Watershed is in the top three or four cocktail bars in Columbus, and there are a lot of good cocktail bars in Columbus. You'll find this in New York and other big cocktail cities. All the bartenders hold themselves to that standard. Everybody is passionate about what they're putting on the table for guests. Guests are interested in the stories behind things, and everybody who works here is excited to answer those questions.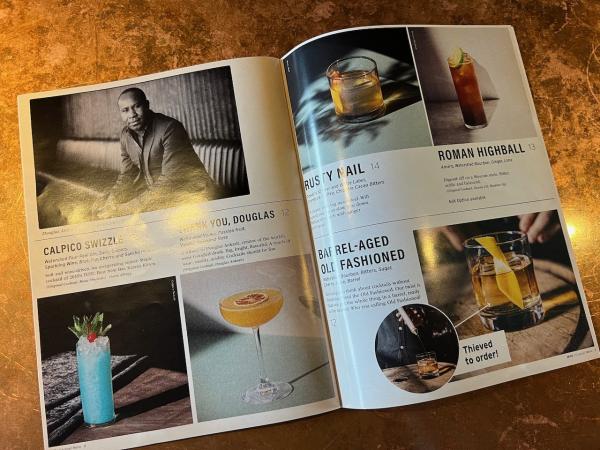 The cocktail menu at Watershed Kitchen and Bar
What do you offer to guests who visit on the Distillery Trail?
We sample a lot of spirits with guests in general. We serve our bottled Old Fashioned but we reintroduce it to the barrel. It gets mixed in with the new stuff, providing a new flavor and elevating the Old Fashioned.
Do you have a favorite spirit at your distillery?
Our bonded bourbon is fantastic, and I'm not a huge bourbon guy. I think it works really well in cocktails. I'm more of a gin drinker. I like our Guild Gin, with the lack of juniper, the chamomile stands out and makes it unique. Those two spirits I like to play to with.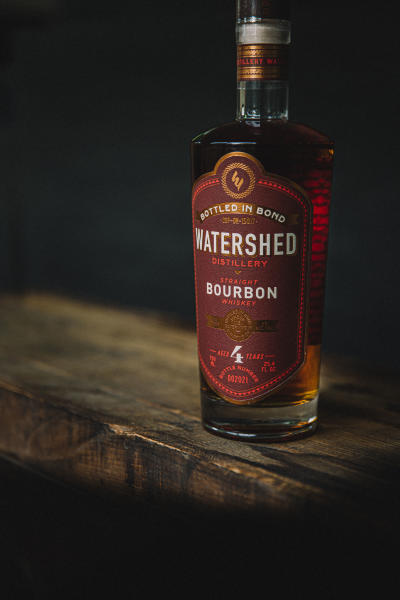 Bottled in Bond Bourbon
Where else do you Live for the Scene in Columbus?
I'm a musician, so I like to see shows at Rumba Cafe. Hoodoo Soul Band on Sunday – I've been going there since I was 16. That for me is kind of like church. What has become one of my favorites is going to Meister's Bar. Many people think that cocktail bartenders scoff at dive bars, but I like being able to not think about what's in the drink and just get a shot and a beer. I gotta shout out Seventh Son Brewing, for sure. I'm great friends with the owners and I can't say enough good things about that company. It's a rare experience in that industry.
Find Watershed Kitchen & Bar:
1145 Chesapeake Ave. Suite D
Columbus, OH 43212
Learn more about the Columbus Distillery Trail here.