Did you know there are plenty of places for a picnic in downtown Columbus? The city's green spaces – and our skyline – offer many opportunities to enjoy a meal outdoors.
The Columbus Commons is surrounded by city views. Enjoy lunch at the tables in the food court, ride the carousel, and play a game of giant chess before you leave. The Topiary Park gives you a unique view of Seurat's painting "A Sunday Afternoon on the Island of La Grand Jatte" in horticultural form while you snack.
The newly renovated Scioto Mile and Bicentennial Park offers wonderful views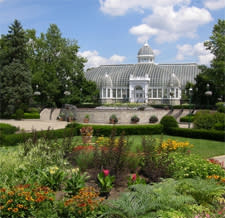 of the river and the city skyline. Grab a bench on the Main Street Bridge, take a swing on the giant swings, and stroll the new trails for a little exercise. Head out to Franklin Park to explore the beautiful grounds, and if you have time, stop in to Franklin Park Conservatory!
The North Bank Park provides another beautiful view of the city. Take your picnic and sit at the tables provided while you watch the Scioto River snake under bridges and around downtown. Or see what birds you can spot at the Scioto Audubon Park while you eat, then try to climb to the top of the climbing wall!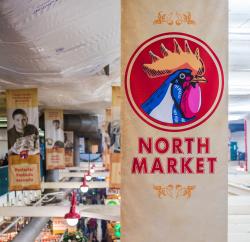 Need to pick up picnic supplies? Consider grabbing sandwiches and snacks to go from downtown spots like Market 65.
Or you can stop by a neighborhood market to assemble your own selection. Visit Hills Market Downtown or the North Market to collect meats, cheese, bread, drinks, and boxed lunches on your way to the park. Visit in the Arena District for a quick selection of snacks and goodies.