Columbus is rich in pizza. Every corner of the city is home to multiple locally owned pizza shops, some old and some new, all churning out delicious pies.
There are many different approaches to pizza, so we rounded up a few of the favorite styles around the city. Take a look at our beginning list and let us know your favorite!
Columbus Style
Yes, Columbus has a style of pizza! Columbus style, also referred to as square cut, party cut, or tavern cut, is baked on a thin crust, covered edge-to-edge in toppings and cut into smaller squares.
Where do you find it?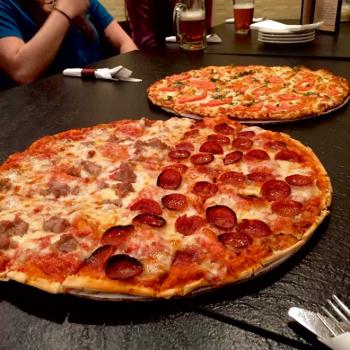 Iacono's – serving central Ohio since 1978, Iacono's has three locations around the city, serving Old World Pepperoni, Margherita, BBQ Chicken and other specialty pies. Visit for weekday lunch or Tuesday dinner for their pizza buffet!
Rubino's – follow the vintage neon sign down East Main Street to this Bexley institution, where you can enjoy delicious pizzas on cracker-thin crusts.
Villa Nova Ristorante – a favorite spot on the southern end of Worthington, Villa Nova is known for their generously topped pizzas, including the fabled taco pizza.
Tommy's Pizza – another Columbus institution serving our signature cut, Tommy's has long been serving thin crust pizzas from three locations: Dublin, Upper Arlington and across from OSU's campus.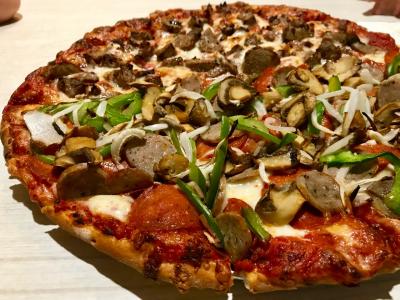 Pizza House – open since 1961, the family-run Pizza House has served generations of Columbus residents who love their signature pizzas like the All The Way, the Pesto Special and the Hawaiian.
Massey's Pizza – getting its start in 1949, Massey's now serves central Ohio from more than a dozen locations. Pizza flavors range from Philly steak to fiesta chicken, Hawaiian to supreme. They even offer a few deep-dish pies!
Donatos – Donatos has a national presence but started right here in Columbus; their signature shape and cut is Columbus style all the way!
New York Style
For many people across the country, New York pizza is the iconic style, cut into large triangular pieces. Diehard New Yorkers will remind you that the proper way to eat a pie is to fold your slice and eat it with your hands – no knife and fork!
Where do you find it?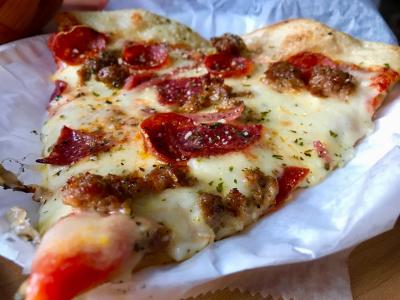 Mikey's Late Night Slice – this fun and irreverent pizza place is perhaps Columbus' favorite late-night snack. Find them downtown, in the Short North, across from the Convention Center and in Clintonville. Order giant slices of their regular pizzas, or try the special pizza of the week.
Natalie's Coal Fired Pizza – Natalie's was the first central Ohio joint to use a coal-fired pizza oven like the old world pizzerias of New York. Using clean-burning anthracite coal, Natalie's crisps up delicious pizzas in seconds. They're a perfect pairing with beer, cocktails and live music. Stay tuned: Natalie's is opening a second location in the 5xNW neighborhood.
Borgata Pizza Cafe – Borgata features two locations on the north side of Columbus, both of which serve New York style pizzas like their Three Cheese White pizza, Pesto Chicken and Mediterranean Roasted Vegetable.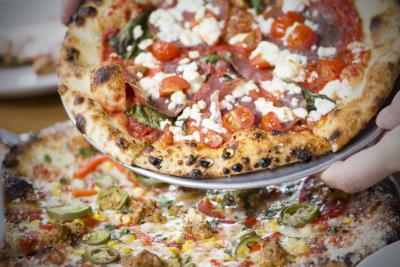 Harvest Pizzeria – Harvest is a popular choice around Columbus. From their Clintonville, Dublin and Bexley shops, they serve creative pizzas like the Almond Pesto, Ohio Double Bacon and Spicy Yuma.
Yellow Brick Pizza – Yellow Brick started in Olde Towne East and has grown to a second location in Victorian Village. Known for a unique craft beer selection and interesting pizzas, Yellow Brick features flavors like Spicy Chicken Corn Chowder, Dante's Inferno and Rhode Island Red. (Hint: YBP also makes Chicago-style deep dish pizza using the recipe from the now-closed Tristano's in Grove City).
Adriatico's – Adriatico's is a long-running campus favorite that's been serving Columbus for nearly 40 years. They just transitioned to a new building and have kept on serving their signature pizzas: Hawaiian, Chicken Bacon Ranch, Supremo and more!
Chicago Style
Columbus is close enough to the Windy City to appreciate a good deep dish pizza. Is it actually a pizza or is it a casserole? We'll let you decide. Regardless, these pies are delicious.
Where do you find it?
Meister's Bar – this Grandview dive bar is known for a solid craft beer selection and remarkable Chicago style deep dish pizza. You can build your own pie or choose from their signatures.
This list is just the tip of iceberg! What's your favorite style and favorite place for pizza in Columbus?