A continuously evolving music scene has made Columbus a city open to progression and suggestions. It takes the right, dedicated person spearheading local efforts to have them come to fruition and from there become a staple of the community. When somebody comes into a community and presents an idea, no matter how many people they may have behind them, it's up to the spearheader to constantly keep the dream alive. In this specific situation, our innovator is Joey Hendrickson. A few titles thrown around his name include Ohio State alum, musician and Columbus Songwriters Association founder. A more current title is curator of The Parlor, a new intimate venue that has caught some buzz over the past few months.
So what exactly is The Parlor and what is it's mission for the Columbus music scene? In short, it's a new secret venue on High Street that has already been host to a handful of local talent, including The Floorwalkers, Mistar Anderson and Zoo Trippin', with a capacity at around 30. The idea is to enjoy music, drinks and companionship in a way that isn't fully tapped in Columbus and that fully rewards the performers.
Hendrickson took the time to answer questions about the Columbus community as a whole, why The Parlor's shows have been a success early on and what the responses to the venue have been so far.
Q: What do you think makes the Columbus music scene stand out the most among the other local scenes you've observed?
Joey: Over the past decade of working with hundreds of local artists, I've noticed how Columbus musicians have developed a "weathered" approach to music that is real, authentic, and it's the "earned" depth that drives many of them to have a deeper kind of magic in their music. The music that the experienced artists here create is powerful. It's not always the Jif peanut butter, it's usually more like the cashew butter. It brings niche groups of people together in healthy, beneficial ways that are less about the stage, lights, theatrics and more about the actual quality and depth of the music that is good for the listeners. Participants discover a great sense of depth and enjoyment, camaraderie and even rebellion in the music culture here.
Now, consider this "weathered approach" to creating music and realize that is the result of true commitment to creating music as a life path. Artists here have committed themselves to fearlessly climbing a giant mountain ahead of them, and, step by step, continuing the climb no matter what. Unlike cities like Nashville, there is no "ski lift" in Columbus that allows people to skip steps here. There are very few to zero major music celebrities, major record labels, A&R people or global music producers walking down the street with access to a shiny music industry machine that can take artists and lift them to the top. The musicians here have to build their own access to audiences and then develop memorable moments and friendships with people inside and outside the city who command or have access to resources, audiences and the machine (if the artists decide that the machine is what they really want). Often, the artists have to learn how to appeal and engage local audiences that may not always be receptive to music. Music isn't always looked at as "valuable" here, and the artists here feel it on a weekly basis. The artists have to battle diminishing perceptions about the plausibility of a career path in music. These cultural and social barriers can be destructive and prevent artists from having the inspiration to take their music and try and reach the masses with it. The artists here feel these realities, but they keep going. This is the "weathered" approach I'm talking about. In my opinion, artists here become much more pure in their development due to their commitment to their craft despite these challenges.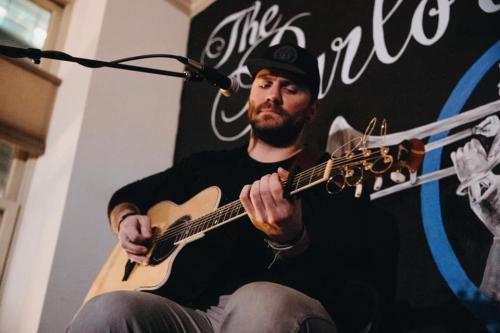 The working musicians in Columbus also have a fire in their chest that is often more resilient than other musicians in cities with the music machine. Because of that, many of them are pioneers in our region. Through the trials and successes of the climb, they are deep, whole creators. They've paid their dues and aren't afraid to keep paying them. They've dealt with the realities of validation or lack thereof. They are no longer waiting for their "big break." They're creating because they love to create and they're committed to the path. This is the type of mentality that creates the purest art form, and sometimes, the greatest lightning in a bottle.
Some artists in Columbus will get picked up by the music industry machine because producers, publishers, A&R, executives or owners will seek and find pure art. Many of them don't want that path but do seek out local infrastructure to support their livelihood. Most don't really want to go to Nashville, New York or Los Angeles to find it. They simply want to live and co-exist in the place where they can continue to love music, create it better for themselves, incubate their music, mindsets and vision and continue the path as pure artists. I think this mentality for life is a huge difference that separates Columbus musicians from other artists who are more transient — looking for the next trending city to try and "make it" in.
Our artists want to be in this creative environment where authenticity reigns supreme, where artists can pursue the steady climb, self-improve, incubate, live, explore and enjoy the creative process that music presents. The music scenes of recognizable music cities, like Nashville, may systematically lift up artists that "fit" their process, but to a weathered musician, these cities often lack the familial community and genuine creativity that produces the magical kind of music that dominates podcasts and niche communities of independent radio stations, but often isn't heard or represented on iHeartMedia stations.
Each year, with the addition of new festivals and special concerts, it seems as if Columbus is making a stronger claim nationally as a music city. What specific growth have you observed over the past few years?
I've seen many success stories over the past few years that illuminate the growth of Columbus as a music city. I've seen 14-year-old songwriters sign publishing deals in Los Angeles, countless music sync licensing placements in major television shows outside of the city and advertising campaigns inside the city, countless local artists joining national or international tours, local artists signing label deals in other countries, local artists showcasing their original music at major music festivals and pitch for publisher events in Nashville and Los Angeles, local artists working with global producers, local artists booking regional tours, local artists proving that they're not so "local." Three years ago, our community asked the city to support the music scene and the mayor responded favorably in support of collaboration through the Columbus Music Commission. This has helped our claim, and we're all eagerly awaiting the results of our own economic impact in supporting the marketing, education and programmatic development of our music city.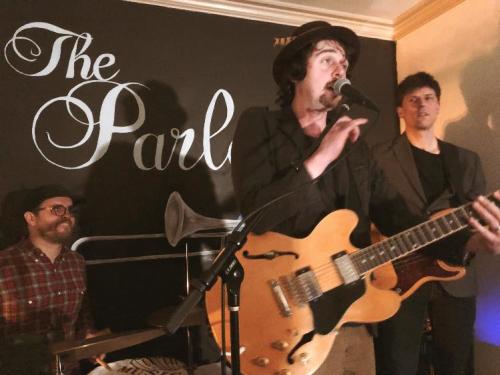 With that, "music cities" grow, but the "term" of these cities and its resulting economic impact also naturally ebbs and flows. If you look at Austin, SXSW was once twice the size it is today, and when everyone comes in and out of the city for two weeks, the visitors see it as a global, booming place to live and create, but when the visitors leave the city, depleting the city of thousands of music supports, it goes back to being the Austin that the locals see and feel every day, which has less to do with massive amounts of tourists slamming the hotels in a couple of weeks at a major conference and more to do with the mood and pulse of the culture that the locals create. The locals are Austin. SXSW is an economic development lever that sparks rapid engagement in a short period of time, but Austin wouldn't be Austin if it weren't for the locals. In the same way, Columbus can have new festivals and concerts, but the mood of the locals will often (always) inspire the projects, events and festivals that emanate from the city. Just being real. If there's an outside festival that claims "Columbus" but doesn't fit the culture, our city leadership and locals are wise enough to reject it and maintain who we are and what we're trying to be.
In that way, in terms of Columbus' pulse and mood, I see our cultural pockets strengthening. From the downtown music scene to the commuting professionals occupying the suburbs, our cultural communities are growing in identity, strengthening in who we are, what we need and growing more confident in what we want to do to improve our experience here. Cultural ownership is prominent in Columbus. Our identity has been incubating in our chests for decades, but it seems like it is being outwardly defined more recently in terms of action from the artists, locals, small business owners, entrepreneurs, city leaders and corporate leaders. While living downtown, I've noticed cultural groups that are in both collaboration and rivalry. I believe that the friction many of us have been noticing regarding various arts economy decisions, spanning social groups and pocketed mentalities, is a sign of confidence and growth in our socio-ecological identity as citizens and creators. When a rise in close-knit communities of friends and neighbors who love music, art, who want to enjoy it and celebrate it — begin to revel in it — the righteously indignant specificity about what the definition of what we envision becoming the future quality of our artistic experience, and values that go into it, is a sign of cultural growth. While seemingly solo'd, I think our cultural segments are stronger than ever. It seems that our artists are constantly creating new art and types of events that are extreme, hyper-targeting people who really want to be apart of each experience, event and group. It's the real stuff. Leaders and innovators are designing new experiences for passionate groups of friends that take risks together, creatively and brilliantly, and boost the city's confidence in deeper events and moments that help people enjoy life and not give a f*** about all the other distractions that attempt to prevent that.
How did the idea of setting up The Parlor in downtown Columbus come to fruition?
I am a workaholic on a mission to helping artists get paid. If you want to know the full details about how I quit a major role in a surgical robotics team with the world's largest medical device company, and then followed a vision, you'll have to buy a ticket and come to a show.
Why is Columbus a prime city to host secret shows?
"People" are the most valuable asset in Columbus. We don't have the mountains, ocean or the desert to give us vibe. We need people to create that vibe and share it. Authentic events are one way to do it. Places where people gather around music, food, artistry, local beer and other enjoyable things keep us curious and connected.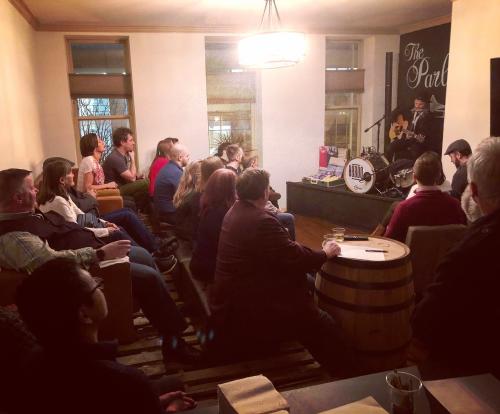 What do local musicians have to gain from a relationship with The Parlor?
Through The Parlor, we are introducing musicians to two types of audiences — 1) those who go to many shows, but are excited to have a more get-to-know-you type of vibe where they can talk to the artist and share deeper moments with them while they are on stage and off of it, and 2) those professionals who need a break from the 9-5 and are looking for something new, memorable, daring, familial and honest that will help them reset and refresh their work week.
How have the responses for people attending the shows and bands playing the shows been?
Genuine. Our audiences have experienced deep and connected moments together. Many of the artists who have performed have felt the same. I think we've all had this happen because everyone is taking a risk by coming to these shows. Those risks are helping to create special moments that don't usually happen. Artists can talk with their audiences like family. Total strangers can come into our space and become friends with the person next to them by the time they leave. We all want to become more connected, don't we? Some of us hope we can wake up tomorrow and take that mood with us into our week. It's happening for me. I feel like maybe it's happening for others, too.
What do you think it is that makes some concertgoers gravitate toward smaller, more intimate shows that The Parlor is aiming to host?
Intimacy is scarce. We created shows that allow concert goers to see incredible bands in a close-to-stage listening room environment that allows them to interact with the musician and band. They can feel the energy of the music in a deep, authentic way. Bands and musicians often share stories, jokes and vulnerable moments with the audience that you won't typically experience at a traditional music venue where the music comes at you, instead of you being drawn into the music. It's just a different type of show.
With limited seating at these secret shows, how do you make sure that everyone who wants to participate is getting a chance to experience The Parlor?
Limited seating is challenging, but purposeful. In terms of inclusivity, we organize and post all of our shows on Facebook and send out updates in our email list (which you can sign up for on Facebook) to ensure everyone can attend a show that wants to. However, we've sold out almost every show we've produced since December, so we've added more shows to create more opportunities to join in. Sometimes the artists offer a late night version of a show that's different from the first show, so that more people can attend. We're exploring other ways to increase our seating capacity, but any expansion details are reserved for our members and guests.
 — — — — —
If you want to find out more about The Parlor, check out their Facebook page to keep up to date. There you can find out about future events at The Parlor, watch live streams of shows you couldn't make it to and learn more about the grassroots approach those at the venue have been taking.