A new venue appears on the list of local concerts to bookmark this month in the form of professional theatre company Short North Stage. With a theatrical theme set to this month's concerts, you'll find that most of these musicians have a knack for putting on some of the best live shows in the city. From Bobby Floyd to Tony Monaco, you'll find that this month is packed from front to back with the best Columbus has to offer. Make sure to catch both the legends and the movers and shakers that will be putting on passionate performances in September.
Bobby Floyd Trio @ Natalie's Coal Fired Pizza
Bobby Floyd has made himself known around town, and the world, as one of the most natural and passionate jazz musicians. He's performed solo, in duos and groups, but for this specific Natalie's concert he'll be joined by other local jazz legends Derek DiCenzo (bass, guitar) and Reggie Jackson (drums) as the Bobby Floyd Trio. These three musicians are a big reason why there is still a home for jazz music in Columbus.
Time: 9 p.m. | Date: Wednesday, Sept. 4 | Address: 5601 N. High St., Worthington | Admission: $10 GA / $15 reserved
CD102.5 presents Angela Perley Album Release Show @ Skully's Music Diner
One of the most star-studded local shows this month, Angela Perley will be bringing the sounds of her recently released album, "4:30," to Skully's. On top of Perley debuting her first solo project live, she will have support from atmospheric alternative rock group The Cordial Sins. Both of these musical acts have gained national notoriety while still holding Columbus close to their hearts.
Time: Doors 8 p.m. | Date: Friday, Sept. 6 | Address: 1151 N. High St. | Admission: $12 / under 21 pays additional $2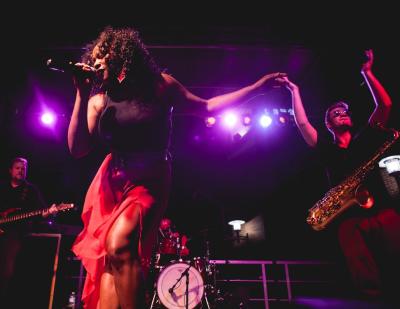 MojoFlo Live at the Garden @ Short North Stage
Legendary Columbus band MojoFlo will be bringing the funk to the Short North as a fundraiser to benefit Short North Stage. Known around the city for their very lively, engaging and entertaining local acts, MojoFlo has a way of making every show a special one. From Ace of Cups to the Columbus Commons, there is no venue in Columbus that can set any boundaries for the live show this band puts on. Catch them while you can.
Time: Doors 8 p.m. | Date: Saturday, Sept. 14 | Address: 1187 N. High St. | Admission: $50 main floor / $75 VIP
The Turbos @ The Basement
Whenever The Turbos headline a show, you can bet that a great cast of local rock gems will be supporting them. Playing To Vapors and RADATTACK, two other high-energy live alternative rock acts from Columbus, will be helping out The Turbos for a special concert at one of the city's coming-of-age venues. With The Turbos on the road for most of 2019, you'll want to catch their live set whenever they come to Columbus in the near future. This show is a great opportunity.
Time: Doors 7:30 p.m. | Date: Friday, Sept. 20 | Address: 391 Neil Ave. | Admission: $10 adv. / $12 DOS
Sounds May Swell "The Shape Nature Makes" EP Release Show @ Big Room Bar
Earlier in August, Sounds May Swell released their first single, "It's Just War," featuring a brighter rock sound with moving vocals and introspective lyrics. If you're searching for something fresh, local and already technically-sound, this may be your new group. Sounds May Swell will have support from other highly-touted local alternative rock groups Of Two Minds and Ghost Soul Trio. If you enjoyed your first taste of Sounds May Swell, you won't want to miss this steal of a show where they'll unload the rest of "The Shape Nature Makes."
Time: Doors 7 p.m. | Date: Saturday, Sept. 21 | Address: 1036 S. Front St. | Admission: $5
Monaco Monday @ Woodlands Tavern
A gem around town just like Bobby Floyd, Tony Monaco will be making yet another return to Woodlands Tavern for his residency. Another Columbus musician who has made a name for his expressive sets, you'll find that you have just as much fun listening to Tony as he does jamming out on his organ. This special edition of Monaco Monday at Woodlands will feature the Tony Monaco Trio.
Time: 9 p.m. | Date: Monday, Sept. 30 | Address: 1200 W. 3rd Ave. | Admission: Free