Columbus is welcoming in a new age of rock this summer. After over a decade of being one of the premier rock music festivals in the nation, Rock on the Range will not be returning for 2019 this May. Instead, Sonic Temple Art + Music Festival will be coming in as its replacement with an emphasis on highlighting areas of the festival outside of just music and comedy. Sonic Temple's greatest priority will still be to curate an ultimate rock music experience, but the inaugural event will also replicate major music festivals like Coachella and Bonnaroo by adding additional experiences for audiences to interact with. Danny Wimmer Presents will be bringing the three-day event to MAPFRE Stadium Friday, May 17 through Sunday, May 19.

While Rock on the Range built up an extremely dedicated rock-n-roll fan base in and around Columbus over the past 12 years, Sonic Temple's 2019 lineup brings the same flare. With some classic acts that have torn apart Columbus Crew stadiums in years past, there's enough loaded into each day to make it worth a weekend-long celebration. Headlining the festival on Friday will be System Of A Down and Ghost, followed by Disturbed, Papa Roach and Lamb of God on Saturday, while Foo Fighters and Bring Me The Horizon will be closing out the festival on Sunday. The Prodigy were originally supposed to headline, but chose to pull out of several 2019 performances due to the untimely death of lead vocalist Keith Flint.

Weekend passes are still on sale if you haven't already made your plans for Sonic Temple. Field passes for the entire weekend are priced at $325 before fees, while stadium passes are $199.50 before fees. Single-day passes for the field are still being sold for Saturday and Sunday at $129.50 per day before fees. Single-day stadium passes are still being sold for all three days at $79.50 per day before fees. You can see all the information on purchasing tickets and ticket prices here. Although car camping passes are no longer available, Sonic Temple also put together a list of lodging packages here.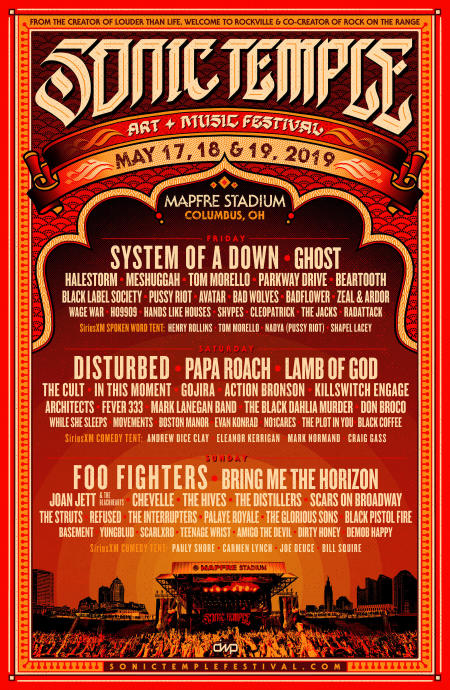 Other musical acts that will be joining in on the Friday fun include Halestorm, Meshuggah, Tom Morello, Parkway Drive, Beartooth, Black Label Society, Pussy Riot, Avatar, Bad Wolves, Badflower, Zeal & Ardor, Wage War, Ho99o9, Hands Like Houses, Shvpes, Cleopatrick, The Jacks and RADATTACK. Friday's activities will also feature the SiriusXM Spoken Word Tent with appearances by Henry Rollins, Tom Morello, Nadya from Pussy Riot and Shapel Lacey.

On Saturday you can expect to see The Cult, In This Moment, Gojira, Action Bronson, Killswitch Engage, Architects, Fever 333, Mark Lanegan Band, The Black Dahlia Murder, Don Broco, While She Sleeps, Movements, Boston Manor, Evan Konrad, No1Cares, The Plot In You and Black Coffee. You'll also be able to catch Andrew Dice Clay, Eleanor Kerrigan, Mark Normand and Craig Gass at the SiriusXM Comedy Tent.

Wrapping things up on Sunday alongside the headliners will be Joan Jett & the Blackhearts, Chevelle, The Hives, The Distillers, Scars on Broadway, The Struts, Refused, The Interrupters, Palaye Royale, The Glorious Suns, Black Pistol Fire, Basement, Yungblud, Teenage Wrist, Amigo The Devil, Dirty Honey and Demob Happy. Pauly Shore, Carmen Lynch, Joe Deuce and Bill Squire will be wrapping up the SiriusXM Comedy Tent.

Promising to feature festival experiences that Rock on the Range lacked, Sonic Temple will be adding art installations and a wider variety of food and drink options to one of the country's premier rock-n-roll showcases. Featuring work from some of the most creative artists around, be on the lookout for artwork from legendary street artist Risk. At specific sections and throughout the festival, you'll be able to interact with multiple art installations, live mural painting, poster artists, performance art and live screen painting. Companies such as Jack Daniel's, Monster Energy and Zippo will also be bringing specially-curated experiences of their own.

Sonic Temple is continuing to push forward the legacy of rock-n-roll music that has called Columbus home for so many springs. Even by adding activities outside of music for attendees to interact with, the music hasn't taken the backburner as evidenced by a lineup consistent with the nation's best rock showcases. Although technically an inaugural event, Sonic Temple has the resume of a fully-developed festival. If you want to jumpstart your summer music itinerary, Sonic Temple is a great choice within our great city. If you have any questions about planning your trip to Sonic Temple, make sure to check out the festival's website here.