Back in 2017, Independents' Day Festival threw what would be its final hurrah after a 10-year run. At this time, there were around five established festivals in Columbus. Steadfast Festival—a multi-genre alternative event that has been a steady rock in the Columbus music community over the past five years—was breaking ground in its second annual edition a few months prior in the same calendar year. 
It's now safe to say that after four successful springtime celebrations, Steadfast is one of the dozen or so prominent Columbus-based festivals that has brought together a community of like-minded individuals while also boosting the talented musicians that help put our community on the map.
Ryan Getz, founder of Steadfast Festival and editor of the music discovery blog Tuned Up, has been one of the movers and shakers who has helped get the rest of the country to pay attention to what Columbus has to offer. After attending AudioFeed, an alternative Christian festival, prior to establishing Steadfast, Getz became inspired by the eclectic mix of genres and the sense of togetherness that was put on display.
"I started going (to AudioFeed) because of the bands, but when I got there I found this sense of community," Getz said.
That's exactly what Steadfast has built after half a decade in the making. Getz has provided an outlet for music fans with wide-spanning tastes to kick off their festival season and shake off their winter blues for the third year in a row at Strongwater Food and Spirits. Steadfast has operated as a smaller-scale, music-focused version of South by Southwest, with acts from out of state and a healthy offering of some of the most cherished and up-and-coming bands from Columbus. 
While propping up locally-based musicians against some of the top rising talents in the independent scene across the country, Steadfast has also helped to put must-know Columbus acts on notice. Getz is proud of how he's been able to juxtapose acts getting national recognition against Columbus musicians who deserve the same credit.
"You're not going to see The Turbos on a bill with Yoke Lore anywhere else," Getz said.
Yoke Lore, along with Motherfolk and Bad Bad Hats, will be headlining Steadfast 2020. The pop-bending act from New York,Yoke Lore has been steadily attracting music fans to this edition of Steadfast, while Cincinnati-based act Motherfolk and folk-rockers Bad Bad Hats are bringing in out-of-towners at a rate that has Steadfast on pace to sell more tickets than this past year.
With the featured acts already drawing major interest to Steadfast, the Columbus-based musicians will surely be bringing in some dedicated fanbases as well. The Turbos have been making a statement in the city as a rock act with reflective songs that resonate with a wide range of people. The Cordial Sins, another Columbus-based band that was featured on Experience Columbus' 10 acts to know in 2020, has made a statement recently as one of the best live indie-blending rock acts to catch in concert.
Another band featured on Experience Columbus' 2020 list that will also be performing at Steadfast includes Ghost Soul Trio, which boasts guitarist and vocalist James Harker. He's no stranger to Steadfast after playing the event with Spirit of the Bear in 2019.
"After playing Steadfast in the past, I feel like the focus on the community is what makes the event so great," Harker said. "(Getz) and Tuned Up are always so supportive of music in general, and it's refreshing to have someone be so adamant about catering to smaller artists who make genuine music."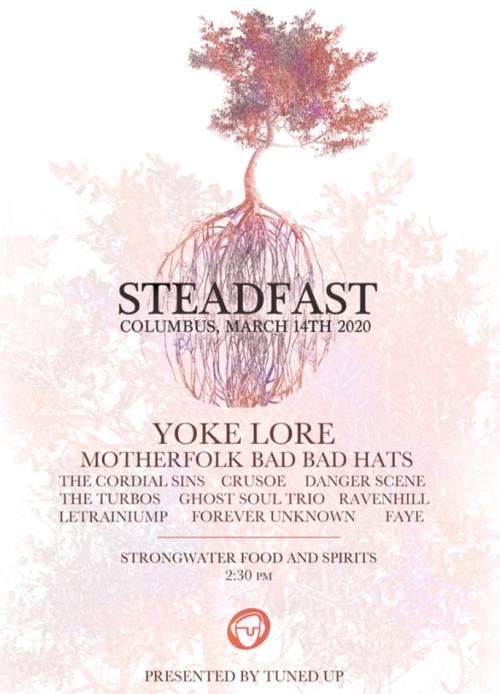 There're a couple "smaller" artists on the lineup that will most likely be shredding that label within the next year. Winner of GROOVE U's Instaband competition in 2019, Forever Unknown has one of the most mature sounds coming out of Columbus and puts off the vibe that they've been comfortable playing with each other for ages. With lyrics like, "Marry me just so you can bury me," off of their project Study Hall, the group is already capturing adolescent angst at a grown-up level.
Even from a preliminary stage in the band's career, lead vocalist Micah Stomsoe DeLorenzo recognizes that Steadfast is a festival dedicated to promoting the future talent of the Midwest.
"We noticed early on that bands had to leave Columbus if they wanted to play with big names on bigger stages. Festivals like Steadfast that dig in and grow year after year are key to shining a light on just how amazing the Columbus scene is," DeLorenzo said. "The longer this festival and others like it go on, the more people all across the country will see that the Columbus music scene is one that is chock-full of talent." 
And Getz and Steadfast are doing some of the best work in Columbus at seeking out emerging talent that deserves their due shine. Faye, an emerging and award-winning singer-songwriter that will be performing as part of a three-piece at Steadfast, is an example of an act that proves that hard work and a patient hustle will lead to opportunities in Columbus. 
Steadfast is showing that the dedicated work of local musicians can have great rewards.
"We're looking at Steadfast as a solidifying experience of us saying, 'This is who we are, and we're not going anywhere," singer-songwriter Faye Williams said.
Steadfast won't be putting any musicians in competition with each other despite its stacked lineup. With two stages at Strongwater across two parallel rooms, there will be more than enough time for fans to make their way from one performance to another.
The sponsors that will be making this tried and true festival a possibility include Prologue Bookshop, Fillmore Capital, HONEY GOLD Records, Loquantur RHYTHM, and Rare Buzz Effects. All of the previously mentioned sponsors have been doing their due diligence in promoting the Columbus music scene in different aspects.
The Columbus music scene has progressively been taking the next step year after year, and Steadfast is definitive proof that the local scene has room to grow even more. In a day and age when Fashion Meets Music Festival and Rock on the Range were setting the tone for Columbus as a music destination, Steadfast still persists and continues to be a beacon of hope of what our city has to offer.
"After (Independents' Day) Fest went away, it seemed like four or five other festivals popped up in its place and seemed to be carrying on the spirit of that event in one form or another," Getz said.
Make sure to check out Tuned Up's website for a full rundown of Steadfast 2020's lineup. Tickets are still available but moving fast, so make sure to secure your spot by following this link to purchase a $25 ticket. Steadfast will be taking place on Saturday, March 14. Doors open at 2:30 p.m., with the first set starting at 2:45 p.m. The event  is approaching sellout territory, so don't hesitate to buy your ticket today.
Steadfast will also be throwing a preparty the day before on Friday, March 13, at Donato's Basement. Admission is $10 at the door.
Guitarist photo by Jenna Doolittle