Nothing beats a beautiful day on a patio with a cocktail in hand. Make the most of sunshine and good company with these Columbus patio and cocktail pairings!
Cosecha + Los Muertos
Cosecha serves modern Mexican cuisine like tacos, poke tostadas, and rich pozole. Their large brick patio out front is a perfect backdrop for sipping Los Muertos, a tequila-based drink with a chile liqueur, ginger, honey, lemon, and a mescal mist. It's darkened with charcoal.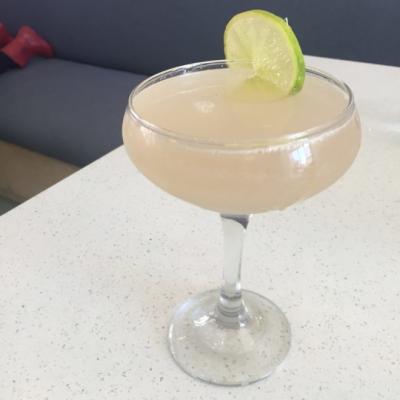 Hoof Hearted Brewery & Kitchen + Double Dare
Hoof Hearted is known for their big, hazy beers and their irreverent branding, and while you should stop by the brewpub for a flight of ales, don't forget their creative cocktail menu. The Double Dare features Bulleit bourbon, Fernet-Branca, plus Dandelion & Burdock Soda. It's served with a side of pop rocks. Enjoy it on their front patio, or for even more fun, take it to the pool-side patio out back! 
Barcelona + Ibiza
Barcelona in German Village is famous for its patio, with its lush greenery and fountains. When you're sitting out there, you can't go wrong with their wine list, but try sipping the Ibiza, made with The Botanist Islay gin, Carpano Antica vermouth, and Grand Poppy aperitivo.
Milestone 229 + Barrel-Aged Margarita
Located on the Scioto Mile, the patio at Milestone 229 overlooks the beautiful riverfront and the city skyline. Catch a light show in the Bicentennial Park fountains while you sip Milestone's Barrel-Aged Margarita, made with a house-aged mango-infused tequila, Ancho Reyes Chile Liqueur, orange, lime, and agave nectar.
The Market Italian Village + Persephone
The Market's patio is a comfortable spot to enjoy their chef-driven dinner and brunch menus along with a cocktail or two. Their Persephone is built on OYO Stone Fruit Vodka, creme de violette, Fernet-Branca, lemon, simple syrup, and egg white.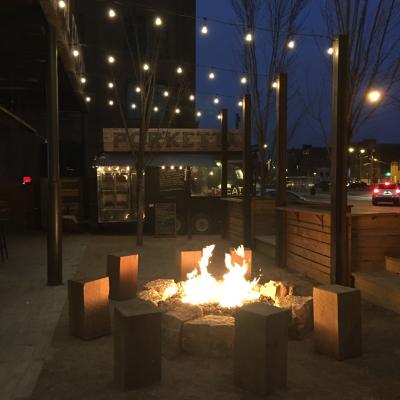 Pins Mechanical Company + Pinball Wizard
With pinball and duckpin bowling, Pins offers up hours of fun. Sample their craft beer list, play a few games, then snag dinner from the Por'Ketta food truck parked on the patio. They feature two outdoor areas, with plenty of seating, firepits, and giant Jenga games. It seems appropriate to sip on their Pinball Wizard cocktail, made with blueberry vodka, ginger ale, St. Germain, and blueberries.
Basi Italia + A Glass of Wine
Basi is a true hidden gem, tucked down a brick-lined street in Victorian Village, with a cozy patio in the back. They feature a full cocktail menu, but their wine list is notable. Let your server guide you to choosing the best wine to pair with house-made gnocchi, eggplant parmesan, and risotto.
What are your favorite cocktail and patio pairings in Columbus?