This post is written by Nick Dekker, blogger at Breakfast with Nick and author of a book all about breakfast in Columbus. You can follow him on Twitter @BreakfastwNick.
If you're not a morning person, then maybe breakfast isn't your thing. Or if you work late or have evening activities, maybe going to dinner isn't always possible. But what about lunch? Everyone's on the lookout for a good lunch, whether it's for a break during work or to meet with friends. Take a look at these quick and tasty lunch stops around Columbus.
Da Levee is an easy spot for lunch or carryout in Gahanna. The Cajun and Creole restaurant rotates their menu daily, but you really can't go wrong in choosing between gumbo, etouffee, and jambalaya, or po'boys and po'rritos.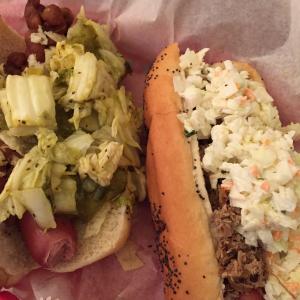 Cravings Carryout Cafe has indoor and outdoor seats to enjoy their sandwiches, but they just as easily serve the on-the-go crowd. Their BLT and Cravings Club are winners, but look for excellent soup and sandwich specials – and don't forget to grab a cookie!
Plantain Cafe downtown does amazing things with sandwiches and entrees made with fried chicken, shredded beef, seafood and more.
Many international eateries offer excellent lunch deals. Turn to Huong Vietnamese or MiLi Cafe for bowls of pho or banh mi sandwiches. Fortune serves up many authentic dishes, including some Szechuan specialties.
Fusian serves up fast casual sushi. Created by a trio of Ohio State grads, the build-your-own sushi restaurant started with a location near campus and expanded to Easton, with locations in Grandview and Clintonville on the way.
Mojo Tago transitioned from a food truck to a brick-and-mortar, and now serves up tacos in Powell. They're loaded ingredients like Korean BBQ to carne asada to grilled fish.
If you're in the mood for tacos, Yabo's Tacos in Upper Arlington, Powell and Westerville lets you build your own tacos with beef, chicken, pork, veggies and seafood, and a choice of house-made sauces.
In Westerville Uptown Deli & Brew features classics like Italian wedding soup and caprese salad along with deli favorites like pastrami and rye or smoked salmon. If you're sticking around, grab a pint of beer from Temperance Brewing Company, located at the back of the space.
These are some starting suggestions for quick – but high quality – lunches. Where do you like to go?