When it comes to patios, Columbus knows how to make use of them! Any warm spring day, cool autumn evening, and every summer day – we're crowded onto patios soaking up sunshine while we enjoy a meal or a drink. German Village and the Brewery District in particular feature several notable patios.
First, you can start your morning on the patios of Stauf's or Pistacia Vera. Take in the rising sun with a cup of coffee and a fresh-baked muffin, a croissant, or a slice of quiche.
For lunch, you'll find that Arepazo Tapas Bar & Grille makes use of their High Street patio for sipping sangria and dining on Latin American fare like arepas or patacon.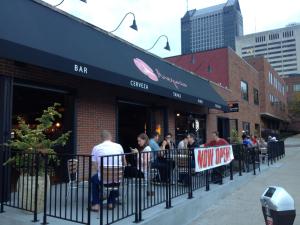 Plenty of pubs in the Brewery District feature front patios. The Columbus Brewing Company Restaurant sports an enclosed patio that protects you from the elements while you sample beers and munch on pub fare. The patio at Westie's Gastropub is a superb spot for enjoying wings and beer mac & cheese.
Tony's Italian Ristorante has a patio, too. It's the perfect spot for sipping a glass of wine and enjoying Tony's classic Italian dishes. Nearby you can feast on zesty Thai meals, too, on the patio at Basil.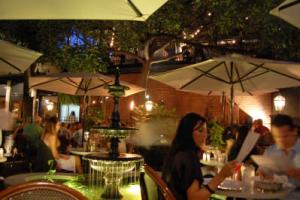 The Big Room Bar – CD102.5's "bar with a radio problem" – carves out a tiny patio, so you can enjoy a cocktail or a pint of beer to go with their creative comfort food.
Perhaps two of the most well known patios in the neighborhood – and in the city, really – are both in German Village: Lindey's and Barcelona. Both patios are hidden gems, the perfect open-air spots to enjoy upscale cocktails and dinner.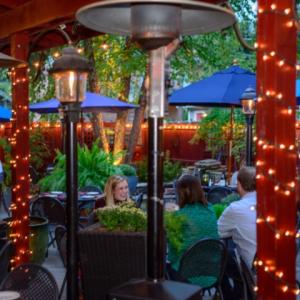 You can end your day enjoying a pint of beer and a bite to eat on a patio, too! True to their German Village locale, Plank's Bier Garten has a beer garden lined with picnic tables for enjoying a pint of German lager. And High-Beck Corner Tavern sports a small patio for people-watching along High Street.