Originally Posted: Jan. 25, 2021
Updated: Feb. 26, 2021
New options for safe outdoor dining during colder winter months have been one of great pivots to come out of recent COVID-19 restrictions and indoor capacity limits. Restaurants all across the city have created safe environments on their patios to meet their critical need for space. Check out our list below to find out which dining establishments are ready to welcome you all winter long. Just choose where you are in the city to get started!
Easton | German Village | Grandview | Dublin | Polaris | Delaware
Easton
Forbidden Root
Forbidden Root offers two egloos (Easton igloos) that seat four to six each. Reservations are available Mon. – Thurs., 5-7 p.m. and 7:15 – 9:15 p.m. or Fri. and Sat. 12-2 p.m., 2:15 – 4:15 p.m., 5-7 p.m. and 7:15 – 9:15 p.m. A $75 food and beverage minimum is required for each reservation. Submit inquiries via email and be sure to include your desired reservation date, time slot and guest count. Learn more here.
Credit: Steve Brady
Beeline Bar
The Beeline is offering one egloo that can seat between two and six with a $100-$300 minimum purchase (varies by day). Two-hour rentals are available every day except Monday and egloo guests receive dedicated service. Reserve your spot here.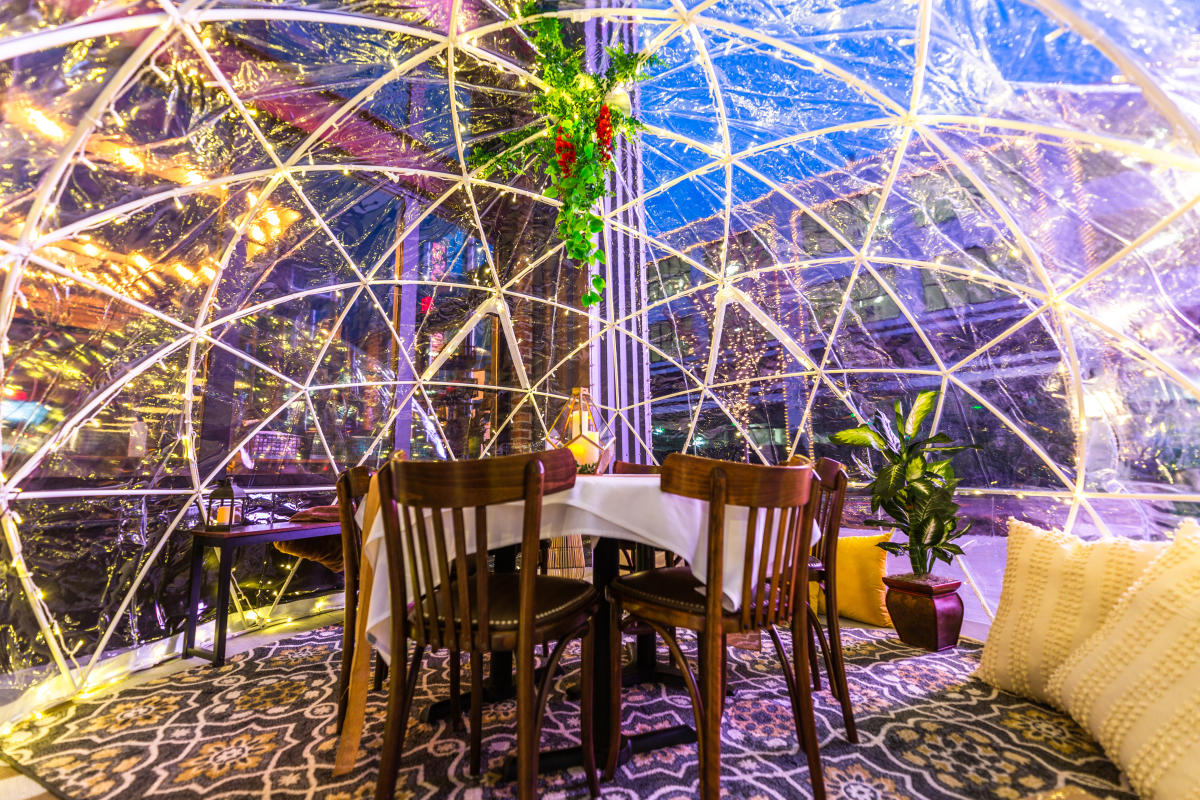 Credit: Steve Brady
Ivan Kane's Forty Deuce
The egloo at Ivan Kane's seats four to six for a 1.5-hour rental interval with a VIP server. The $40 per person minimum includes one entrée from the café menu and one drink ticket for any specialty cocktail or beer/wine.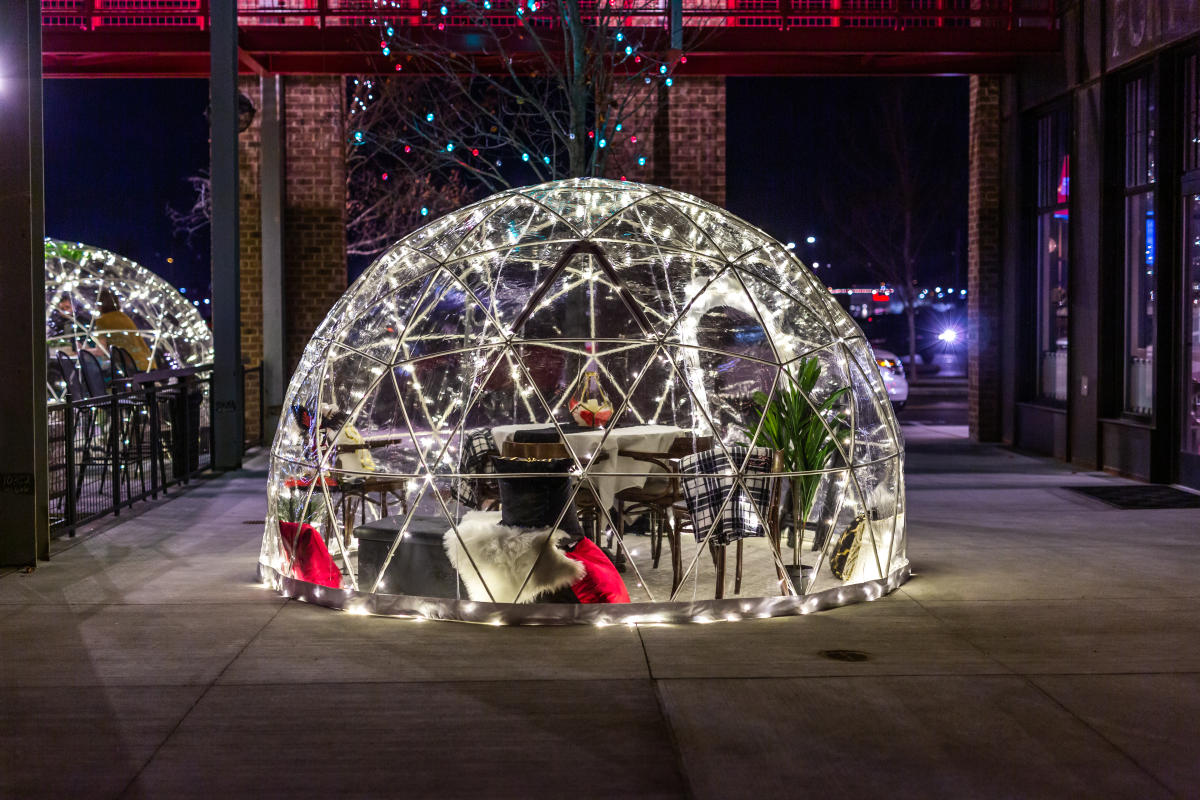 Credit: Steve Brady
German Village
Lindey's
Known as one of the best patios in the city, Lindey's has kept their outdoor oasis open and turned it into and après ski wonderland called "Lindey's Aspen." Featuring ample propane heaters, firepits and delightful décor, guests can enjoy the space from Thursday through Saturday starting at 4 p.m. for happy hour.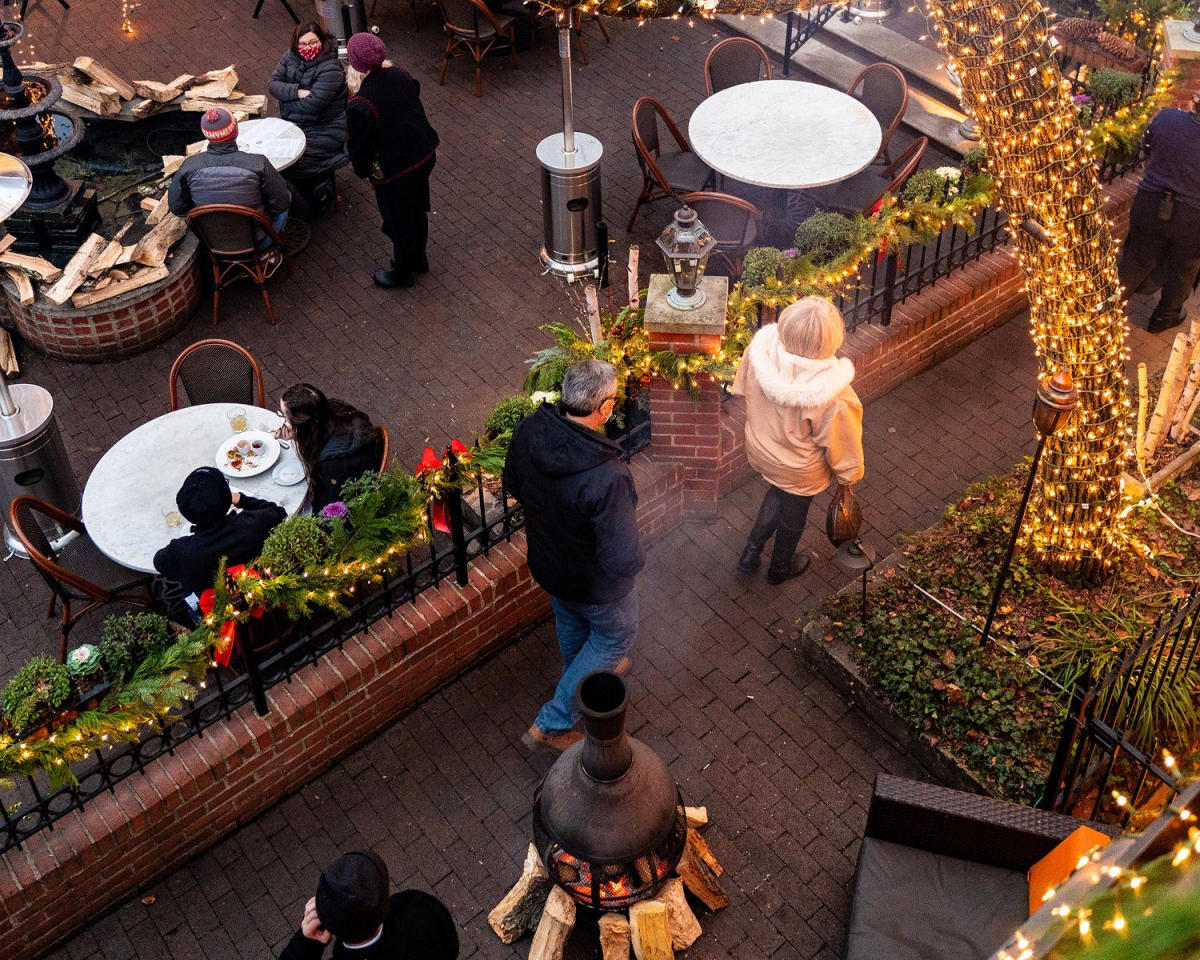 Barcelona
Continue to enjoy the ambiance of Barcelona's patio in colder months with their winter cabanas. Each cabana features a private table that accommodates up to four guests so you can feel comfortable and safe dining "out" no matter the weather.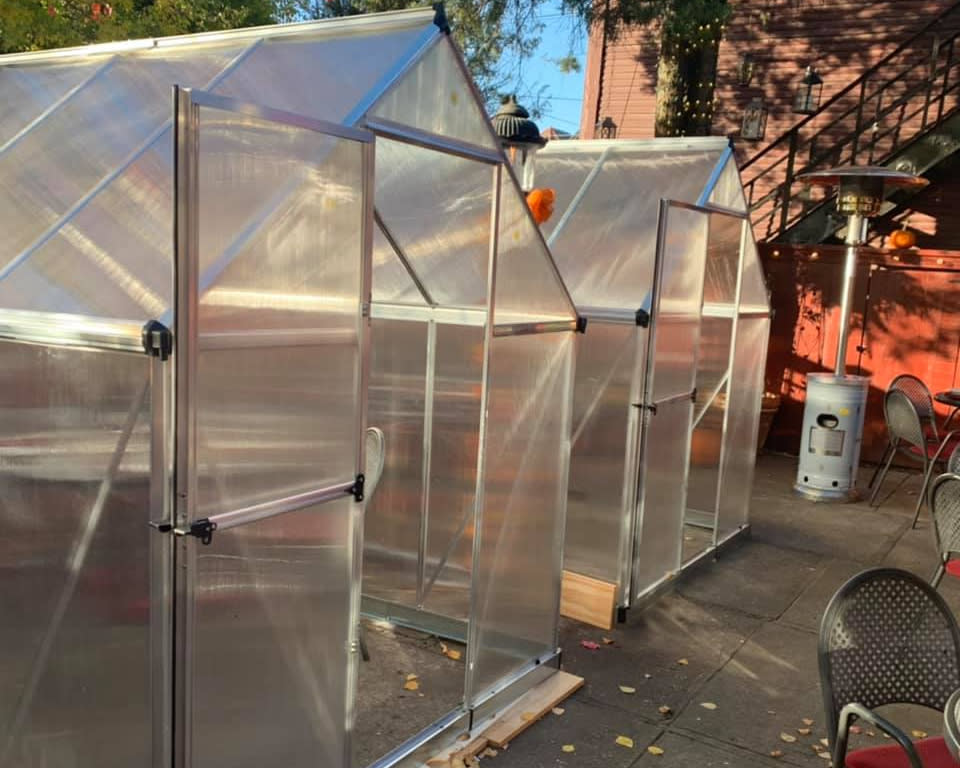 Grandview
DK Diner
Grandview hidden gem DK Diner has outfitted their patio with an igloo that seats up to eight and is outfitted with a space heater, air filter and zippered windows for circulation. Reservations can be made via email and guests will enjoy a specialty menu featuring small plates and fun boozy drinks.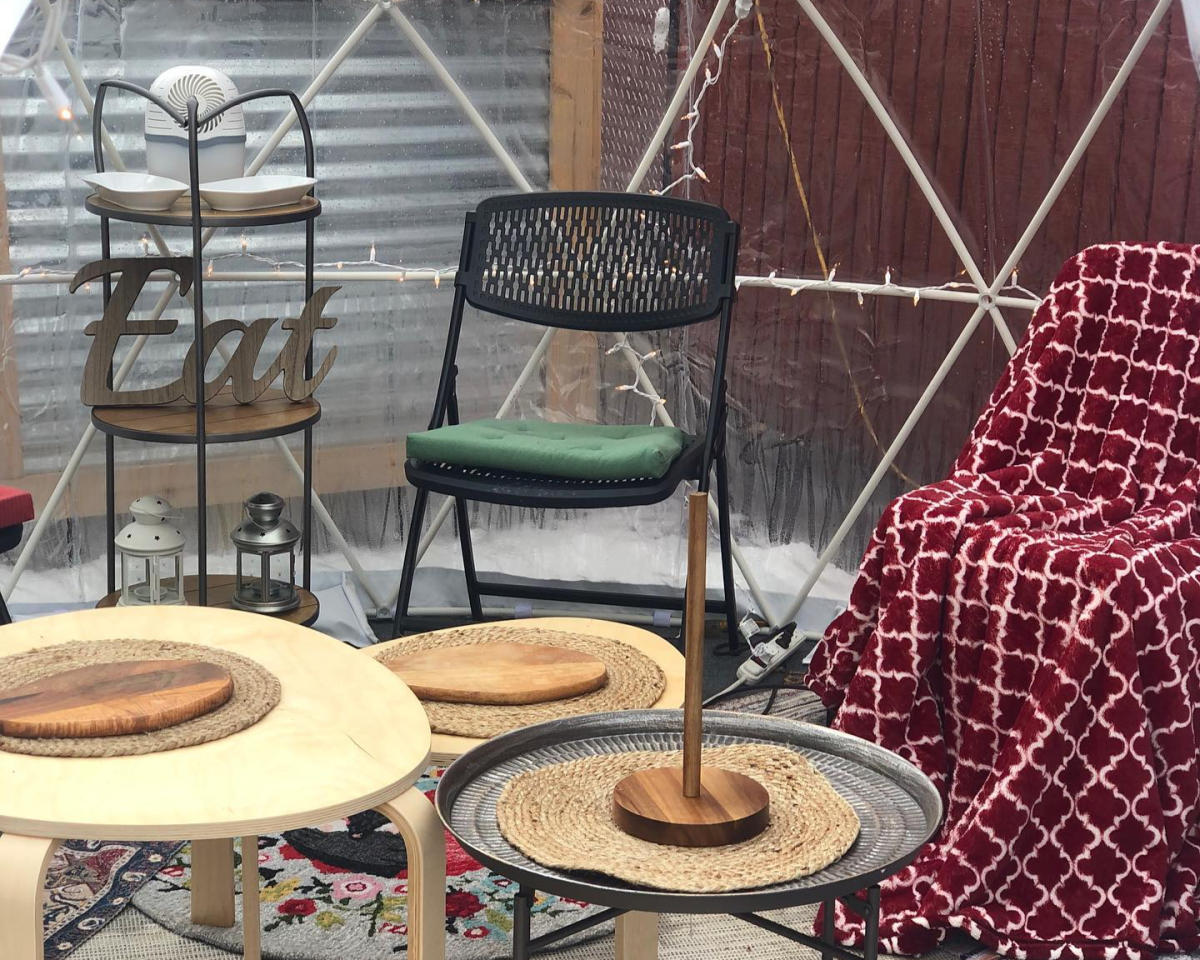 Dublin
VASO
The OG in the game, VASO's lounge on the roof of the AC Hotel Columbus Dublin has been offering igloo dining since its opening in 2019. Recently, Travel + Leisure named VASO among its favorite "cozy dining domes" thanks to their fur-covered chairs, blankets and whimsical lighting. Expansive views of downtown Dublin accompany the restaurant's signature tapas and cocktails. Reservations are offered with a 2-hour minimum with food and beverage minimums ranging from $150-$250 an hour. Find more details and book your experience here.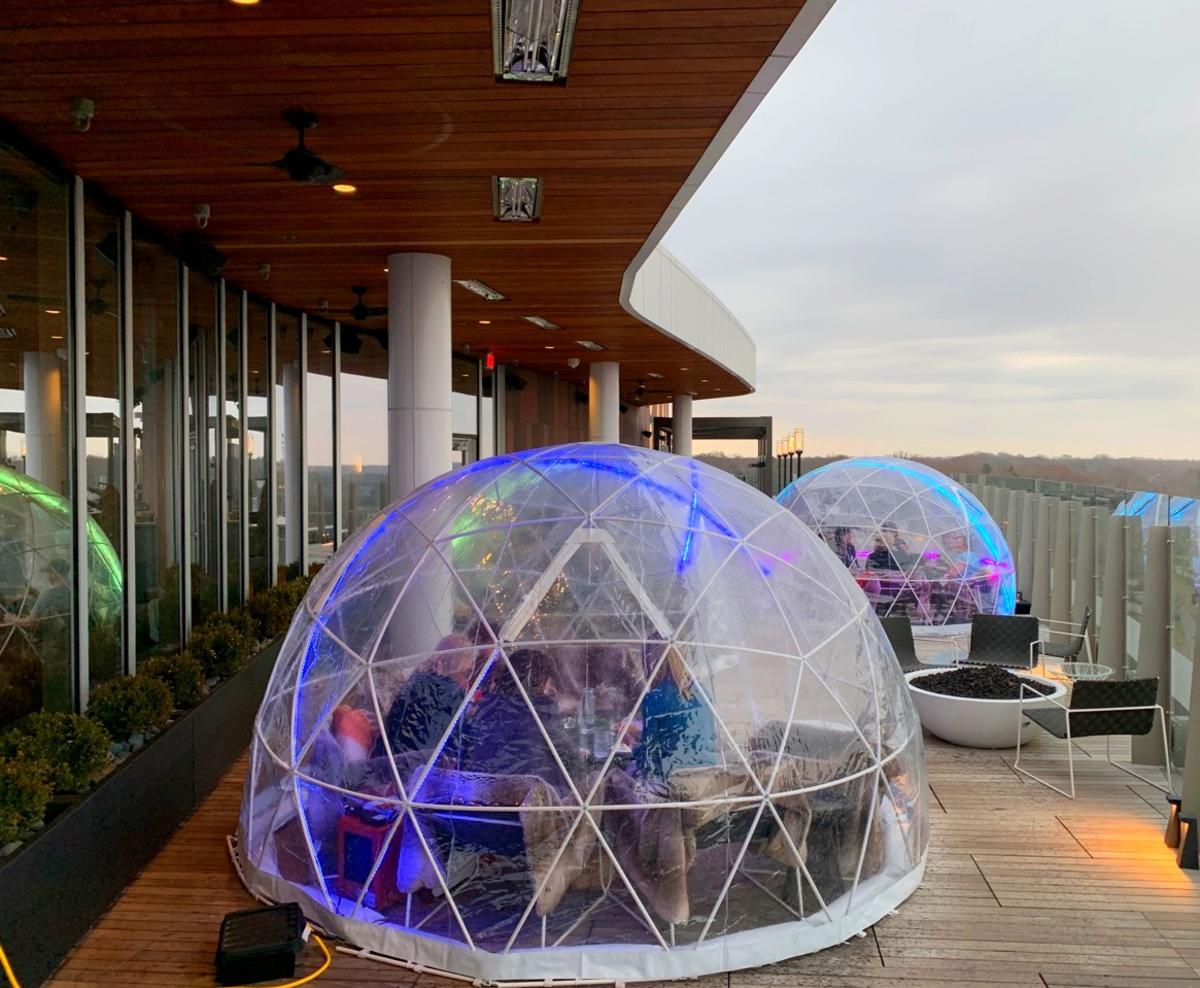 The Coast Wine House
Dublin's Coast Wine House has created Coast Outpost, a heated and ventilated tent that can safely fit up to six people for lawn drinking all winter long. A $150 minimum is required. The full bar menu is available and it will be open Wednesday through Saturday in these colder months.
Polaris
The Royce
The Royce Winter Park, located in the outdoor space at Polaris Fashion Place, features nine heated igloos for safe, outdoor dining with your quarantine crew. Seating in the Winter Park is available by reservation only and can be made by calling (614) 468-1313.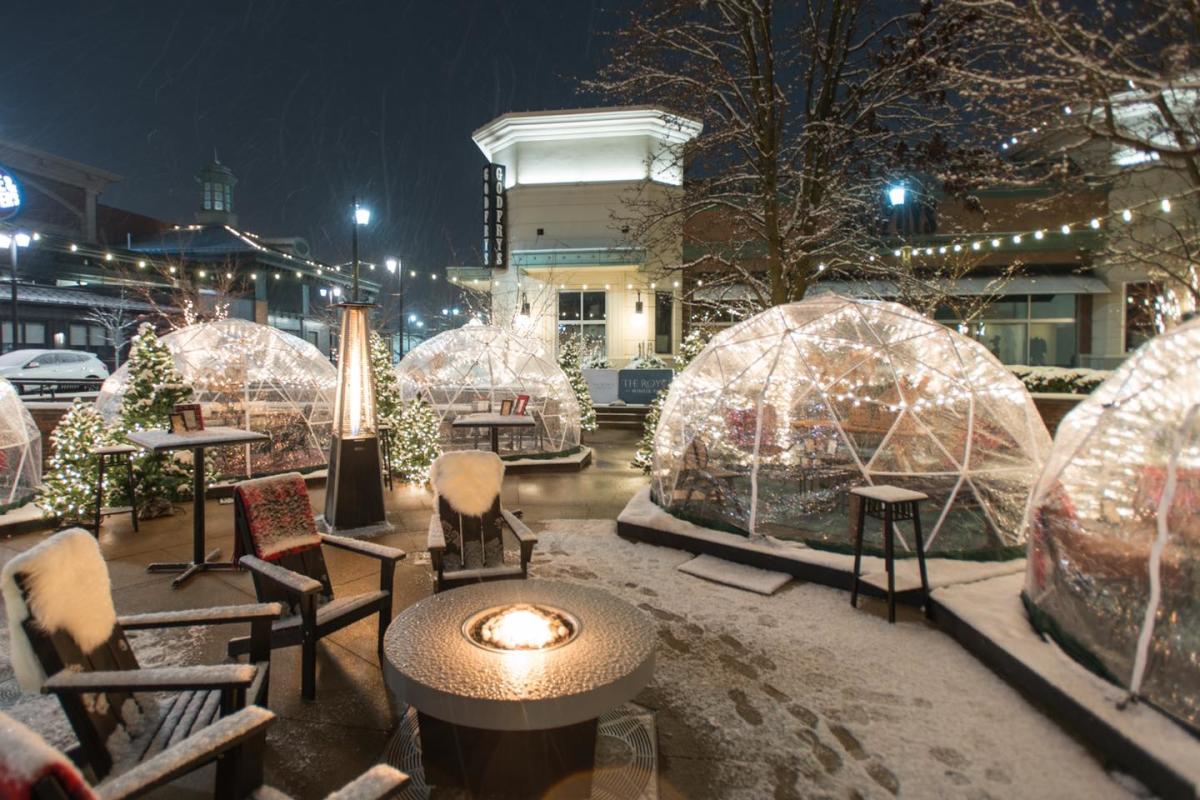 Delaware
Amato's Woodfired Pizza
Amato's offers three igloos for up to eight guests on a first-come, first-service basis. Each individual dining pod is outfitted with a space heater, HEPA air filter, zippered windows for air circulation and is fogged with an EPA approved disinfectant between parties.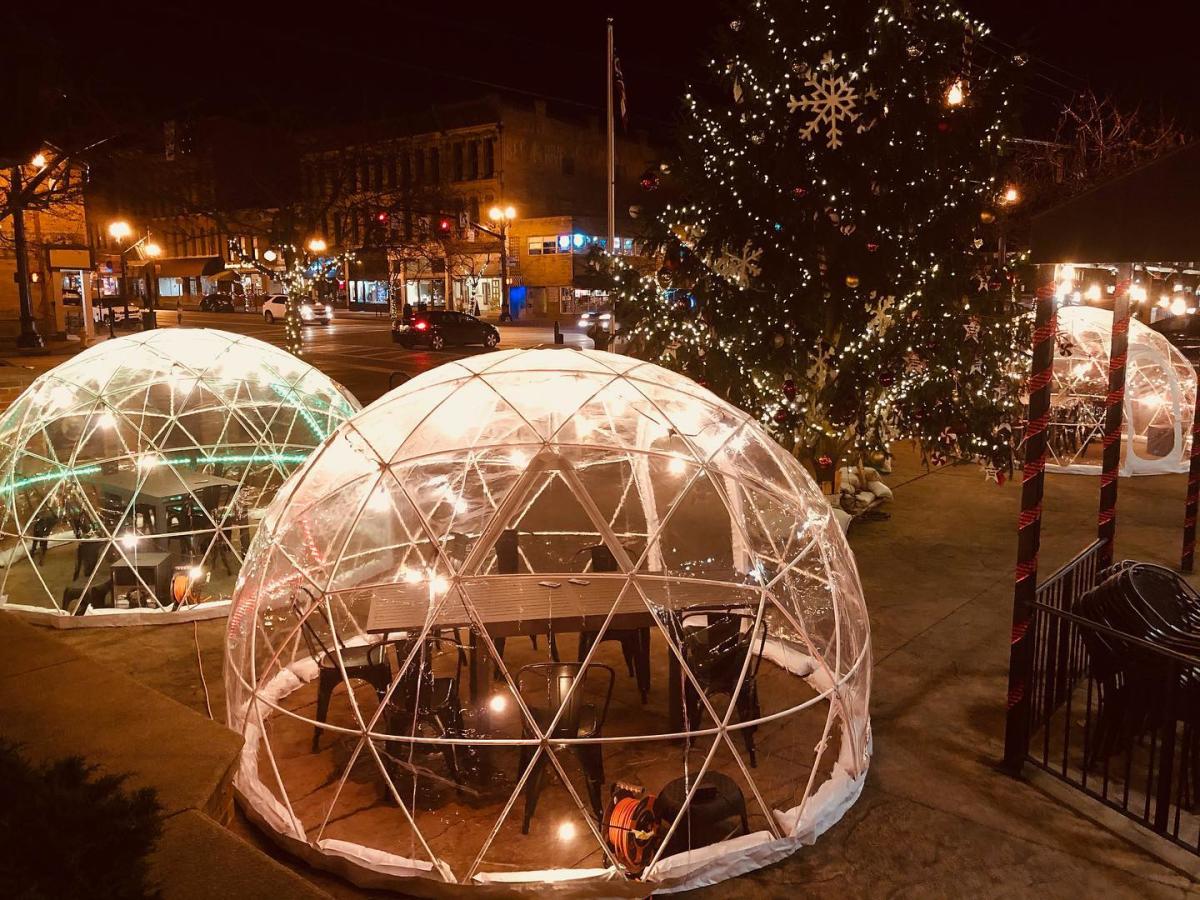 Restoration BrewWorx
Six heated outdoor "greenhouse" structures offer expanded outdoor seating for guests of Restoration BrewWorx. Available on a first-come, first-serve basis, check it out and start working on Volume 6 of the Ale Trail today!
1800 American Bistro
The outdoor greenhouses at 1800 American Bistro seat two to four people and are available for two-hour limits. Each space has its own heater, air filter and music and is thoroughly sanitized and aired out between each group. Reservations can be made on their website under "outdoor" dining.
Speck Italian Eatery
According to a recent OpenTable review, "The outdoor "igloos" were an amazing way to dine privately and well managed. The food was impeccable and service was superb." Find out for yourself by making a reservation under "outdoor" dining on their website.