October is one of the most beautiful times of year in Columbus. The trees are bursting into fall color, the air is crisp, and there's something fun to do everywhere you turn. We want to make sure you don't waste a single day of this incredible month, so we've put together a guide with something great to do every day in October. 
Saturday, Oct. 1: Head to MAPFRE Stadium for the Columbus Crew SC's last home game of the season. While you're there, get yourself a local feast with chicken from Hot Chicken Takeover, beer from Land-Grant Brewing and desserts from Jeni's Ice Creams.
Sunday, Oct. 2: It's a great day to ride a bike - so explore the city's newest path, the Camp Chase Trail, on the city's west side. This 13.5-mile stretch takes you through small towns, beautiful prairie landscapes and the huge Battelle Darby Creek Metropark. This trail is part of the statewide Ohio to Erie bike trail!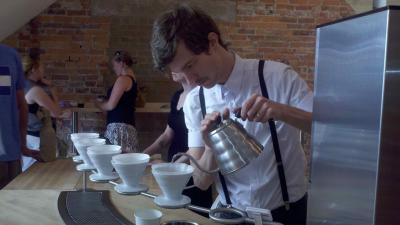 Monday, Oct. 3: Most of us need a kick on a Monday, so hit the Columbus Coffee Trail. With 13 local roasters offering craft lattes, pour-overs and more, you're going to find the perfect shop for you. Even better, if you pick up a Coffee Passport and get stamps from four shops, you'll earn a free shirt.
Tuesday, Oct. 4: Enjoy the beauty of horticulture at Franklin Park Conservatory and Botanical Gardens. If it's sunny, stroll the outdoor gardens, including the Community Garden Campus, which is at the peak of fall harvest. You can always check out the indoor gardens - the Pacific Island Water Garden is particularly nice on a cool day. An exhibition of enormous origami is on display through mid-November.
Wednesday, Oct. 5: At Big Room Bar in the Brewery District, get a taste of Columbus' live music when former members of The DewDroppers reunite to bring you WhirlyBirds, a new swing pop group with tunes like you've never heard them before! Joining them will be the New Orleans style funk-jazz group New Basics Brass Band and the funk rock sounds of Osage.
Thursday, Oct. 6: Get some more nature, but in the shadows of the Columbus skyline. Last year, the Scioto Mile opened with 33 new acres of parkland. But did you know that the narrowing of the Scioto River and removal of dams also makes a three-mile downtown stretch of the river ideal for paddling? Rent boats from Olentangy Paddle.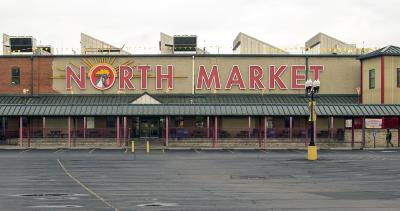 Friday, Oct. 7: Get acquainted with Columbus' foodie hub, the North Market. With more than 30 vendors selling everything from kitchen equipment to ingredients and prepared food, you'll have a lot to explore. Wander with a cocktail from The Barrel & The Bottle and glean the makings of an outstanding picnic lunch in nearby Goodale Park.
Saturday, Oct. 8: Columbus Open Studio and Stage is a brand new event that gets you up close to the city's art scene. Tour backstage areas at many of the city's historic theaters, or take an intimate tour of the studios of more than 10 local artists! 
Sunday, Oct. 9: The Columbus Italian Festival runs Oct. 7-9, so celebrate its culmination with the parade through up-and-coming Italian Village at 1 p.m. Treat yourself to some delicious Italian fare, and try your hand at the bocce competition.
Monday, Oct. 10: Happy Columbus Day! Some folks have the day off, but if you're not so lucky, cheer yourself up with Monday Night Live, a sketch comedy show at Wild Goose Creative, that's a great intro to the city's growing comedy landscape. It's a $5 ticket, and you're free to BYOB.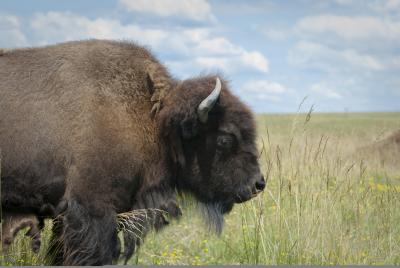 Tuesday, Oct. 11: Explore the 7,100 acres and 30+ miles of trails at Battelle Darby Creek Metropark, just west of Columbus. Bison roam restored prairies, and you should start to see the first signs of fall color along the Darby Creek, a National Scenic River with extremely high rates of biodiversity.
Wednesday, Oct. 12: Take a day to explore one of the city's premier neighborhoods, the Short North Arts District. Start with brunch (huevos rancheros with black bean quesadillas) at Tasi Cafe, browse some art galleries, including the stunning Pizzuti Collection and its modernist masterpieces and grab happy hour cocktails and oysters at The Pearl. Give your wardrobe an update at Ladybird and Tigertree, then cap it off with a cozy dinner at The Rossi.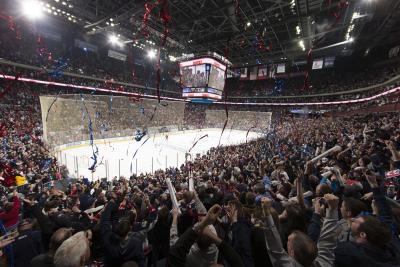 Thursday, Oct. 13: Explore the Arena District and then catch one of the Columbus Blue Jackets' first home games of the season at Nationwide Arena, against the Boston Bruins. The Jackets beat the Bruins in a recent pre-season game, so this should be a great game!
Friday, Oct. 14: As part of the All American Quarter Horse Congress, catch the Professional Bull Riders competition at the Ohio Expo Center. This is one of the last competitions before the world championships, so expect a rip-roarin' good time.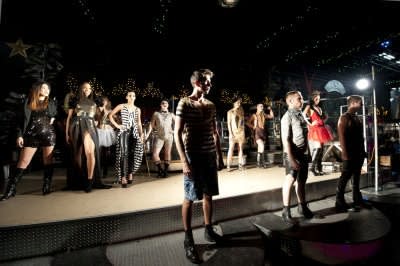 Saturday, Oct. 15: Fashion Week Columbus runs Oct. 9-15, but if you have to choose just one event to see the best of Columbus' burgeoning fashion scene, try the Finale Runway Show at 8 p.m. at Brewmaster's Gate in the Brewery District.
Sunday, Oct. 16: Columbus is making a name for itself as a nexus for cartoons and comics. That's never more apparent than at Cartoon Crossroads Columbus, a three-day festival with events all over the city. Die hards will want to check out talks with Gary Trudeau, Raina Telgemeier and Charles Burns earlier in the week, but the Expo Marketplace at the Columbus Main Library from noon-5 p.m. is a great introduction to the artform.
Monday, Oct. 17: Just a mile south of downtown Columbus (with an outstanding skyline view) Scioto Audubon Metropark is an outstanding spot to catch the peak of the fall bird migration. The park, which contains riverfront paths, wetlands and grasslands, is a key stopping point along one of the main migratory bird flyways in the eastern U.S.
Tuesday, Oct. 18: Maybe you have a cabinet full of Pinterest fails, but there's tons of crafty inspiration at the Ohio Craft Museum in Grandview. Galleries of work from local artists and a great (and affordable) gift shop make this a great stop. Also, check out Wild Cat Gift & Party! in Clintonville for a huge selection of irreverently fun local crafts as well.
Wednesday, Oct. 19: Adding luster to the cartoon and comics scene, the Billy Ireland Cartoon Library and Museum is the world's largest collection of comics. This free museum (open Tuesday-Sunday 1-5 p.m.) houses three galleries full of rotating exhibitions. The library contains the original galleys of cartoonists like Charles Schulz and Bill Waterston. 
Thursday, Oct. 20: Middle West Spirits has been making a name for itself nationally with its award winning vodkas, whiskeys and bourbons. The facility is newly renovated and the distillery is offering $10 tours and tastings for much of the month! Stop by at 6 or 7 p.m., or bring a group of 6 or more and schedule a tour any time. 
Friday, Oct. 21: Fall is a great time to check out the world-class Columbus Zoo and Aquarium, and October weekends means that it's time for Boo at the Zoo. Many animals are given pumpkin surprises at enrichment items, the park is decorated for the season and the train ride becomes the Creepy Hollow Express.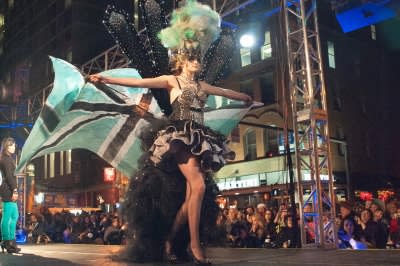 Saturday, Oct. 22: Pull together your most fierce costume for Highball Halloween, the most fashionable Halloween festival in the nation. A costume couture show is sure to wow you, and live bands provide entertainment the closed-to-traffic stretch of High Street in the Short North Arts District.
Sunday, Oct. 23: You haven't truly lived a Columbus life if you haven't seen a show from the city's premier drag queen, Nina West. Her Heels of Horror show at Axis is sure to be a spooky good time. 
Monday, Oct. 24: With fall color near its peak, you should get out and take a hike. Highbanks Metropark, north of Columbus, offers dozens of miles of trails among varied terrain. Dense stands of hardwood trees provide a colorful canopy.
Tuesday, Oct. 25: The Kitchen in German Village is one of the city's most collaborative foodie spaces. The space's Taco Tuesdays are always a special treat - no reservations required. The aptly Halloween focused theme of the night is Creepy Tacos.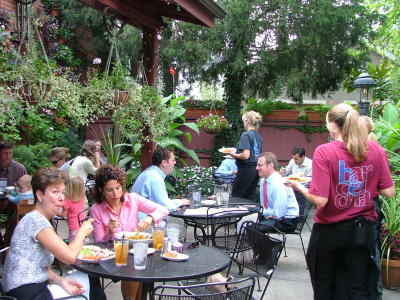 Wednesday, Oct. 26: Fall is a magical time in historic German Village. The neighborhood's many pear trees turn red and purple, the brick streets and houses exude character. Grab a delicate pumpkin spice eclair at Pistacia Vera, pick up some reading material at the 32-room Book Loft, and then treat yourself to delightful Low Country fare at G. Michael's.
Thursday, Oct. 27: We are in the midst of decorative gourd season, so get to Pigeon Roost Farm east of Columbus in Hebron for a delightful pumpkin patch experience. There's lots to do here beside pumpkins, too, with a corn maze, giant slides and more!
Friday, Oct. 28: It's the day before a home football game (against Northwestern) so it's a great time to explore Ohio State's Campus. Leafy quadrangles, assorted restaurants and of course, team spirit fill the air.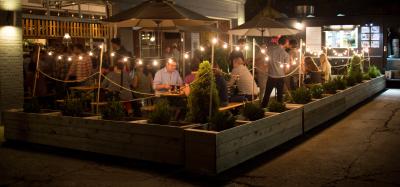 Saturday, Oct. 29: It's always a great day for a beer in Columbus. But with 31 local breweries creating hundreds of high quality beers, it's hard to know where to start. Columbus Brew Adventures can help. They offer guided tours of breweries where you can hear from the people who make the beer and taste along the way. There are three tours to choose from today: Downtown Breweries, a Brewery District Walking Tour and a Grandview Brewery Tour. 
Sunday, Oct. 30: The All American Quarter Horse Congress takes place at the Ohio Expo Center through almost all of October, which is the largest single-breed horse show in the country. We love watching the amateur barrel racing competitions, which are happening today. 
Monday, Oct. 31: It's Halloween, so a cemetery seems like a good place to end the month. Columbus' parklike Greenlawn Cemetery is more beautiful than creepy, though, and you can spend hours wandering this historic burial ground full of architectural monuments.