The Memorial Tournament, held on May 30-June 5, is fast approaching! Before you head out to Muirfield Village you may be asking yourself—what should I wear? If you have an image in your head of stereotypical polos, khakis and visors, get rid of it. In reality there are endless ways to express your style as you spend time at the course.
Whether you're looking for a more casual experience with friends, are planning on going to a hospitality house or getting prepped to spend time at a party, there are many local boutiques and stores that have amazing options for any outfit, especially in the Short North Arts District.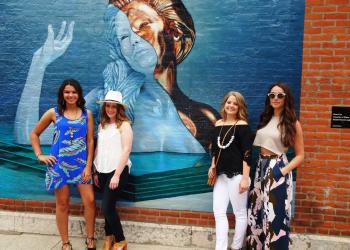 A good tip to keep in mind is the weather. Muirfield is beautiful in June, but it also tends to be hot! Make sure you keep your outfits light and comfortable. Dresses, rompers, or sleeveless top and cropped pants for women are a great solution to combat the heat. Clover on High has some nice choices. To play up your look and keep the sun out of your eyes, throw on a pair of sunglasses or a hat. For guys, don't be afraid to accessorize!  Robert Mason Co. has you covered with watches, wallets, hats and more.
It's also important to note that in most cases, going to the Memorial Tournament will involve a lot of walking! Read: high heels are not advised. Even though you want to dress smart, that doesn't mean you have to forsake your fashion choices. Flats, sandals or espadrilles are perfect options for walking the course.
If you're headed to a hospitality house (check out Experience Columbus' house on June 2-5) or spending time in Patron Village & the Golden Bear Club, have some fun with your style! Throw on a knitted crop top and wide leg pants from Tigertree, a denim dress with sandals and a hat or white pants with an off the shoulder top and a statement necklace from Rowe Boutique .
For the men we recommend casual button downs like the ones from Samson Men's Emporium, and freshen up your look with some fun-colored pants. The brighter the better!
Finally, if you're going to a party and need to be more formal, it's time to get dressed up. Guys, this means that suits, like the ones found at Pursuit, are a great choice.  For the girls, a dress with wedge heels or sandals is a surefire hit. If you need to get really glammed up for an event, head to the Blowout Bar in Grandview or Dublin for a hair style and makeup application.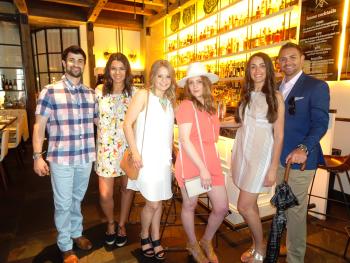 Remember these style tips and you'll have a blast—and look great doing it!—at the Memorial.
Photos were taken at The Pearl, The Guild House and Short North Arts District.
Want to get the outfits and looks shown above? Check out the following stores:
Blowout Bar: (Facebook/Twitter/Instagram); Clover on High: (Facebook/Instagram); Pursuit: (Facebook/Twitter/Instagram); Robert Mason Co: Facebook/Twitter/Instagram); Rowe Boutique: (Facebook/Twitter/Instagram); Samson Men's Emporium (Facebook/Twitter/Instagram); Tigertree: (Facebook/Twitter/Instagram).